Death Reigns and Danger Abounds: The Toll by Neal Shusterman
Death Reigns and Danger Abounds: The Toll by Neal Shusterman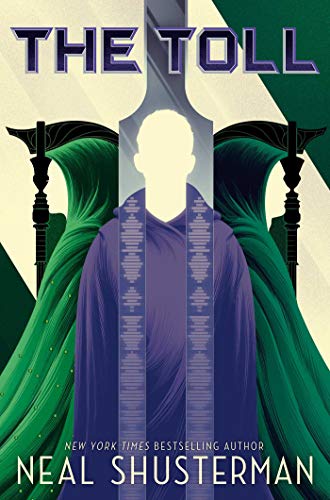 Neal Shusterman's masterful conclusion to the Arc of a Scythe trilogy, The Toll, takes place on a future Earth where humans are immortal. To keep the population from overrunning the globe, professional scythes "glean" a quota of victims in one of the only forms of death that still sticks. Most scythes end human life with care and sorrow. But sadist Robert Goddard and his "new order" scythes enjoy mass slaughter.
In The Toll's opening pages, Goddard amasses more and more power, becoming the High Blade of MidMerica and then Overblade of North America. Despite the old regime's continued opposition, he removes the traditional limitations on scythes, unleashing the new order's bloodiest appetites. People start avoiding any activity that requires them to assemble in groups, for fear of attracting a grim reaper.
The book follows three main sets of characters who strive to end Goddard's brutal reign. The first concerns secret agent Greyson Tolliver, who has been leading a criminal lifestyle as a cover while acting on behalf of the Thunderhead, the artificial intelligence that oversees and manages the world. Greyson is now the only human on the planet who can communicate directly with the Thunderhead, since everyone else – including the Thunderhead's more legitimate agents – has been labeled Unsavory. When the Thunderhead's former agents discover that this gangster is their only remaining link to the entity they still want to serve, they kidnap him.
When Goddard finds out Greyson exists, he sends an assassin.
The second set of characters are our teenaged heroes Citra and Rowan. As the island of Endura sank at the end of Thunderhead, Scythe Curie locked them in the airtight Vault of Relics and Futures. Curie knew that asphyxiation would only render them deadish. Someday, she reasoned, their bodies would be found, and they would be revived. There was no such hope for everyone else, doomed to be consumed by circling sharks. But Goddard has declared a Perimeter of Reverence around Endura and forbidden ships from approaching. Citra and Rowan's lifeless bodies lay in the Vault, which has tumbled into a deep oceanic trench, without rescue. Until a hermaphroditic ship's captain pulls them from the deep under the cover of night.
The third set of characters centers on Scythe Faraday, who commandeers a plane and flies into the middle of the ocean, navigating toward the only place on the planet that the Thunderhead cannot see. As he approaches the critical coordinates, a chain of islands appears. A robotic voice hails him and demands his authorization. But when he enters the scythedom's universal identification code, missiles shoot his plane out of the sky.
The Toll is utterly unputdownable. Shusterman creates exquisite suspense with a hair-raising villain and plenty of danger. He deftly juggles the multiple perspectives that his epic plot demands. While the action turns primarily on Greyson, Citra, Rowan, and Faraday, Shusterman introduces us to new characters that most people will relate to and cheer for. The Toll might be massive, but each of the 625 pages delights.
Simon & Schuster released The Toll on November 5, 2019. As I write this on April 19, 2020, even more than five months later, the novel's Amazon Best Sellers Ranks impress: #7 in Teen & Young Adult Fiction about Death and #19 in Teen & Young Adult Fiction about Death & Dying. Universal Studios plans to turn these downright cinematic books into movies and has purchased the rights to Scythe. While marketed as YA, there's no reason adults won't enjoy this highly original and entertaining series, too.
To read an excerpt of The Toll, point your browser here.
---
Elizabeth Galewski is the author of The Wish-Granting Jewel, a fantasy novel, and Butterfly Valley, a tale of travel and transformation based on true events. To learn more, please visit her official author's website at www.elizabethgalewski.com.