The Golden Age of Science Fiction: The 1973 Locus Award for Best Short Fiction: "Basilisk," by Harlan Ellison
The Golden Age of Science Fiction: The 1973 Locus Award for Best Short Fiction: "Basilisk," by Harlan Ellison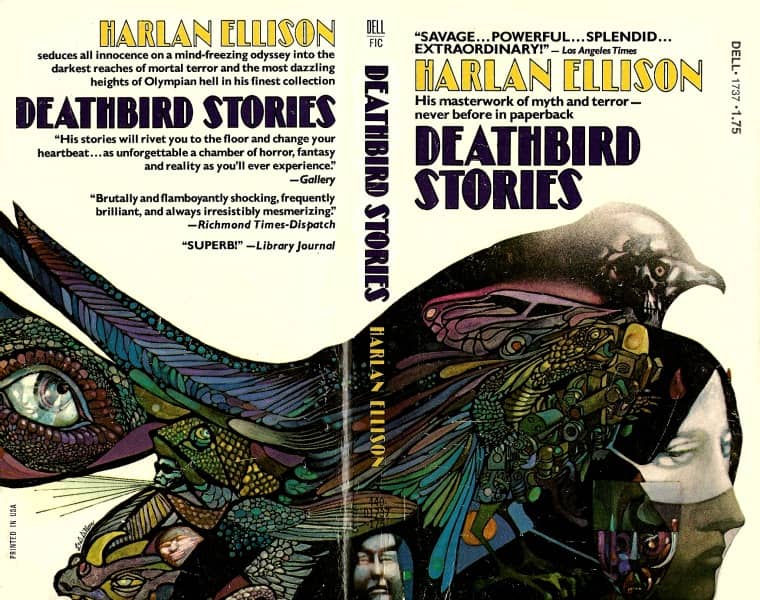 Deathbird Stories (Dell, 1976). Cover by Diane Dillon and Leo Dillon
In this time period the Locus Award for fiction went to novels, novellas, and short fiction, presumably both novelettes and short stories. (I'm not sure where the exact boundary between short fiction and novella was set.) Perhaps appropriately, the winner of the 1973 award, Harlan Ellison's "Basilisk" is perhaps 7,000 words long, quite close to the current border between "short story" and "novelette" for both the Nebula and Hugo awards.
Harlan Ellison, who died in 2018, aged 84, was one of the most famous SF writers of my lifetime, and one of the most controversial. He also was one of the most celebrated, having won an astonishing 18 Locus awards, and been named SFWA Grand Master, as well as winning 8 Hugos and 2 Nebulas, and too many other awards for me to count.
Speaking personally, Ellison was one of those writers who, for the most part, I could admire without quite loving. A few of his stories were special to me – "On the Downhill Side" and "I Have No Mouth and I Must Scream" occur off the top of my head – stories as different from each other as one might examine, but very effective. Much of the rest of his work struck me as impressive but overwrought, and often exchanging affect for effect, or choosing to impress instead of express. If you see what I mean. His technical skill, in the directions he chose, was astonishing, but the end results, at times, seemed a bit empty.
I met Ellison once, at Archon only a couple of years before his death. We shared a panel. He was quite frail by then, in a wheelchair. But once he got on "stage," as it were, a switch flipped. He was fully ON, sharp, belligerent to great effect, funny, on point. I didn't get to say a lot, but that was wholly correct, and not because he was bullying in any way, but because it was clear we all – on the panel and in the audience – wanted to hear what Harlan had to say. (We also had a conversation, a few years before, a totally unexpected phone call to me, concerning one of his late stories (a Nebula winner), and it was pleasant and completely professional.)
The Magazine of Fantasy and Science Fiction, August 1972. Cover by Diane Dillon and Leo Dillon
"Basilisk" first appeared in the August 1972 issue of The Magazine of Fantasy and Science Fiction, and was reprinted in Ellison's collection Deathbird Stories (1975) and Joe Haldeman's anthology Study War No More (1977), among other places.
It concerns Vernon Lustig, an American soldier in an Asian war, presumably the Vietnam War, though it's not specified. He is severely injured by an enemy boobytrap… and is captured and imprisoned and tortured. Sometime in that process he is possessed by some alien or otherwise unexplained creature called the Basilisk. And, presumably thanks to that creature, he destroys his captors in horrible ways. He is rescued, and returned to the US, but court-martialed, either for revealing secrets to the enemy, or for war crimes. But he's acquitted. He returns to his Kansas home town, only to find himself a pariah, even to his ex-girlfriend, who has married a cartoon football player. Before long, he is confronted by the thuggish elements of his town, and takes terrible revenge.
Study War No More (Avon, 1978). Cover by Michael Whelan
It's caricature throughout. I didn't believe his Kansas hometown for an instant. I thought the portrayal of his (presumably) Vietnamese captors racist in the Deer Hunter sense. The ex-football player husband might have been believable if there was any sense he was created out of reality instead of out of cliché. I know Ellison was enraged at US involvement in the Vietnam War, but this sort of response is counterproductive. And, really, the fantasy element was both silly and unconvincing. (It should be noted that it was well-received at the time – not just this Locus Award, but Hugo and Nebula nominations too.)
Against all that there's Ellison's prose, which is truly impressive – his mastery of metaphor is impressive. His imagination is potent and original. His verbiage really works. But… but… it's too much of a muchness. Each individual image is cool – but we don't need ten in a row!
I think, in the end, that's my main beef with Ellison – he didn't know when to stop. I have a feeling he'd have said "Why should I stop?" And to that I can only answer, "Our tastes differ, sir!" I wouldn't want SF without Ellison's presence. It was a worthwhile influence. But – he's not in my pantheon.
---
Rich Horton's last review for us was "The Word for World is Forest," by Ursula K. Le Guin. His website is Strange at Ecbatan. See all of Rich's Black Gate articles here.