I Need to Talk About Hellblade 2, or I'll Burst
I Need to Talk About Hellblade 2, or I'll Burst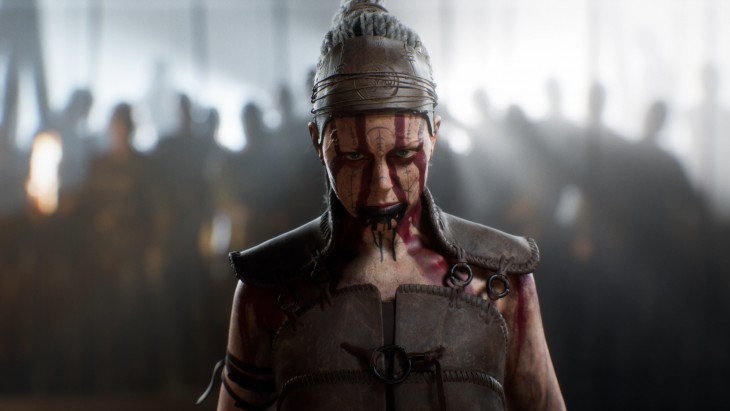 Senua, swapping the woad warpaint from the first game for red and black in the second. It's nice to see she still has her triskel, though.
Good morning, Readers!
So… The teaser trailer for the sequel to Ninja Theory's spectacular horror puzzle adventure (how's that for genre-blending?) game Hellblade: Senua's Sacrifice dropped a few weeks ago, and I've been dying to talk about it. But first, the trailer:
One thing is for certain, Senua's Saga (Hellblade 2) looks like it's going to be as intense and terrifying as the first.
I might have already said it here, lord knows I've said it enough on my personal blog, but Senua's Sacrifice utterly destroyed me. The game was terrifying and heartbreaking. It finished leaving Senua, a Celt, finally at peace with the voices in her head, recovering from the trauma of seeing her mother burnt alive, free of the darkness of her druid father's fear and hate, and at last able to release Dilion, upon whom she relied on for acceptance and love until then. She was not cured of her mental illness(es), she instead had come to accept them as an integral part of herself, and not something to be feared and reviled.
It was so goddamned beautiful.
As a player, despite all my efforts, I sobbed and sobbed at the game's conclusion and on as the credits rolled. While live streaming. Luckily for me, the credits song was copyrighted and so Twitch muted all audio for that part before the export to YouTube. Now no one will know what it sounds like when I cry.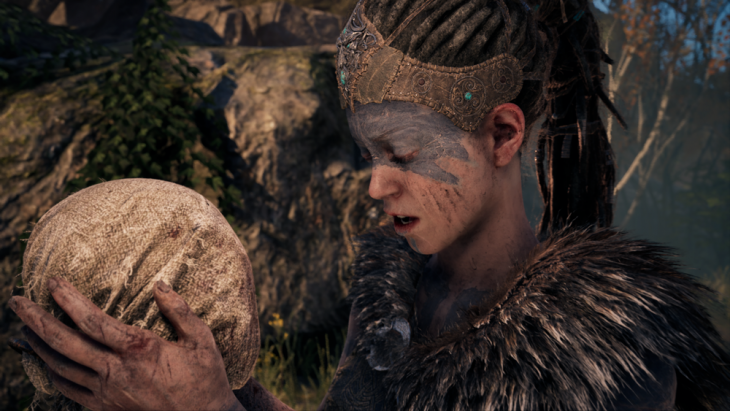 Senua in Hellblade 1 holding the head of her lover, Dilion, which is the seat of the soul, as she heads into Helheim to rescue him from the terrible gods of the norsemen who obliterated her village.
Senua's Sacrifice holds a special place in my heart, despite it being a horror game (I don't do well with horror), precisely because of how incredibly powerful the whole thing was.  Also, the combat system was by far the best of its type I've yet played. It was intuitive, responsive, looked incredible and made sense. There's not another game whose combat system has been able to compare. But that's an aside, really.
To be honest, like for all things I love, I'm a little hesitant about it. Ninja Theory left Senua, to mind, at least, so empowered and powerful, in the previous game. They were quite sensitive about their treatment of mental illness. I am a bit like a concerned mother, worrying what they'll try to undo that in this next game. However, Ninja Theory did such a good job with the first one, I'm willing to trust them on this. I will be buying this game.
As soon as it's released, at least.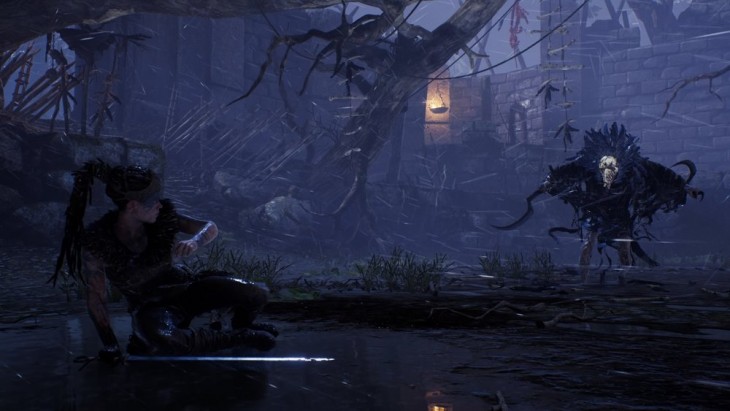 Senua battles Valraven
The song in the trailer is In Maidjan by the group Heilung, who are a group that tends to sing in proto-Germanic (near as my research has been able to take me) using instrumentation and costumes from Europe's very distant shamanic past. I discovered them via YouTube early last year. They're really good, if you go for that kind of thing, though I do think that they maybe lean too far into the Roman propagandist descriptions of the singing style of the tribes to the north and west of them.
In Maidjan appears to be a kind of war-chant, or an invocation to Odin to protect the warriors and prepare them for battle.
So, of course, my brain, in it's infinite capacity to become obsessed with the most unimportant nonsense, has gone beserk trying to come up with theories on the basic premise of the game based entirely on this song. The song, I believe, appears on Heilung's Lifa album, which seems to be about a village preparing for war.
It might be that Senua will rise to lead a village to battle against another invasion. We do see the glowing symbol around a village (things that glowed that very pale blue in the first game were a result of Senua's power). She was not in her village when the Norsemen attacked in the first game, coming home to find everyone brutally murdered, and sparking her quest to find and rescue her lover's soul from Helheim. Perhaps in this game, she resolves to never let that happen again.
I am sad that the whole Celtic part of Senua seems to have been left behind.
I don't know. We have only a few visuals to go from, and one song.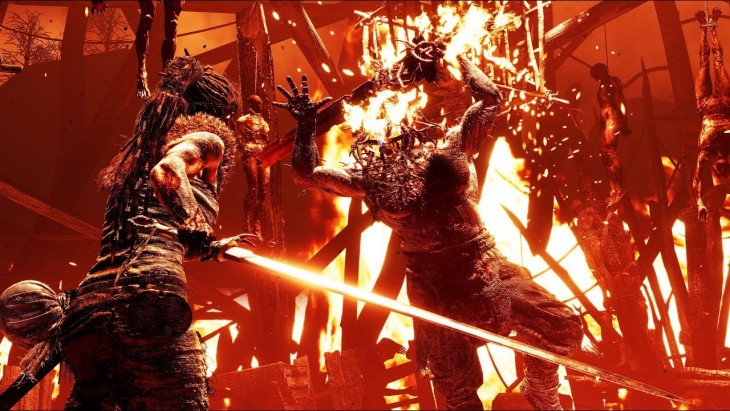 Want hell? Senua vs. Surtr.
Oh man, I feel better after having gushed about it all.
What about you? Are there any gamers in the comments? Have you played Hellblade? Are you looking forward to the sequel? Leave your thoughts below.
Oh, and in case you want to check out Heilung for yourself, here is a video of their live performance of In Maidjan in 2017.
---
When S.M. Carrière isn't brutally killing your favorite characters, she spends her time teaching martial arts, live streaming video games, and cuddling her cats. In other words, she spends her time teaching others to kill, streaming her digital kills, and cuddling furry murderers. Her most recent titles include 'Daughters of Britain' and 'Skylark.'
https://www.smcarriere.com/