Future Treasures: Chilling Effect by Valerie Valdes
Future Treasures: Chilling Effect by Valerie Valdes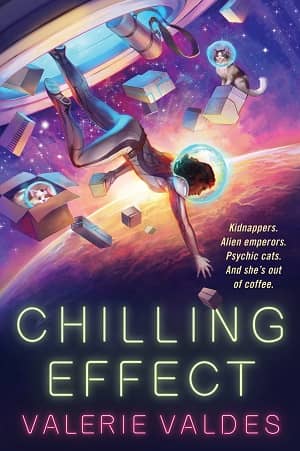 I'm still on a space opera kick. I know, I know, this has lasted for months now, and I should have moved on. But there's just so many to choose from. It's even spinning off sub-sub-genres, like Firefly-inspired space adventures (Aurora Rising, Starflight, and Becky Chambers's Wayfarers Trilogy), gothic space opera (Gideon the Ninth by Tamsyn Muir), and now offbeat satires like Chilling Effect by Valerie Valdes.
Chilling Effect is Valdes' first novel, but it's getting lots of great press. Kirkus Reviews says "Valdes is a debut author, but this zany, rollicking adventure doesn't show it. Jam-packed with weird aliens, mysterious artifacts, and lovable characters, there isn't a single dull page… A tremendous good time and an impressive debut." I'm in the mood for something a little less serious, and this looks like it will fit the bill.
A hilarious, offbeat debut space opera that skewers everything from pop culture to video games and features an irresistible foul-mouthed captain and her motley crew, strange life forms, exciting twists, and a galaxy full of fun and adventure.

Captain Eva Innocente and the crew of La Sirena Negra cruise the galaxy delivering small cargo for even smaller profits. When her sister Mari is kidnapped by The Fridge, a shadowy syndicate that holds people hostage in cryostasis, Eva must undergo a series of unpleasant, dangerous missions to pay the ransom.

But Eva may lose her mind before she can raise the money. The ship's hold is full of psychic cats, an amorous fish-faced emperor wants her dead after she rejects his advances, and her sweet engineer is giving her a pesky case of feelings. The worse things get, the more she lies, raising suspicions and testing her loyalty to her found family.

To free her sister, Eva will risk everything: her crew, her ship, and the life she's built on the ashes of her past misdeeds. But when the dominoes start to fall and she finds the real threat is greater than she imagined, she must decide whether to play it cool or burn it all down.
Chilling Effect will be published by Harper Voyager on September 17, 2019. It is 448 pages, priced at $16.99 in trade paperback and $11.99 in digital formats. See all our recent coverage of the best upcoming science fiction and fantasy here.