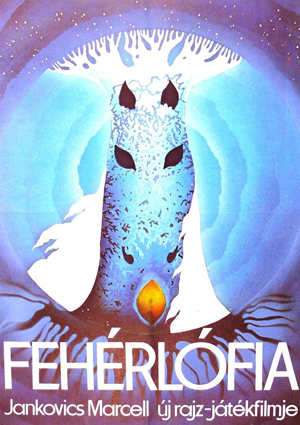 The last of the four movies I had on my schedule for July 29 promised to be interesting on any number of levels. Son of the White Mare (Fehérlófia) is an animated film made in 1981 by Hungarian Marcell Jankovics, directed by him from a script he wrote with László György. It's based on the work of poet László Arany and folktales of the Magyars and Avars; Jankovics, who has published 15 books on comparative mythology, picked and chose from among the various versions of the tale to create what he wanted — a weird, protean, eye-popping, archetypal light show.
The version presented at Fantasia was a new 4K restoration of the movie. Hundreds of hours went into cleaning and colour-grading the film, with the participation of Jankovics. When the movie originally came out it was not a box-office success, but it has since gained a high (and thoroughly deserved) reputation among animation fans; the restoration's an important project, and the results are beautiful, doing the colours justice.
The story itself is a fairy-tale: a king and queen are deposed, and the queen in the shape of a white horse gives birth to a boy who grows into a hero by drinking her milk. He sets out to find his brothers and destroy the dragons who overthrew his father's rule. This entails a long journey into a mysterious underworld, where he must rescue captive princesses, slay the dragons, and return.
Beyond the subject matter, the structure's a fairy-tale as well. It's generally cyclical, beginning with a child in a deep dark forest and ending with the restoration of the idyllic state of things before the saga began. The rule of threes is everywhere: three brothers, three princesses, three dragons. It begins with "Once upon a time" and ends with "they lived happily ever after."
But then the way it's made is something else again. The animation's expressionistic, mostly in primary colours without black contour lines, shapes frequently neon-bright and often against dark backgrounds, sometimes strobing from one hue to another. The designs are almost Blakean, mixed with elements of art-nouveau.
---