Airships in a Floating World: The Peridot Shift by R J Theodore
Airships in a Floating World: The Peridot Shift by R J Theodore
Covers by Julie Dillon
I don't get enough steampunk in my diet these days. Once the industry was awash with it; that's not true so much any more, although there are still a few publishers catering to readers like me. Parvus Press is one of the better ones, and their flagship steampunk series is R J Theodore's Peridot Shift. The first, Flotsam, was published last year, and the sequel Salvage just arrived earlier this month. The novels deftly blend First Contact, Magic, and Steampunk, in a floating world where religion meets alchemy and the gods are not what they seem.
I was hooked from the moment I read the description for Flotsam last year.
Captain Talis just wants to keep her airship crew from starving, and maybe scrape up enough cash for some badly needed repairs. When an anonymous client offers a small fortune to root through a pile of atmospheric wreckage, it seems like an easy payday. The job yields an ancient ring, a forbidden secret, and a host of deadly enemies.

Now on the run from cultists with powerful allies, Talis needs to unload the ring as quickly as possible. Her desperate search for a buyer and the fallout from her discovery leads to a planetary battle between a secret society, alien forces, and even the gods themselves.

Talis and her crew have just one desperate chance to make things right before their potential big score destroys them all.
R J Theodore continues to explore her imaginative setting; the next title in the series, the novella Hunter and the Green, arrives on October 22 from Theodore's creator-owned press Creative Jay.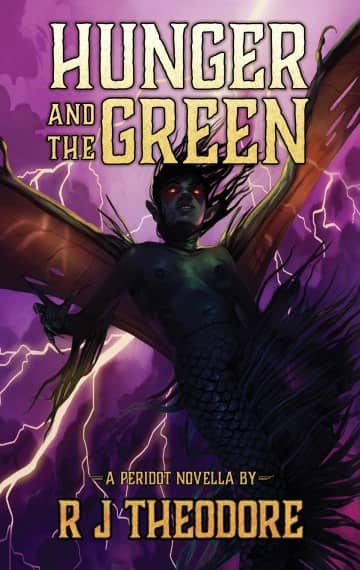 Cover by Ashe Samuels
I was especially excited to discover that there's now an audiobook version of the first novel, since that's how I consume most books these days.
Here's the deets on all three books:
Flotsam (Parvus Press, 409 pages, $14.99 trade paperback/$4.99 digital, February 28, 2018) — cover by Julie Dillon
Salvage (Parvus Press, 452 pages, $15.99 trade paperback/$7.99 digital, September 3, 2019) — cover by Julie Dillon
Hunger and the Green (Creative Jay, $3.99 digital, October 22, 2019) — cover by Ashe Samuels
Our recent coverage of Parvus Press includes:
Nebula Awards Showcase 2019 edited by Silvia Moreno-Garcia
The Ragged Blade by Christopher Ruz
A Tale of Two Covers: If This Goes On edited by Charles Nuetzel and Cat Rambo
Necropolis PD by Nathan Sumsion
The Future of Politics, a Desert Fantasy, and Murder in the City of the Dead: Spring Titles from Parvus Press
Scavengers in a Crowded Galaxy: Union Earth Privateers by Scott Warren
Flotsam by RJ Theodore
See all our recent coverage of the best in Series Fantasy here.