New Treasures: Necropolis PD by Nathan Sumsion
New Treasures: Necropolis PD by Nathan Sumsion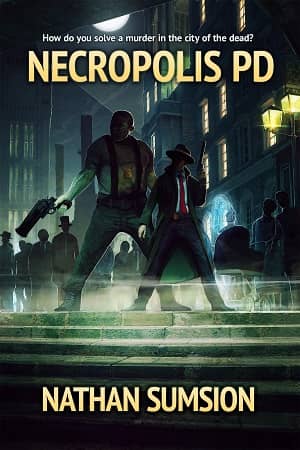 Back in October, I managed to trap Parvus Press co-founder Colin Coyle in a bar long enough to get the scoop on his upcoming releases. There were plenty of interesting titles in the mix, but the one that really grabbed my attention was the debut fantasy novel by Nathan Sumsion, co-creator of the Terra Immortalis role playing game. Here's what Colin shared then.
Necropolis PD is one of my favorite urban fantasies in a long time. It's a cousin to both Butcher's Dresden Files and Gaiman's Neverwhere and I honestly feel that it brings a new flavor to a genre that has been heavily tread in recent years.
Necropolis PD is the tale of Jacob Green, trapped in the Meridian, a city of the dead, and pressed into service to solve a series of bizarre murders. Andy Whitaker at SFCrowsnest says Meridian "is a strange and compelling place. Don't be fooled by the dark humour and strange environment… [Sumsion] might just have struck gold." Here's the description.
How do you solve a murder in the city of the dead?

Jacob Green was just an average college student. But three months ago, he ran through the wrong door and found himself trapped in the city of Meridian – a literal necropolis, concealed from the modern world, made up of forgotten places and populated entirely by the dead.

As the only living, breathing resident, Jake has struggled to scrape out an existence while waiting for the Necropolis Police Department to decide his fate, and it's not looking good. But when an unusual string of crimes hits the city, Jake's overseer and tormentor, NPD Detective Marsh offers him a deal: Jake's life in exchange for helping them solve the worst series of crimes in the necropolis' history.

Someone, or some thing is killing the dead, and if Jake can't figure out who's responsible, he could be next.

Necropolis PD is a hidden world fantasy that combines mystery, horror, magic, and more than a little humor. This book is perfect for the living and recently-departed alike.
Necropolis PD is the latest in the flourishing sub-genre of undead detective fiction. If you like it as much as I do, here's a few more recent examples.
Necropolis by Michael Dempsey, a blend of science fantasy and pulp detective
Tim Waggoner's zombie detective saga The Nekropolis Archives
Stefan Petrucha's Dead Mann series
Stephen Blackmoore's Eric Carter novels
Chris F. Holm's Dead Harvest
Bavo Dhooge's Styx, featuring the zombie detective Rafael Styx
Simon Kurt Unsworth's The Devil's Detective (a detective in Hell)
Weird Detectives, edited by Paula Guran
Our previous coverage of Parvus Press includes:
The Future of Politics, a Desert Fantasy, and Murder in the City of the Dead: Spring Titles from Parvus Press
Flotsam by RJ Theodore
Scavengers in a Crowded Galaxy: Union Earth Privateers by Scott Warren
Necropolis PD was published by Parvus Press on April 2, 2019. It is 408 pages, priced at $15.99 in trade paperback and $7.99 in digital formats. The cover is by Ronan Le Fur. Get all the details at the Parvus Press website.
See all our coverage of the best is upcoming SF and Fantasy releases here.