The Golden Age of Science Fiction: Jim Burns
The Golden Age of Science Fiction: Jim Burns
The British Science Fiction Association (BSFA) Awards have been presented by the British Science Fiction Association since 1970 and were originally nominated for and voted on by the members of the Association. The Artist Award was created in 1980, when the inaugural award was won by Jim Burns, who would go on to win it three more times before the award was changed in 1987.  In 1987, the British Science Fiction Association changed the award to honor specific art as the Artwork Award, which Burns has won eleven times, including a five year winning streak.  His most recent win was in 2018 when his painting for the cover of The Ion Raider tied Victor Ngai's painting for "Waiting on a Bright Moon."
After leaving the Royal Air Force, Burns studied at St. Martin's School of Art in London, graduating in 1972, when he signed on with the Young Artists Agency.  He began providing covers and interior illustrations for British publishers in 1973 and his work appeared exclusively in British editions through 1980. During that time, he also moved from using water colors to gouache to oils.
Some of Burns' work that appeared in 1979 included a cover for Robert A. Heinlein's Farnham's Freehold for Corgi Books showing the main characters standing in a valley watching a flying city. His cover by Robert Silverberg's Son of Man has an alien figure curled up in the foreground with a naked man reclining in the background. His cover for Edmund Cooper's The Deathworms of Kratos is less easy to decipher, but appears to show a man in heavy space armor being attacked by the titular worms.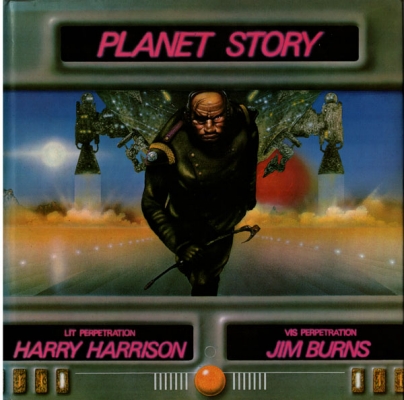 Perhaps Burns's major artistic achievement in 1979 was his collaboration with Harry Harrison.  Burns provided the illustrations for Harrison's story Planet Story, which was written specifically for this project, rather than being a reprint. Burns provided more than 30 oil paintings for the project, creating them over a two year period.
The paintings throughout the book illustrate the story Harrison has written, and Burns was able to use the project to demonstrate his ability to portray a variety of styles and settings, all while remaining true to his artistic vision.  A two page spread shows Tower Bridge, but in a rural setting rather than among the more traditional urban London environment. Other paintings depict the characters, both in the settings of the story and in portrait style, with some pages containing multiple images worked into a single painting.
Burns's paintings add to the enjoyment of the story, creating an additional level of information for the reader and further bringing Harrison's characters and settings to life.  The fact that Harrison and Burns worked together means that the paintings throughout the book are more than merely an artist's interpretation of the story, but are a canonical representation of the imagery that Harrison is attempting to achieve in his tale.
In the early 1980s, Burns was tapped to provide artwork for Ridley Scott's film Blade Runner, which also led him to switch to acrylics and come to the attention to American publishers. This allowed him to expand both his audience and his clientele.
Burns has developed a photorealistic style over the years depicting both nature, humans, and hardware in a realistic manner, even when the popular style may be more impressionistic.
Burns was nominated opposite Patrick Woodroffe, Chris Foss, John Harris, Peter Lord, and Tony Roberts for the first British Science Fiction Artist Award.
---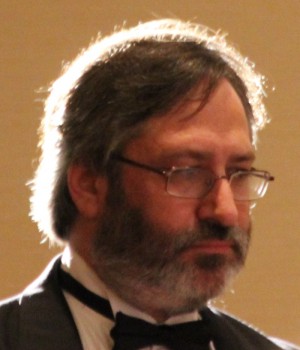 Steven H Silver is a sixteen-time Hugo Award nominee and was the publisher of the Hugo-nominated fanzine Argentus as well as the editor and publisher of ISFiC Press for 8 years. He has also edited books for DAW, NESFA Press, and ZNB. He began publishing short fiction in 2008 and his most recently published story is "Webinar: Web Sites" in The Tangled Web. His most recent anthology, Alternate Peace was published in June. Steven has chaired the first Midwest Construction, Windycon three times, and the SFWA Nebula Conference 6 times, as well as serving as the Event Coordinator for SFWA. He was programming chair for Chicon 2000 and Vice Chair of Chicon 7.