Douglas Draa's What October Brings is a Lovecraftian Celebration of Halloween
Douglas Draa's What October Brings is a Lovecraftian Celebration of Halloween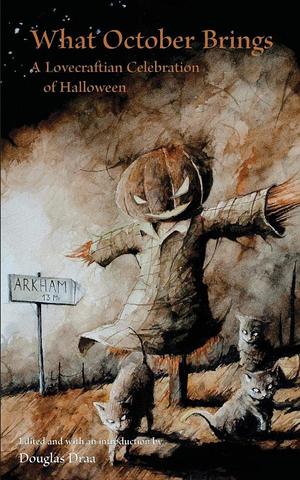 Halloween and Lovecraft. Two great things that belong together. And Weirdbook editor Douglas Draa is the man to make it happen.
His new anthology What October Brings is a handsome collection of original stories by Adrian Cole, Storm Constantine, Tim Curran, Cody Goodfellow, Nancy Holder, Brian M. Sammons, John Shirley, Lucy A. Snyder, Chet Williamson, Black Gate writer Darrell Schweitzer, and many others — all packaged under a gorgeous cover by Italian artist Daniele Serra.
It's from UK publisher Celaeno Press, a new name to me, but they clearly do good work. Here's the description.
Halloween, a time for laughing children in white bedsheets and superhero costumes. A time for chocolate candy, and pumpkins, and Trick-or-Treat.

… a time for dark things everywhere to slink out of the shadows and into our lives, reminding those unlucky few that our charades of Halloween cannot erase the centuries of history and pain behind the facade…

What October Brings celebrates the dark traditions of the autumn rituals, of Halloween and Samhain, in homage to the uniquely fascinating fiction of HP Lovecraft. Masters of the short story offer you a "once in a lifetime" Trick-or-Treat experience…

…perhaps your last!
This is a sizable anthology packed with long stories. Over half are 18+ pages, and one, Lucy A. Snyder's "Cosmic Cola," is a generous 30 pages. Here's the complete Table of Contents.
Introduction by Douglas Draa
"That Small, Furry, Sharp-toothed Thing" by Paul Dale Anderson
"Waters Strangely Clear" by Alan Baxter
"The House on Jimtown Road" by Ran Cartwright
"No Other God But Me" by Adrian Cole
"Down into Silence" by Storm Constantine
"Spider Wasp" by Tim Curran
"The Old Man Down the Road" by Arinn Dembo
"The War on Halloween" by Cody Goodfellow
"The Immortician" by Andre E. Harewood
"Nyarlahotep Came Down to Georgia" by Nancy Holder
"Summer's End" by Erica Ruppert
"A Night for Masks" by Brian M. Sammons
"Inheritance" by Ann K. Schwader
"Uncle's in the Treetops" by Darrell Schweitzer
"Hum—Hurt You. Hum—Hurt You. Hum—Hurt You" by John Shirley
"Cosmic Cola" by Lucy A. Snyder
"Hell Among the Yearlings" by Chet Williamson
I will definitely be keeping an eye on Celaeno Press. They haven't produced a lot, but what they have is certainly worth exploring, including Lin Carter's Simrana Cycle, a collection of classic tales, horror anthology In the Court of the Yellow King, Robert M. Price's anthology Beyond the Mountains of Madness, and the Mythos novel Arkham Nights: Tales of Mythos Noir, by Glynn Owen Barrass & Ron Shiflet.

What October Brings was published by Celaeno Press on September 10, 2018. It is 323 pages, priced at $20 in paperback and $6.99 for the digital edition. The cover is by Daniele Serra. Learn more at the Celaeno Press website.
See all of our recent New Treasures here.