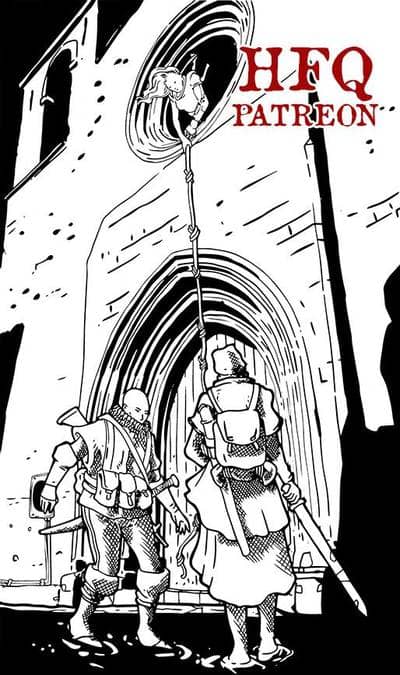 Heroic Fantasy Quarterly is one of the most reliable outlets for top quality adventure fantasy on the market. In his review of Volume One of The Best of Heroic Fantasy Quarterly, Fletcher Vredenburgh wrote:
Heroic Fantasy Quarterly is… the most consistent forum for the best in contemporary swords & sorcery. Some may think I'm laying it on a little thick, but The Best of Heroic Fantasy Quarterly: Volume 1, 2009-2011, a distillation of the mag's first three years, should prove that I'm not.
HFQ's reputation doesn't just rest on quality. They've published four issues a year like clockwork for nearly a decade — and all of it available free online. Fans have been asking for a way to support the magazine for years, and the editors have finally created a Patreon where those who love quality fantasy can make meaningful contributions. Here's HFQ editor and Black Gate blogger Adrian Simmons:
Heroic Fantasy Quarterly has brought new voices in sword and sorcery, adventure fiction, and historical fiction to the people since 2009. On our shoestring budget we have hit our goal of publishing three stories and two poems every three months AND started working in artwork, AND starting working in audio; and with more funds we could do much more.
Even just a few dollars a month can have a huge impact. Make a much-needed contribution to HFQ here, to help ensure one of the best modern fantasy magazine can continue for years to come. And check out their latest issue here.