Action Star of Hollywood's Golden Age: Errol Flynn: The Life and Career, by Thomas McNulty
Action Star of Hollywood's Golden Age: Errol Flynn: The Life and Career, by Thomas McNulty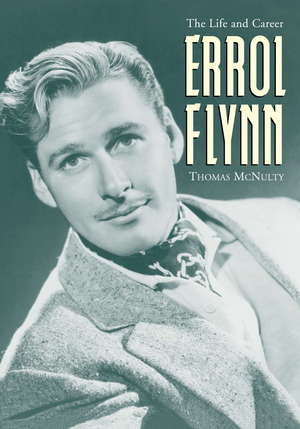 Errol Flynn: The Life and Career
By Thomas McNulty
McFarland Publishing (381 pages, $29.95 in trade paperback/$15.99 digital, April 8, 2004)
Errol Flynn never made a fantasy film during his long career, although he portrayed a number of legendary and historical characters, such as William Tell, and the great pugilist, "Gentleman" Jim Corbett.  But undoubtedly his most famous role was the lead in 1938's The Adventures of Robin Hood, one of the classic and most famous heroes in legend, myth, and perhaps in history, too.
Flynn  first sailed to stardom in 1935 with the success of Captain Blood, which was followed by the 1936 version of The Charge of the Light Brigade. He began 1940 with The Sea Hawk, and in 1941 he portrayed George Armstrong Custer in They Died with Their Boots on. While these films cemented the cinematic persona of Flynn as the dashing, humorous, cheeky action hero, he made three war films in which he played straight, and against type, and showed off his acting skills: The Dawn Patrol in 1938, Edge of Darkness in 1943, and Operation Burma, in 1945, these last two based on real-life events. Flynn had great respect for the military and the war effort, and he played the leads in these three films with a grim sincerity that proved he could do more than wield a sword and shoot a longbow.
While Douglas Fairbanks, Senior was the first action star of the silent film era, Flynn was, in my opinion, the first action hero of the "talking motion picture." You might think that Douglas Fairbanks, Junior would have inherited the crown from his father, but it was Flynn who won the throne.
Flynn also published two novels in his lifetime: Beam Ends, in 1937 — a travel and adventure novel; and Showdown, a 1946 romantic adventure. His also wrote his autobiography in 1959, My Wicked, Wicked Ways, which has never been out of print. Flynn not only inspired a genre and many other actors, he also inspired me. He appears (with both Fairbanks Senior and Junior) in my novella, The Pirates of Penance, which appeared in the 2017  Heroes in Hell anthology Pirates in Hell. (There's also a lot of Flynn to be found in my and Dave Smith's pirate fantasy, Waters of Darkness.)
[Click the images for bigger versions.]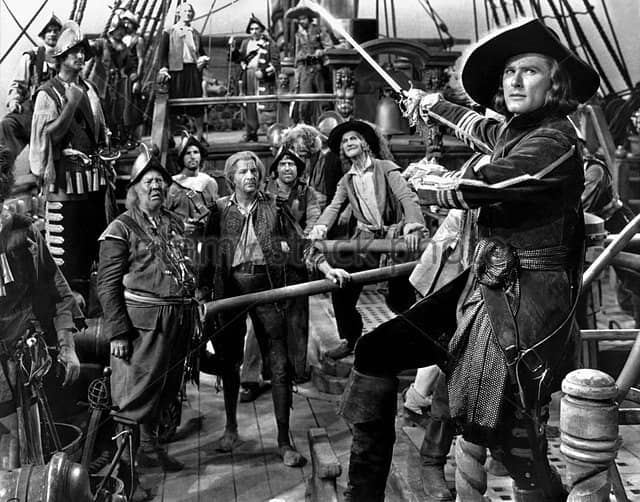 Errol Flynn in Captain Blood (1935)
Now, I've read a lot of biographies in my day, and I've read just about everything I could find on Errol Flynn. But Thomas McNulty's biography of the screen legend, Errol Flynn: The Life and Career, is one of the finest I've ever read, and certainly it's the best one on the life, legend, career, and legacy of Errol Flynn. McNulty's research is amazing, and the information he provides, the tales of Flynn's youth in Tasmania, his adventures, and film career are not only the story of a very talented, intelligent and complex human being, it's also something of an inside look at Hollywood, and Warner Bros motion picture studio.
As I've already stated, Flynn was a star almost from day one: he appeared in only five films, starting in 1932, before his 1935 role as Captain Blood launched him into the stratosphere. Three years and five pictures later, he became a true screen icon, an immortal celluloid hero, in The Adventures of Robin Hood; filmed in gloriously rich Technicolor, this is a movie that must be seen on the big screen… and the Blu-Ray version is amazing!
McNulty's book is filled with insight and great compassion for his subject. But he's not an author to shy away from those dark, disturbing corners of his subject's troubled life. This book reads like a novel, a high adventure that picks you up and sweeps you along, taking you on a journey through cinema history, a journey filled with great and mediocre films, battles with directors and studio boss Jack Warner, and battles with the press, the courts, and the FBI. Flynn's story is one of tall tales, booze, babes, drugs, brawls, and a zest for life that was almost Olympian in scope. (I think it's safe to say that Errol Flynn was also the very first "rock star," and that he set the tone for what he never lived to see: the Swinging 1960s.)
Flynn was also highly intelligent, extremely well read, and a fair hand himself at the typewriter. He was also fearless, truly fearless. In one of the many articles he wrote, titled Refuse to be Afraid, he says: "All my life I've fought fear, because I believe it is the only real menace to a man's hopes and peace of mind." Sadly, this is true, and while we may think that Flynn achieved his hopes, he never achieved the peace of mind he longed for. And McNulty's book has left me with a feeling of sadness for Errol Flynn.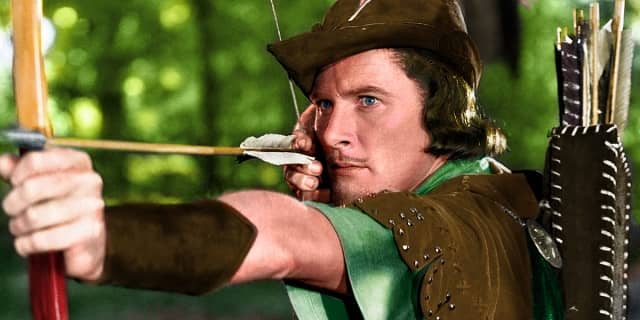 Errol Flynn in The Adventures of Robin Hood (1938)
Laugh if you wish, but I have always identified with Flynn — not the movie star, but the man. More than any other star of Hollywood's Golden Age, I find a kindred spirit in Flynn, though I am nowhere near as fearless or as reckless as he was. There is real emotional depth in McNulty's biography, and this was an emotional journey for me. I think that Errol Flynn, the dashing, elegant, heroic screen icon was very much a lost and lonely little boy at heart. That he lived life to the fullest, led 100 lives in his brief 50 years on this planet, that he conquered Hollywood, women, the admiration and envy of men, and came to be both admired and loathed all over the world, says much about this intense, dark, and troubled soul.
Flynn's story is one of great sadness, a tragedy any Greek playwright of old would be proud to call his own. Tragedy even fell upon two of the four children he loved and was totally devoted to: one daughter, Arnella, died young; his son Sean, a young photo-journalist during the Vietnam War, was captured and killed by the Viet Cong.
There are many more such threads in the tapestry that was the life and career of Errol Flynn, and I feel that he was someone I could have been friends with, for the demons he battled are the same demons I battle, and to some degree, still wrestle with every day. He rarely gets the kudos he deserves for his place in film history, and he is a much underrated actor, in my opinion. But don't take my word for it: watch his films, study his performances. There was more beneath the surface than a first-look reveals.
I have long shied away from Flynn's final decade of films, because by then the booze and drugs, and his reckless lifestyle had caught up with him, and he no longer looked the part of the dashing hero. But after reading McNulty's biography of Flynn, I plan to get my hands on his later films, The Sun Also Rises, Too Much Too Soon, and The Roots of Heaven, to name three.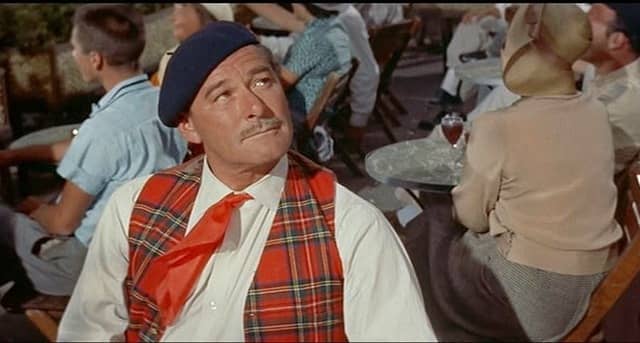 Errol Flynn in The Sun Also Rises (1957)
Allow me now to end my review in Thomas McNulty's own words, from the final chapter of his book, so you may read for yourselves what he has to say about the life and career of Errol Flynn:
His picaresque life as a sailor on the seas of fate; his ability to find adventure amidst the mediocrity of daily life; his courage in facing his adversaries, both on and off the screen, all make for an intriguing portrait of a man who lived life to the fullest.
I could not have said it any better.
Thomas McNulty is a prolific author of some wonderful westerns, such as Wind Rider, Coffin for an Outlaw, and Trail of the Burned Man. He's also written Werewolves, a history of werewolves in folklore, literature, and films, and the pulp novel, Jack Ripcord. I've previously reviewed both books for Black Gate.
The Life and Career of Errol Flynn at Amazon
Thomas McNulty's Amazon page
My review of Werewolves!
My review of Jack Ripcord
---
Joe Bonadonna's last article for Black Gate was his review of Tempus With His Right-Side Companion Niko, by Janet & Chris Morris.