Birthday Reviews: Colin Kapp's "Ambassador to Verdammt"
Birthday Reviews: Colin Kapp's "Ambassador to Verdammt"
Cover by John Schoenherr
Colin Kapp was born on April 3, 1928 and died on August 3, 2007.
Kapp was the author of the Cageworld series as well as a series of short stories featuring the unorthodox engineers. Capp's first short story "Life Plan" appeared in New Worlds in 1958 and his first novel, The Dark Mind, was published in 1964, although serialized the year before.
"Ambassador to Verdammt"  was first published by John W. Campbell, Jr. in Analog Science Fiction/Science Fact in April 1967. It was picked up by Donald A. Wollheim and Terry Carr for inclusion in World's Best Science Fiction 1968. The story was also included in a 2013 collection edited by John Pelan, The Cloudbusters and Other Marvels. It was translated in 1972 for an Italian edition of the Wollheim and Carr. It was included in Science Fiction Stories 33 from German publisher Ullstein.
Kapp focuses on the struggle between the military and the bureaucracy in "Ambassador to Verdammt." A bureaucrat is preparing a planet for the arrival of its first human ambassador. Lieutenant Sinclair is opposed to building a landing pad for a faster than light ship on the planet Verdammt, especially when he learns it is so an ambassador can be brought to the planet, which is noted as having no sentient species. Orders are orders, however, and he does the work, even while clashing with Administrator Prellen and psychologist Anton Wald.
This story unfold quite differently if Prellen and Wald shared their knowledge with Sinclair, rather than allow him to seethe with resentment until he eventually learned more about the planet on his own. While part of their reticence came from the struggle between the two branches of the service, it actually seems to be more of a subset of what James Blish called "the Idiot Plot." Blish defined this as "any plot that would be resolved in five minutes if everyone in the story were not an idiot." In this case, if characters actually shared information, the story would have been resolved much earlier.
Nevertheless, Kapp's Verdammt is a world with unique indigenes, and the story definitely took to heart the popular Campbell maxim to present an alien species as intelligent as humans, but who do not think like humans.
Reviewed in its original publication in Analog Science Fiction Science Fact, edited by John W. Campbell, Jr., April 1967.
---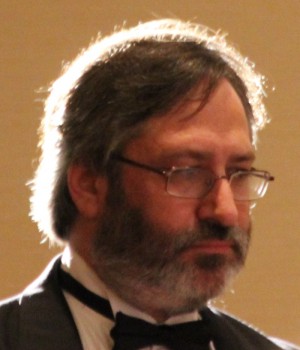 Steven H Silver is a sixteen-time Hugo Award nominee and was the publisher of the Hugo-nominated fanzine Argentus as well as the editor and publisher of ISFiC Press for 8 years. He has also edited books for DAW and NESFA Press. He began publishing short fiction in 2008 and his most recently published story is "Doing Busines at Hodputt's Emporium" in Galaxy's Edge. Steven has chaired the first Midwest Construction, Windycon three times, and the SFWA Nebula Conference 5 times, as well as serving as the Event Coordinator for SFWA. He was programming chair for Chicon 2000 and Vice Chair of Chicon 7. He has been the news editor for SF Site since 2002.