Birthday Reviews: Samuel R. Delany's "High Weir"
Birthday Reviews: Samuel R. Delany's "High Weir"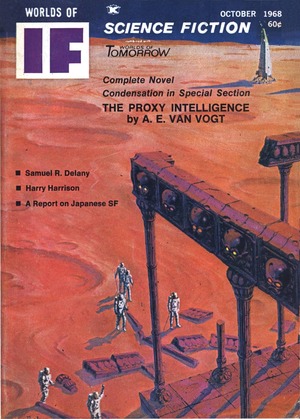 Samuel R. Delany was born on April 1, 1942.
Delany won back-to-back Nebula Awards for Best Novel for Babel-17 and The Einstein Intersection. The second year also saw him winning a Nebula for Best Short Story for "Aye, and Gomorrah." In 1970, his novelette "Time Considered as a Helix of Semi-Precious Stones" won both the Hugo and the Nebula Award and he won a second Hugo for The Motion of Light in Water: Sex and Science Fiction Writing in the East Village, 1957-1965.
His novel Dhalgren received a Gaylactic Spectrum Hall of Fame Award and he received a Lambda Lifetime Achievement Award and a Pilgrim Award. Delany was the Guest of Honor at Intersection, the 1995 Worldcon. He was inducted into the Science Fiction Hall of Fame in 2002, received the Eaton Award in 2010, and in 2014 was named a SFWA Grand Master.
"High Weir" was first published in If by Frederik Pohl in the October 1968 issue. Delany included it in his collection Driftglass and Robert Hoskins reprinted it in the anthology Wondermakers 2. Brian Attebery and Ursula K. Le Guin selected the story for the collection The Norton Book of Science Fiction: American Science Fiction, 1960-1990 and Ellen Datlow published it on Sci Fiction on May 7, 2003. Delany included it in his 2013 collection Aye, and Gomorrah. The story was translated into French in 1970 for inclusion in Galaxie #76 and into German in 1982 when Delany's Driftglass was published as Treibglas.
"High Weir" features a team of scientists and academics exploring a dead Mars and a ruin that indicates a high level of ancient Martian civilization. The story is told from Rimkin's point of view. As the team linguist, there is little for him to do since the Martians did not appear to have any sort of written language. Furthermore, Rimkin exhibits signs that would now be recognized as autistic. He is a brilliant linguist, but his interpersonal skills are completely lacking to the point where he can't identify his teammates when they are in their space suits, nor can he distinguish between their voices on the radio. Part of the team, he is entirely separate from it.
While most of the team is examining Martian statuary and architecture and discovers that the Martians had the ability to capture images and information in holographic form, Rimkin is studying a broken statue, with its incomplete hologram. The group eventually congregates back at their base, where Rimkin's alienation from the group grows worse. In the middle of the night, he returns to the site of their discovery, only to be found there the next morning, insistent that he is in actuality a Martian.
Delany takes what could have been a typical tale of humans exploring Mars and adds some interesting psychological features to it, not just for Rimkin, but for Evelyn Hodges, who tries to explain to Rimkin that he belongs to the group more than she does and that all of them are just as much outsiders as he views himself, even if he doesn't see it. Delany also plays around with the technology behind making holograms, and it's a central part of the problems that arise for Rimkin.
Reprint reviewed in the anthology The Norton Book of Science Fiction: American Science Fiction, 1960-1990, edited by Ursula K. Le Guin and Brian Attebery, W.W. Norton & Company, 1993.
---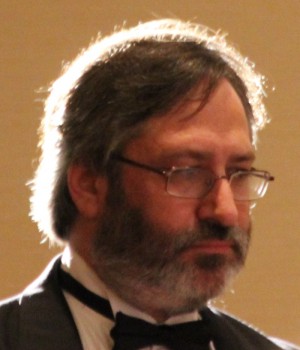 Steven H Silver is a fifteen-time Hugo Award nominee and was the publisher of the Hugo-nominated fanzine Argentus as well as the editor and publisher of ISFiC Press for 8 years. He has also edited books for DAW and NESFA Press. He began publishing short fiction in 2008 and his most recently published story is "Doing Busines at Hodputt's Emporium" in Galaxy's Edge. Steven has chaired the first Midwest Construction, Windycon three times, and the SFWA Nebula Conference 5 times, as well as serving as the Event Coordinator for SFWA. He was programming chair for Chicon 2000 and Vice Chair of Chicon 7. He has been the news editor for SF Site since 2002.