Vintage Treasures: Driftglass by Samuel R. Delany
Vintage Treasures: Driftglass by Samuel R. Delany
Driftglass was Samuel R. Delany's first short story collection, and it was like a bomb dropped on science fiction.
Delany's first work of short fiction, "The Star Pit," appeared in the February 1967 issue Worlds of Tomorrow, and was nominated for a Hugo Award for Best Novella. That same year his groundbreaking "Aye, and Gomorrah" appeared in Dangerous Visions, and was nominated for a Hugo and won the Nebula Award for Best Short Story. Over the next two years Delany would receive an extraordinary eight Hugo and Nebula Award nominations for a string of brilliant stories, including "Driftglass," the novella "We, in Some Strange Power's Employ, Move on a Rigorous Line," and the Nebula and Hugo-winning "Time Considered as a Helix of Semi-Precious Stones."
All those stories, and five others, were gathered in Diftglass. It was the top-ranked collection of the year in the annual Locus Awards poll in 1972, beating Theodore Sturgeon's Sturgeon Is Alive and Well…, Harlan Ellison's Partners in Wonder, and Larry Niven's All the Myriad Ways (and even placing above The Science Fiction Hall of Fame, Volume One on the overall list).
[Click the images for galaxy-sized versions.]
Driftglass was published in hardcover by Doubleday and the Science Fiction Book Club in July 1971, and reprinted in paperback by Signet four months later. Here's the TOC, with award notes on the stories.
"The Star Pit" (Worlds of Tomorrow, February 1967) — Hugo nominee
"Dog in a Fisherman's Net" (Quark/3, 1971)
"Corona" (The Magazine of Fantasy and Science Fiction, October 1967)
"Aye, and Gomorrah" (Dangerous Visions, 1967) — Nebula Award Winner, Hugo nominee
"Driftglass" (If, June 1967) — Nebula nominee
"We, in Some Strange Power's Employ, Move on a Rigorous Line" (The Magazine of Fantasy and Science Fiction, May 1968) — Nebula & Hugo nominee
"Cage of Brass" (If, June 1968)
"High Weir" (If, October 1968)
"Time Considered as a Helix of Semi-Precious Stones" (New Worlds #185, December 1968) — Nebula winner, Hugo winner
"Night and the Loves of Joe Dicostanzo" (Alchemy and Academe, 1970)
It was reprinted in the UK by Panther in 1980, with a new cover by Chris Foss.
Note the stellar quote from Fred Pohl on the cover (an assessment I happen to agree with).
Driftglass was widely reprinted in the 70s and 80s, but the last printing was in 1986. The novella The Star Pit was reprinted separately in 1989 as part of the Tor Double line, Tom Doherty's attempt to launch a modern version of the Ace Doubles with back-to-back novellas. It was paired with John Varley's Tango Charlie and Foxtrot Romeo (covers by Tony Roberts and David Lee Anderson.)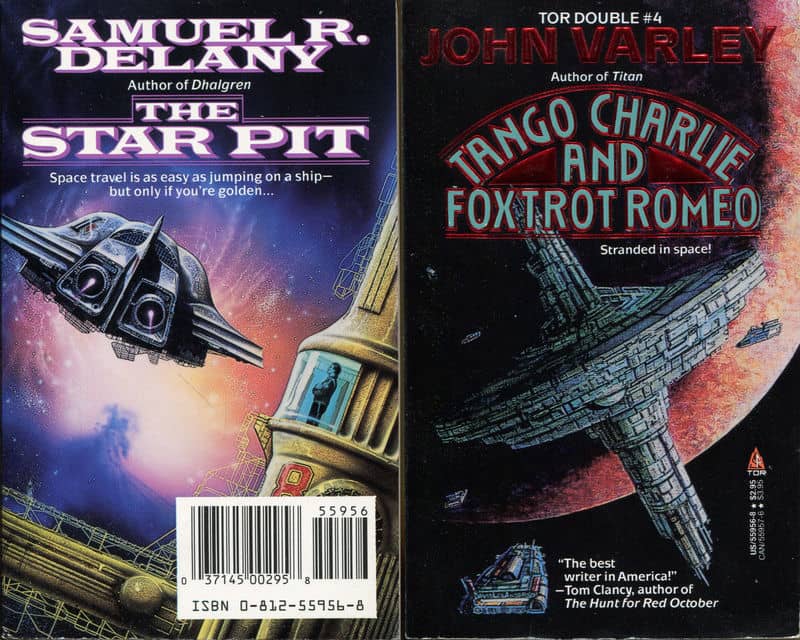 Delany's long-awaited second collection, Distant Stars, was published by Bantam in 1981. Many of the stories from this collection, plus a handful of new ones, were combined with the contents of Driftglass and published by Grafton in 1993 as the massive 535-page omnibus collection Driftglass/Starshards.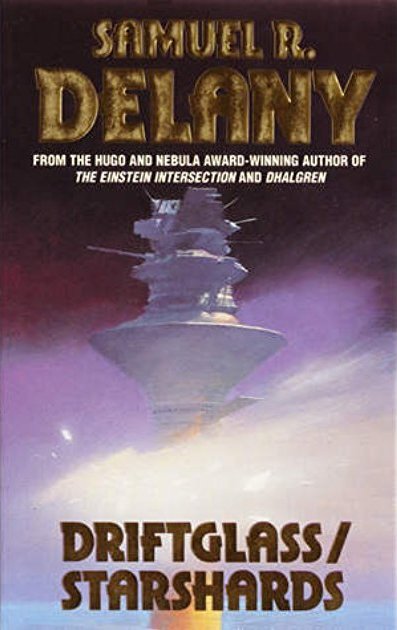 Driftglass/Starshards was only published in the UK, and has never been reprinted. Which is irritating, as I'd love to have a copy. Fortunately most of the contents (with the exception of the linked tales "Citre et Trans" and "Erik, Gwen, and D.H. Lawrence's Esthetic of Unrectified Feeling," which were collected in Atlantis: Three Tales) were reprinted in the 400-page Vintage collection Aye, and Gomorrah: And Other Stories (2003), which is still in print and is highly recommended.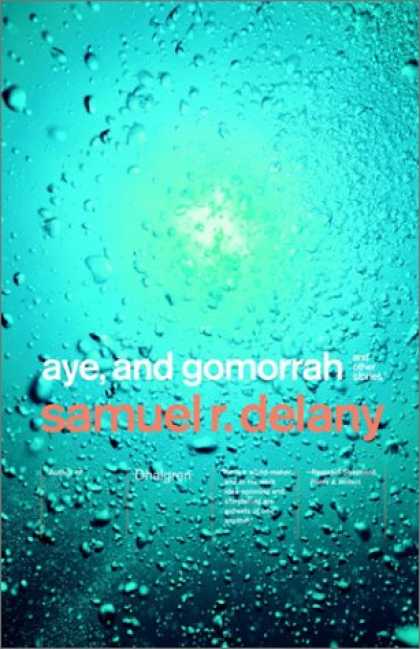 Of course, the collectors in the audience won't be satisfied with anything other than the original vintage paperback edition. Copies are generally inexpensive, though I've found Driftglass to be a fairly scare book, and in fact almost never come across it when hunting at conventions and in used bookstores.
As usual, if you're interested in a copy I recommend shopping for collections rather than paying premium prices online. After years of looking for a copy, I finally found one in beautiful condition last month as part of an eBay collection of 31 largely unread vintage science fiction paperbacks offered for $25. There were plenty of other books in the set I was interested in (including Who? by Algis Budrys, The Long Winter by John Christopher, and Friends Come in Boxes by Michael Coney), so this was definitely the most economical way to get my hands on a copy.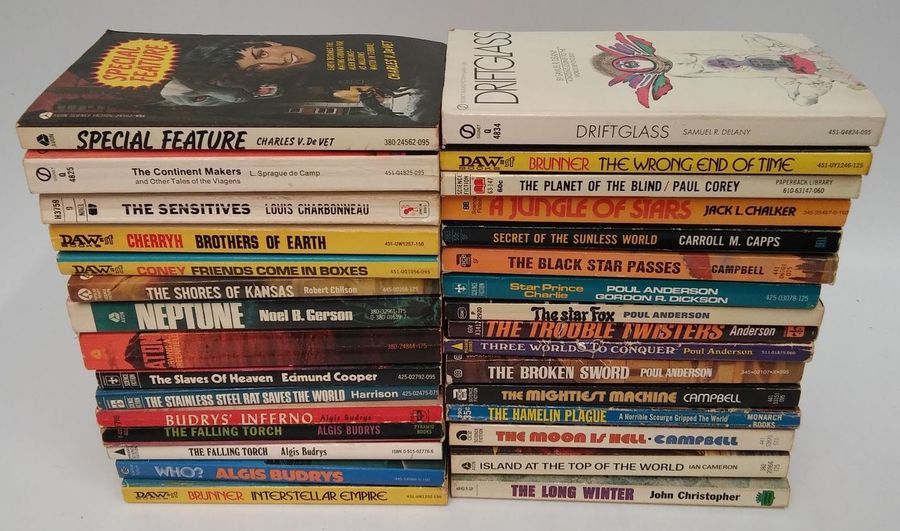 Driftglass was published by Signet/New American Library in November 1971. It is 278 pages, priced at $0.95 in paperback. The cover is by Bob Pepper.
See all of our recent Vintage Treasures here.