Nazis and Superheroes Warring in the Shadows: An Interview with Kay Kenyon
Nazis and Superheroes Warring in the Shadows: An Interview with Kay Kenyon
The Dark Talents novels by Kay Kenyon
I was lucky enough to hear Kay Kenyon read from her novel At the Table of Wolves in 2016, and I was immediately captivated. Her tale of a young English woman with superhuman abilities in the late 1930s who is drawn into the world of intelligence services warring in the shadows — and who stumbles on a chilling Nazi plan to invade England, utilizing their own superhuman agents — was one of my favorite novels last year. I jumped at the chance to interview Kay for Black Gate last week; the transcript of our conversation is below.
The next book in the series, Serpent in the Heather, arrives in hardcover on April 10th, and Saga Press is offering a Goodreads Giveaway which runs until March 27. Check it out here!
Kay, thanks so much for joining us! I first became acquainted with your work through your marvelous standalone SF novels from Bantam Spectra beginning in the late 90s, like The Seeds of Time, Rift, and Maximum Ice, which was nominated for the Philip K. Dick Award. More recently you've embraced series fiction, starting with The Entire and The Rose from Pyr, and now the Dark Talents books from Saga. Why the switch?
Do you want the deep artistic reason or the crass marketing one? I mean, I'm tempted to go all artistic on you with the vision thing and growth as a writer, but I know you too well to lie that brazenly.
[Click the images for superhumanly big versions.]
The Seeds of Time, Rift, and Maximum Ice – 2015 digital editions from Worldbuilders Press
I'd love for my motives to be pure, but I undertook my first series because my (then) agent thought I needed to. He zeroed in on the world building that I was becoming — somewhat — known for, and wanted to see what I could do with an even larger canvas. The ploy succeeded. That first series, The Entire and The Rose quartet, became something of a phenomenon.
Fans fell in love with the universe of the Entire. When I came up with an outline of books connected by a larger story arc, my agent said that for a series like that, rather than writing the usual trilogy, I might distinguish myself by writing four books. Hear my heels click, see the brisk salute! I no longer take orders so well, but that time it wasn't wrong.
As for my current series, once it became clear to me that I was going to write a fantasy based in espionage, I knew that it would lend itself to recurring characters thwarting sequential nefarious foreign plots. As it happens, I had recently fallen in love with multi-book mainstream spy novels. I never thought I would end up writing one (or three) though. Thus I haven't so much switched to series, as landed in a couple of them without quite intending to. I'm working on a novel right now that I see as a stand-alone.
The Entire and the Rose quartet (Pyr)
We'll come back to that tease on your new novel in a minute. For now, I want to know more about these "multi-book mainstream spy novels" you fell in love with. Any names you care to share?
My favorite is Alan Furst, for his tense, character-driven, often noir-laced espionage. Some of the series have recurring people, but his many books all have his characteristic 30's and 40's deep atmospherics. For recurring heroes: Charles Cumming's Thomas Kell books and Daniel Silva's long-running series featuring Gabriel Allon, spy and assassin for Israel's intelligence service. The moral dilemmas, the tension between the personal and the political, the shadow-world deception, and spy craft are all on display with Cumming and Silva.
Then there's John le Carre's George Smiley books, of course. And the Milo Weaver novels from Olen Steinhauer. And I still had time for a dozen stand-alone novels and nonfiction on the British Secret Intelligence Service. By the end, I was ready to be recruited, but the call never came!
I can certainly see you've done your homework. Was it Furst who inspired you to set the Dark Talents in World War II? Or were there specific plot reasons?
I discovered all these novelists after I'd decided on England in the 30's as my setting. My inspiration for the series was actually a nonfiction book: William Manchester's three-volume biography of Winston Churchill, The Last Lion. Volume 2 dramatically sets out how Churchill in the 30s was a lone voice in the wilderness, warning of Hitler's intent and how it met with denial, ridicule, and wishful thinking. Great territory for a plot: the moral ambiguity of the times (where is virtue, in peace or in war?) and the terror about enduring another catastrophe after World War I's losses. I wanted to work with what readers know is coming from the Nazis with political inaction and the intelligence services warring in the shadows.
I also wanted to introduce a theme around the Dark Talent novels' protagonist, Kim Tavistock: how does the gentleman's club of espionage in those days respond to women as powerful assets and agents? All the protagonists in the the spy novels I mentioned are male. Early in World War II women began to operate behind enemy lines.
The thirties was a transition period in women's empowerment.
Tropic of Creation and The Braided World – 2015 digital editions from Worldbuilders Press
It's an enormously fertile ground for a tension-filed spy series, that's for sure. Tell us a bit more about the fantasy element. How did you come to marry the WWII-era spy genre with superheroes?
I was on the fence between realism and fantasy. Would the story feel real-world or go into alternate history or an entirely reimagined England and Germany?
The tricky thing was that I didn't want magic to overtake 1936 politics and society. But since the presence of magic usually will change society — particularly war and espionage — I crafted limits on these powers. Only a few abilities would feel like super powers. Most would be mental powers, presented as psi-powers, on a "scale" from 1 to 10. I could then structure the "Talents" by plot and character needs. Since I wanted the cards stacked against Kim, I felt her having a superpower would upstage the tradecraft of espionage, that exquisite dance of lies, secrets and deception.
Her ability is the spill, in which people tell her secrets they most wished to hide, and it's a medium-strong 6 on the scale. She can't control occurrences. And she has no metric to know which comment is a spill. Thus Kim is not so much a superhero by virtue of a magic power, but rather through superior will and cunning, inspired and aided by her Talent. She goes up against a true super power, however.
Tropic of Creation (Bantam Spectra print edition, 2000)
The villains in these books are marvelous. Villains are always important, of course, but I think that's doubly so in the superhero genre, where you're more or less measured by the villains. Where did yours come from?
In Wolves, the qualities I needed for the villain were charisma and charm. One of the issues I grapple with in the story is that evil isn't always easy to see. Sometimes wicked, immoral things are attractive on the surface. Not only is von Ritter handsome, but he's also charming and intellectually curious. I wanted to create a villain who had redeeming qualities — a rounded character, lost to a corrupt cause.
In Serpent, Verhoeven is a tool of the Nazis, but driven by personal vendetta. Because of his backstory, he sees himself as justified, even in the murder of young people. I wanted him to be quietly scary, capable of horrific violence, but comfortable in civilized settings, going unnoticed. In contrast to his sadistic actions, his scenes are infused with calm psychological domination.
So I guess I built them up as foils to Kim and to say something about the nature of evil. That's always an author's fall back to explain where things came from: "I made it all up."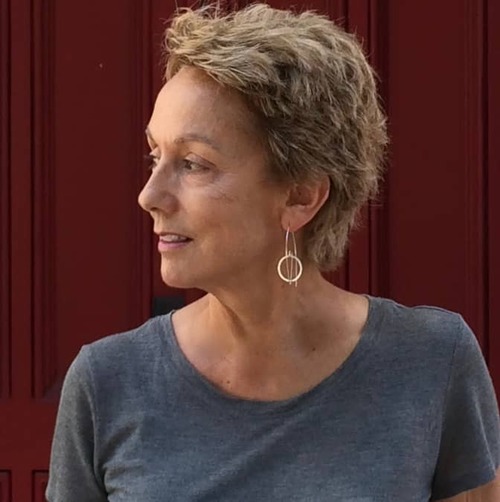 Kay Kenyon
When I heard to you read from At the Table of Wolves at the World Fantasy Convention in 2016, I was immediately struck by how powerful the story was. I left the con convinced I'd been given a glimpse of one of 2017's major works of fantasy — and that was borne out by the book's reception in the next few months. It was obvious from the very beginning that this was a huge story. Can you share with us some of your ambitions for it, and how many volumes you have in mind?
Thank you for that sentiment about the book. I am immensely flattered. But as for my hopes: There are times when I've dreamed of Kim Tavistock having further adventures: the great capitals of Europe, as-of-yet undiscovered Talents, and adding new characters to the ensemble. One's mind goes there.
But it would mean leaving 1936, as I am placing books two and three in a logical time sequence, and the third book, Nest of the Monarch, takes place in December of that year. Thing is, 1936 was in many ways a hinge year in the run up to World War II, an ideal milieu for the emerging Nazi threat, and as a seat-of-the-pants historical researcher, it's the only year I know about!
So right now, the Dark Talents series is a trilogy. Several subplots tied off, characters dealt with, story arc taken to a decisive conclusion. I'm so excited by how the journey ended, but I must admit, I was saddened to leave that world. But, in the way of things, I'm in love with a new story, an out-of-series stand alone. And, as some people have been urging on me, I return to my roots in science fiction.
I love that title for the third book — Nest of the Monarch! But this sound like an ideal time to return to the comment you teased us with at the beginning. What can you tell us about your current project? It's a return to your roots in science fiction? Why the change in genre?
No one was more surprised than I was when my current idea — (can't talk about it, superstitious that way!) — landed on me. It started out with a fantasy feel, but as I explored it, nope, it was science fiction. Then I started following the clues and ideas into the forest and pretty soon I'm in a lovely and savage Woods and I just have to write my way out.
So, as you can tell, I have no idea why the switch, but it wasn't a conscious decision. As for career path and so on, I do aspire to be able to move back and forth from fantasy to SF, rather like one of my all-time favorites, C.J. Cherryh.
Bantam Spectra print editions
You had some marvelous successes with science fiction early on — as I mentioned above, Maximum Ice was nominated for the Philip K. Dick Award in 2003,  The Braided World was a Campbell nominee in 2004, and you've had several books that were Endeavor award nominees. You've come to series fiction fairly late in your career… are you ever tempted to return to the worlds you created for some of your earlier novels?
I'm tempted, yes. But when I look into them with that intention, I find that the fire is out.
This makes me feel feel a bit like an imposter. I mean, I spent months, sometimes years, creating and populating those worlds, and I can't find anything more in them? A real writer could spin off stories by the dozen! I've theorized that I'm that much in love with the characters, so when their story arc is over, I don't want to look back. The major character, came to his/her extreme test and now, for me, it's like thinking about an old love affair when I'm in love with someone else.
The exception to this may be the Dark Talents novels — but that is a series, and the characters were created to have recurring challenges.
That's a great answer. I love a good SF series, but there's a real appeal to story arcs that wrap up in a single volume. Nowadays it seems like they're almost an endangered species, so it's good to hear that the standalone SF novel is not totally a lost art.
Anything else you'd like to tell our readers before we wrap up?
Readers might be interested in my blog series, Women Spies of the World Wars. In it I feature women who did things like parachuting behind enemy lines, skiing into occupied Poland, carrying a suitcase filled with cosmetics to deflect suspicion, and overseeing the surrender of 18,000 German troops. Many served as radio operators in occupied France, where the average survival time for such operators was six months. Stories like theirs definitely inspired me as I was writing the Dark Talents series. Incredibly, most of these women's names and stories are almost unknown to people today.
Incredible stuff! Where did you find it all?
While I was researching, books just came to me through various sources. I mean, I was looking for them, but sometimes people knew what I was delving into, and made recommendations. Then I found women's stories on the internet. Often these stories came out in women's obituaries that started appearing in the last decades. Women working undercover were secretive about their roles—as were men—but as time passes, the stories have begun to come out.
I think that's a wrap!  Thanks so much for doing this for us.
---
Our previous coverage of Kay's books includes:
And her articles for Black Gate are here:
When Ideas Collide by Kay Kenyon
Mucking with the Mundane by Kay Kenyon
Check out all our interview here, and don't forget to sign up for the Goodreads Giveaway for Serpent in the Heather before March 27 here!