Vintage Treasures: A Midsummer Tempest by Poul Anderson
Vintage Treasures: A Midsummer Tempest by Poul Anderson
Cover by Luis Bermejo
Poul Anderson formed a pretty consistent part of my paperback SF diet in the late 70s and early 80s. Novels like Mirkheim (1977) and classic tales like the Hugo Award-winning "No Truce with Kings" (1963) made me an early fan. But I always thought of Anderson as an SF writer, and as a result I never paid much attention to his fantasy. It wasn't until my fellow writers here at Black Gate educated me that I learned what I was missing:
Ryan Harvey on The Broken Sword
Fletcher Vredenburgh on The Whole Northern Thing: Hrolf Kraki's Saga by Poul Anderson
Gabe Dybing on Poul Anderson and the Northern Mythic Tradition: An Introduction
Gabe Dybing on Chaotic and Lawful Alignments in Poul Anderson's Three Hearts and Three Lions
Gabe Dybing on Northern Matter in Poul Anderson's "Middle Ages" of The Broken Sword and in J.R.R. Tolkien's Middle-Earth
Gabe Dybing on Sex and Violence in Poul Anderson's Rogue Sword
I've recently started exploring more of Anderson's fantasy back catalog, and last month I purchased a copy of A Midsummer Tempest, an alternate world fantasy in which William Shakespeare was an historian, rather than playwright, and the events he recorded were all factual. While the plot draws from multiple Shakespearean plays, as the name implies it is chiefly based on A Midsummer Night's Dream and The Tempest. It was nominated for both the World Fantasy Award and a Nebula, and won the 1975 Mythopoeic Award for Best Novel.
[Click the images for bigger versions.]
A Midsummer Tempest novel is set in the era of Cromwell and King Charles I, and deals with both the English Civil War and the first stirrings of the Industrial Revolution (although the timeline Anderson portrays is more advanced than ours). Technology-wielding fairies are part of the plot and, in line with the Shakespearean homage, several of the heroes speak in blank verse.
As you'd expect, the novel is playful in many respects, and Anderson takes full advantage of his alternate timeline. For example, the guard who brings Jennifer into the trap to catch Prince Rupert is Nehemiah Scudder, the famed First Prophet in Robert A. Heinlein's story "If This Goes On—".
A Midsummer Tempest was widely praised. Kirkus Reviews called it "A virtuoso performance," and F&SF labeled it "A rattling good adventure yarn." Lester del Rey said it was "a fantasy I can recommend with pleasure."
The book was first released by Doubleday in hardcover. Ballantine produced the first paperback edition in March 1975 with a fine cover by Darrell K. Sweet (below left); it was reprinted in 1978 with a significantly brighter redesign (right).
Ballantine/Del Rey cover by Darrell Sweet
The first British edition was an Orbit paperback in 1975.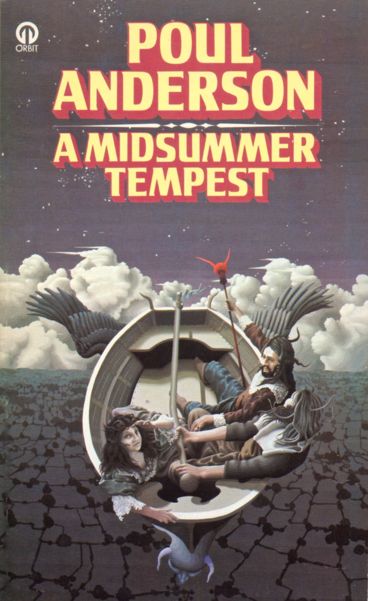 Orbit edition. Artist unknown
With all those editions, copies of A Midsummer Tempest aren't hard to find, especially if you're interested in a paperback. The Tor paperback edition at top is scanned from the copy I bought on eBay for $3.99 (including shipping) last month. Open Road Media published a digital edition in 2014.
A Midsummer Tempest was published by Tor Books in January 1984. It is 318 pages, priced at $2.95. The cover was by Luis Bermejo.
Our previous coverage of Poul Anderson includes dozens of articles. Here they are.
See all our recent Vintage Treasures here.