Birthday Reviews: Marcos Donnelly's "As a Still Small Voice"
Birthday Reviews: Marcos Donnelly's "As a Still Small Voice"
Cover by Peter Stallard
Marcos Donnelly was born on March 18, 1962. He has published a handful of short stories, mostly dealing with religious themes and three novels, Prophets for the End of Time, Letters from the Flesh, and The Mostly Weird Chronicles of Steffan McFessel, the last in collaboration with Ted Wenskus.
Donnelly's debut story, "As a Still Small Voice," appeared in 1989 in Full Spectrum 2, edited by Lou Aronica, Shawna McCarthy, Amy Stout, and Pat LoBrutto. It has never been reprinted.
Father Jim is a priest at a small seminary where the rumors that one of the students, Danny, actually hears God's voice. Jim has mixed views about Danny's gift and sees him as an innocent child who needs to be protected, particularly from one of the other students, Bob, an older man who has come to the seminary after servicing in the marines. Jim can only see Bob as a bad influence on Danny, although the reasons for Jim's mistrust don't seem to be fully justified by anything aside from Jim's own biases.
Jim has his own issues with God and they carry over into his treatment of Danny. As the story progresses, Donnelly reveals more of Jim's history and his guilt over his parents' death, guilt which is brought to the forefront by discovering that God chooses to speak to Danny, but not him. These feelings can be seen in Jim's desire to offer counseling to Danny rather than absolution when Danny approaches him in the confessional.
Donnelly touches on some intriguing questions of religion, faith, and forgiveness, however he is unable to provide fully coherent links between these topics in his story. Donnelly's protagonist, Father Jim, never really connects with the material, which makes it more difficult for the readers to take away a moral, although the issues Donnelly raises are interesting in and of themselves and he does provide some direction on them.
Reviewed in  its only publication in the anthology Full Spectrum, edited by Lou Aronica, Shawna McCarthy, Amy Stout, and Patrick LoBrutto, Bantam Spectra, 1990.
---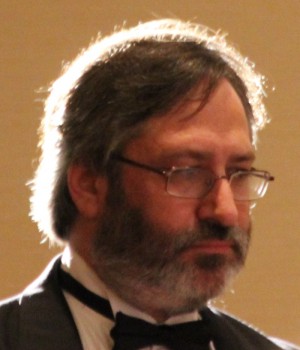 Steven H Silver is a fifteen-time Hugo Award nominee and was the publisher of the Hugo-nominated fanzine Argentus as well as the editor and publisher of ISFiC Press for 8 years. He has also edited books for DAW and NESFA Press. He began publishing short fiction in 2008 and his most recently published story is "Big White Men—Attack!" in Little Green Men—Attack! Steven has chaired the first Midwest Construction, Windycon three times, and the SFWA Nebula Conference 5 times, as well as serving as the Event Coordinator for SFWA. He was programming chair for Chicon 2000 and Vice Chair of Chicon 7. He has been the news editor for SF Site since 2002.