Birthday Review: John Gribbin's "Something to Beef About"
Birthday Review: John Gribbin's "Something to Beef About"
Cover by Tim White
John Gribbin was born on March 19, 1946. Gribbin has published both fiction and non-fiction, including non-fiction titles The Jupiter Effect with Stephen Plagemann, In Search of the Big Bang, and The Science of Philip Pullman's His Dark Materials with Mary Gribbin. His own novels include The Sixth Winter with Douglas Orgill, Ragnarok with D.G. Compton, and solo works Timeswitch and Father to the Man.
"Something to Beef About" was first published in Interzone 49 in July 1991, edited by David Pringle and Lee Montgomerie. In 2016, a revised version of the story was reprinted in the anthology Existence is Elsewhen, published by Elsewhen Press.
Gribbin opens "Something to Beef About" by falling into the trap described by Mark Rosenfelder in his satirical "If All Stories Were Written Like Science Fiction." He describes the mundane aspects of David Jenkins's life in an attempt to set up a future society in which Jenkins lives, but for the most part it comes across as telling the readers something they should already know. Instead of setting the scene, it makes the reader very aware that the story is a construct.
Among the information that Gribbin shares, the pertinent facts are that the story is set in a world in which global warming is something people have to deal with on a daily basis and in the UK BSE, mad-cow disease or possibly a similar disease, is prevelant. Jenkins is working to establish whether the current disease is BSE-II or some other disease entirely, a process he is working on with an artificial intelligence known as the Box.
Where the story excels is the manner in which Gribbin takes disparate scientific discussions of the day, mad cow disease and global warming, and weaves them together to extrapolate a future in which both are major issues, exploring how they impact human lives, either in day-to-day existence in the case of climate change, or in the alteration of eating habits for mad cow disease. His twist at the end incorporates yet another scientific breakthrough, which tends to offset his earlier attempts to portray his future world.
Reviewed in  its only publication in the July 1991 issue of Interzone (#49), edited by David Pringle and Lee Montgomerie.
---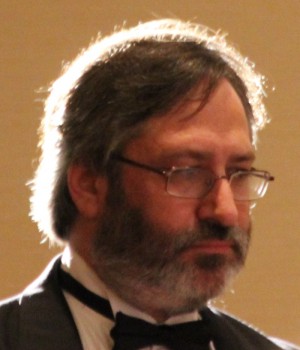 Steven H Silver is a fifteen-time Hugo Award nominee and was the publisher of the Hugo-nominated fanzine Argentus as well as the editor and publisher of ISFiC Press for 8 years. He has also edited books for DAW and NESFA Press. He began publishing short fiction in 2008 and his most recently published story is "Big White Men—Attack!" in Little Green Men—Attack! Steven has chaired the first Midwest Construction, Windycon three times, and the SFWA Nebula Conference 5 times, as well as serving as the Event Coordinator for SFWA. He was programming chair for Chicon 2000 and Vice Chair of Chicon 7. He has been the news editor for SF Site since 2002.