The Return of OMNI Magazine
The Return of OMNI Magazine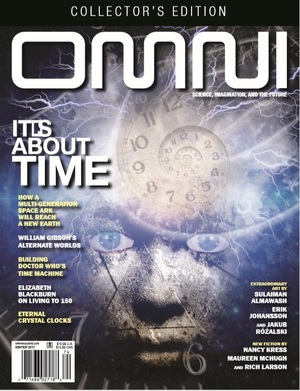 I was never quite sure what to make of OMNI magazine.
OMNI first appeared in 1978. It was published by Penthouse publisher Bob Guccione and, while it didn't publish pornography, it never quite became a real science fiction magazine, either. True, it published some of my favorite SF of the 80s, including the brilliant SF/horror tale "Sandkings" by George R.R. Martin, "Unaccompanied Sonata" by Orson Scott Card, and stories by Philip K. Dick, William Gibson, Alfred Bester, Harlan Ellison, Bruce Serling, Gene Wolfe, and many others.
On the other hand, it's also the only SF magazine I've ever thrown away. When I moved to Belgium for a year in 1992 and had to put my books in storage, I chucked my complete collection of OMNI magazine in the trash because it wasn't worth the back-breaking effort of moving all those heavy boxes. There just wasn't enough fiction, and way too many UFO articles and other pseudo-science for my taste.
I'm not quite sure what to make of OMNI's return to print late last year, either. Mostly because — unlike the original magazine launch, which had a $3 million advertising budget — it was done completely under the radar. I never saw a print copy, and only heard the magazine was back via a few stray comments on Facebook. Amazon has no copies in stock. It took a while to find the website, and the Subscribe Now! button doesn't work (probably because I have a pop-up blocker on, but still).
Nonetheless, some diligent digging convinced me that the magazine has, in fact, actually returned to print, and this isn't all just a vague internet rumor. For one issue, at least. And that issue contains some original fiction by top names — Nancy Kress, Maureen F. McHugh, and Rich Larson — and other interesting content.
It also has the luscious interior art and easy-on-the-eyes design that I remember from the old mag. Have a look.
[Click the images for bigger versions.]
The issue is 120 pages, and priced at $10.99.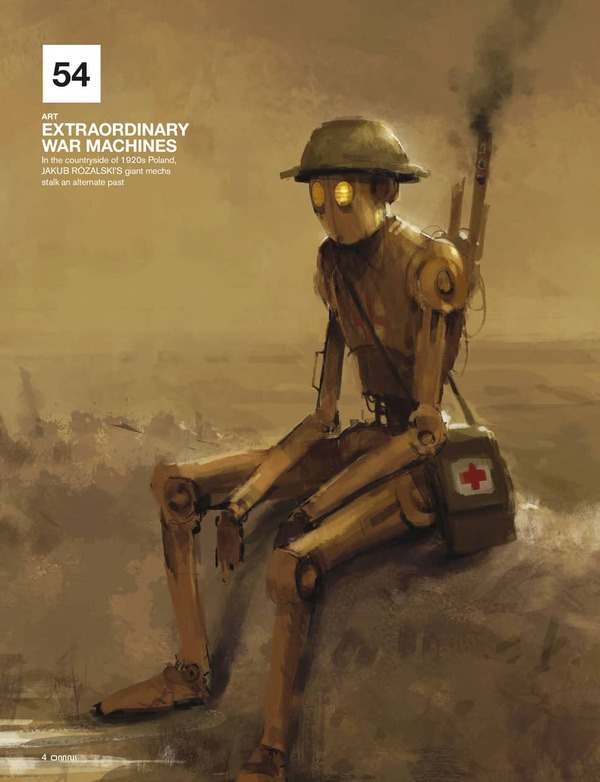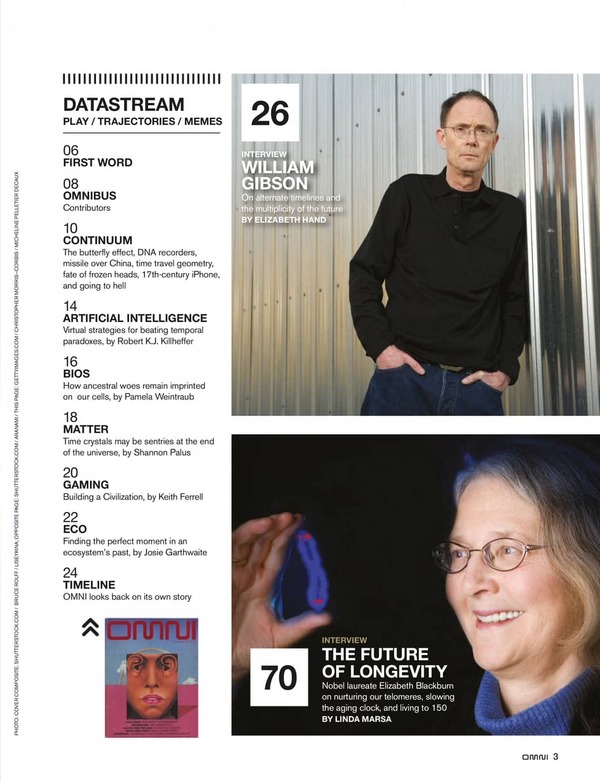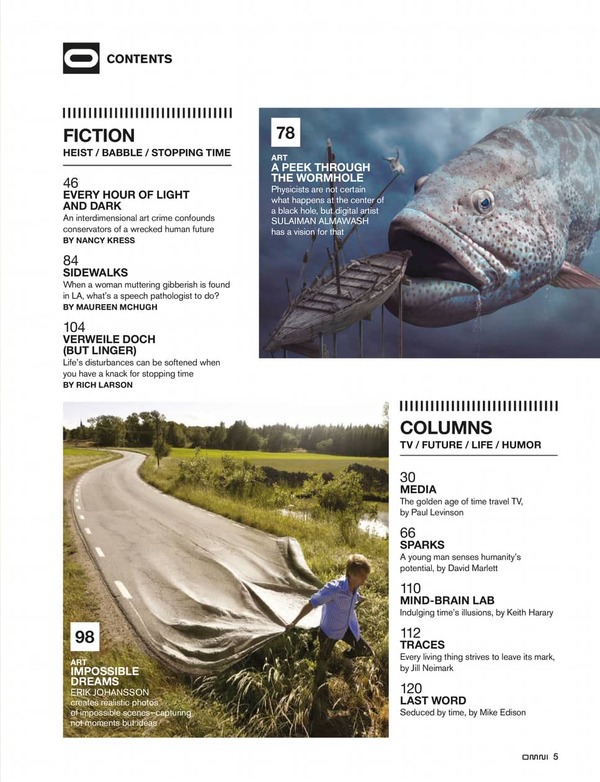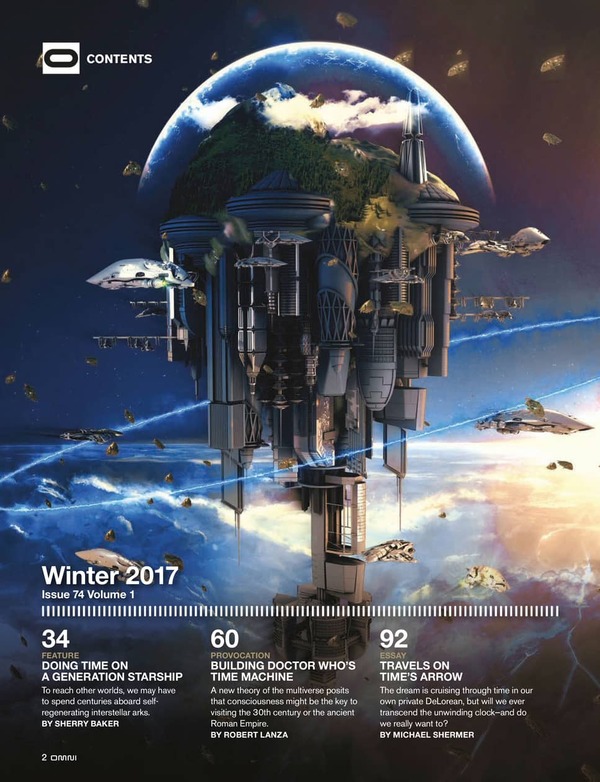 There's no word on when the next issue might be published — or even if there will be another one. I assume a lot depends on the success of this one in the marketplace.
I'm not sure if my inability to find a copy is a good thing or a bad thing. It is sold out? Or does it just have terrible marketing and distribution? Or both?
Here's the complete TOC for the Winter 2017 issue.
First Word, by Pamela Weintraub
Continuum
Bios: Ghosts of History, by Pamela Weintraub
Matter: Crystals of Eternity, by Shannon Palus
Taking Agency: An interview of William Gibson, by Elizabeth Hand
The Golden Age of Time Travel TV, by Paul Levinson
Doing Time on a Generation Starship, by Sherry Baker
"Every Hour of Light and Dark," by Nancy Kress
Building Doctor Who's Time Machine, by Robert Lanza
Interview: The Future of Longevity, by Linda Marsa
"Sidewalks," by Maureen F. McHugh
Travels on Time's Arrow, by Michael Shermer
"Verweile Doch (But Linger)," by Rich Larson
Last Word, by Mike Edison
Andrew Liptak has a fine look back at the rich history of OMNI magazine at Kirkus Reviews. Tor.com has more details on its return to print.
OMNI Magazine is edited by Pamela Weintraub and published by Penthouse Global Media. The Winter 2017 issue is 120 pages, priced at $10.99. Subscriptions are $65.94 for four issues. Order copies here. The magazine's Facebook page is here.
See our Late January Fantasy Magazine Rack here, and all of our recent Magazine coverage here.