Winter Reading: The Night Land by William Hope Hodgson with an Assist from James Stoddard
Winter Reading: The Night Land by William Hope Hodgson with an Assist from James Stoddard
If you've at any point heard some rumors, some whispers, some strange buzz about this book by William Hope Hodgson called The Night Land… maybe you've heard it is one of the greatest works of horror or dystopian dark fantasy…but you've also heard that it's practically unreadable because of Hodgson's choice to write it in a very weird prose style…"Penned in 1912, The Night Land is considered by many to be a work of genius, but one written in a difficult, archaic style that readers often find impenetrable."
In 2010, James Stoddard (a fantastic fantasy author in his own right) wrote a "translation" into a more modern, readable vernacular. If you're thinking of maybe reading Stoddard's version, I must tell you this:
DO IT. Sooner rather than later. The fact is, one of the all-time great masterworks of sustained horror and imaginative vision, was, unfortunately, self-hampered by its author with his choice of writing it in a clunky, pseudo-archaic language. Stoddard did a supreme service to all of us by simply adapting the work into accessible modern English. I read Stoddard's version, and via that gateway discovered what all the fuss was about. Yes, it really is that great an achievement: If Hodgson had written it in more accessible language, it would be as well known and celebrated today as any of the other seminal works of horror, fantasy, and science fiction.
The Night Land: A Story Retold is available on Kindle for $3.99 and in paperback for $11.99 through Amazon, as well as audiobook through Audible!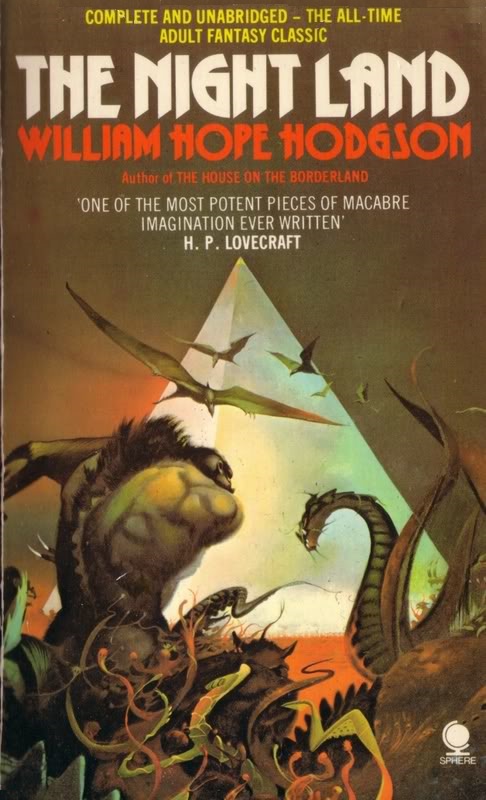 You can read a more complete overview of Hodgon's work and Stoddard's "collaboration" in this 2014 post.
You can read our interview with Stoddard about adapting the work of one of the greats in this 2016 post.