By Crom: Some Conans are More Equal Than Others…
By Crom: Some Conans are More Equal Than Others…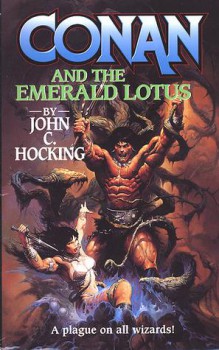 I've been in a bit of a Robert. E. Howard mood lately, so I re-read some of his Solomon Kane stories (fine stuff). But, as always, I gravitated back to Conan. And that inevitably led me to the pastiches. A quick count of the shelves produced 42 non-Howard Conan tales, excluding the de Camp/Carter books, of which I'm missing two or three, I think.
I've read at least a third of those pastiches, I'd say, maybe close to half. Except for a few, they are part of the Tor line I wrote about here. And as I mentioned, they're a mixed bag. I also wrote a post regarding how official those pastiches are considered, which generated a lot of good commentary.
The Tor line came to a halt in 1997, with one additional book in 2003 (I wouldn't have minded if they'd skipped that last one). There have been no official Conan pastiches in fifteen years, though that's going to change shortly.
Howard Andrew Jones, fantasy author and Black Gate's Managing Editor, had some thoughts similar to mine over at his blog a few years ago. Ryan Harvey's Pastiches R Us looked at about a dozen of the Tor books: you can search Black Gate for them, but here's one and here's another. He also had Charles Saunders do a guest post for him.
A multitude of writers have penned a plethora of words about the Conan pastiches, but I'm keeping this post 'in-house' and will focus on musings from Howard, Ryan and myself.
Here are a few of the less complimentary comments regarding the Tor pastiches from the afore-linked articles:
"As a matter of fact, those Conan novels on store shelves in the '70s and '80s made me so skeptical of Conan that I didn't try Robert E. Howard's fiction until years later. I wrongly assumed that because the series looked cheap and mass produced that Howard's writing would sound that way" — Howard Andrew Jones
"None of the pastiches could match Howard, and the majority of them are poor work-for-hire that feel cranked out without much passion. The long series from Tor, which lasted from 1982 to 1997, and made a brief return in 2004 (hardback in 2003 – Bob), gets the most critical drubbing." — Ryan Harvey
"The Tor books, pushed out at a punishing pace, are very much a mixed bag. And my experience so far is that more often than not, they fall into the "meh" or worse category." — Bob Byrne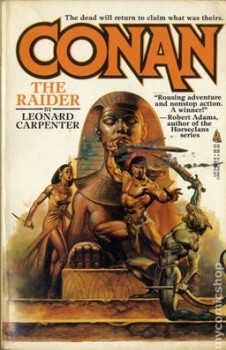 You can read the essays for more comments along those lines from all three of us. There are plenty of negative observations to be made. But some of the Tor books are good reads. And at least two of us agree on a couple of them (Ryan and I think better of Robert Jordan's efforts than Howard does).
Howard has championed John C.  Hocking's Conan and the Emerald Lotus for years as his favorite pastiche. Authors James Reasoner and Evan Lewis both praise the book. It's my second-favorite Tor book and in his review for SwordandSorcery.org (link now dead) I believe that Ryan ranked it highly as well. Highly recommended.
Hocking wrote a second novel, Conan and the Living Plague, and started a third. However, things got mucked about with the rights holders and Living Plague was never published. I hold out hope that will be rectified sooner rather than later.
Howard, Ryan and I all like Leonard Carpenter's Conan the Raider. Howard wrote that Carpenter "writes with astonishing visual power" and Ryan wrote that he appreciates  "a pastiche writer willing to dig down into the more horrific side of the Weird Tales legacy."
I commented that it was a "rather fun fantasy novel and one I liked." You can see why I'm the bottom feeder in the triumvirate I'm talking about here…
Howard, Ryan and myself all found something to like in John Maddox Roberts' pastiches. Howard and I have both specifically commended Conan the Rogue (Ryan might have, but I haven't run across a mention). In fact, Conan the Rogue, which is an homage to Dashiell Hammett's classic novel, Red Harvest, is my favorite Conan pastiche. I intend to do a thorough write-up of it some day.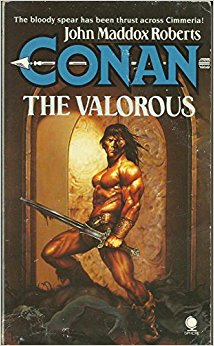 Ryan and I have both commented favorably on Roberts' Conan the Valorous. I reviewed it at length and I think it did a much better job of presenting life in Cimmeria than did Harry Turtledove's Conan of Venarium (a late and final addition to the Tor line).
Howard liked Conan the Sorcerer, the first of Andrew J. Offut's trilogy. I did as well. I think it's about the pulpiest of the pastiches. The second book kept me going on, but then Conan rapes a woman early in the third book. It was out of character and completely unnecessary and it ruined the trilogy for both Howard and I.
So, here's a quick recap of recommendations. I don't think you'd go wrong starting here with your Conan pastiching:
Conan and the Emerald Lotus – John Chris Hocking
Conan the Rogue – John Maddox Roberts
Conan the Raider – Leonard Carpenter
Conan the Valorous – John Maddox Roberts
Conan the Sorcerer – Andrew J. Offutt
There are others worth reading, of course. And I didn't even get in to the de Camp/Carter line. While I totally understand that de Camp rewrote Howard (there's some intestinal fortitude!), I like the stories in those Ballantine/Ace collections. And I think they're generally superior to the Tor books.
I've got several reviews of Conan books up at Amazon – search 'Conan' and 'Robert Byrne.' And definitely look for Ryan's Pastiches R Us moniker at BlackGate.com. Just type 'Conan' over at  Howard's excellent blog for some good stuff. The review that he and Bill Ward did of Del Rey's trilogy of original-text Conan tales is a must read.
Some miscellaneous tidbits: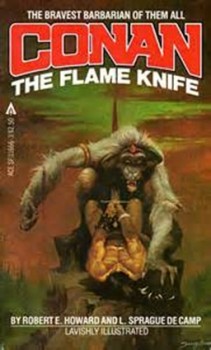 Karl Edward Wagner's The Road of Kings, a Bantam (not Tor) book is frequently cited among the top pastiches and Howard liked it. I had heard quite a bit about it when I finally read it and wasn't as impressed as I expected to be.
Also, Ryan wrote,
You may have noticed that in my series of reviews of Conan pastiche novels, I have yet to review an entry from Roland Green.

That is correct. I have not. Noted. Moving on. . .
But I rather liked Green's Conan the Relentless, so I don't think Green missed on all of his efforts.
I both read and write Sherlock Holmes stories. I've got hundreds of pastiches on my shelves. And many, many of those writing about the world's first private consulting detective try to emulate Doyle's style. As you can well imagine, results are all over the map. But there are a few, like Hugh Ashton and Denis O. Smith and June Thomson (and with his Solar Pons, Cthulhu guy August Derleth) who sound very much like Doyle.
And quite a few others who do Doyle well, if less perfectly. It's not the same with Howard. I've not read a pastiche where I thought, "Boy, he writes just like Howard!" Perhaps REH can't be replicated as Doyle can – I don't know. But as a Sherlockian, it's an interesting difference. BTW — have any women written Conan?
While I was writing this post, I was reading Sean A. Moore's Conan and the Grim Grey God. I had not yet read any of Moore's three Tors. Ryan Harvey had reviewed his Conan the Hunter and said that Moore's "imagination shows promise." I'll be writing a review of Grim Grey God, but I just wanted to mention that it immediately became one of my five favorite Tors. It hit a lot of the right buttons and I definitely enjoyed it more than most of the others in the Tor series. I'll be looking for Moore's other two books. Sadly, he died in a car accident shortly after the third pastiche.
Finally, I will mention The Flame Knife. I LOVE Howard's El Borak stories. Francis Xavier Gordon rivals Conan as my favorite Howard character. Howard wrote Three Bladed Doom, an El Borak story that wasn't published until 1976. But about twenty years earlier, de Camp had taken the story and rewritten it as a Conan tale, The Flame Knife, which saw print in 1955. I think that both versions are good reads.
More Conan coming, I'm sure…
1/23/18 UPDATE
In mid-January, I had the opportunity to read several more Tor pastiches. John Maddox Robert's Conan the Marauder was the best of the bunch. There's a Genghis Khan type figure who is uniting the horse-riding Hyrkanian tribesmen. Howard Andrew Jones had recommended this one to me in the past. I'd give it four stars and I think I've now read enough Tors that so far I judge Roberts a cut above Hamilton and Coleman and a couple levels better than Perry.
---
Bob Byrne's 'The Public Life of Sherlock Holmes' column ran every Monday morning at Black Gate  from March 10, 2014 through March 20, 2017 (making an occasional return appearance!). He also organized Black Gate's award-nominated 'Discovering Robert E. Howard' series.
He is a member of the Praed Street Irregulars, founded www.SolarPons.com (the only website dedicated to the 'Sherlock Holmes of Praed Street') and blogs about Holmes and other mystery matters at Almost Holmes.
He has contributed stories to The MX Book of New Sherlock Holmes Stories – Parts III, IV,  V and VI.