November/December 2017 Asimov's Science Fiction Now on Sale
November/December 2017 Asimov's Science Fiction Now on Sale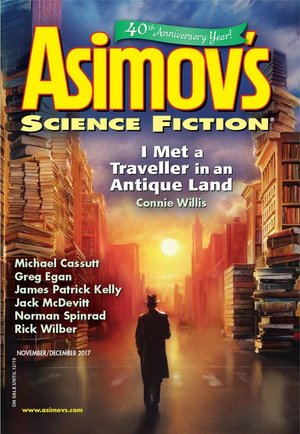 Asimov's SF wraps up its first full year as a bi-monthly magazine with a delightful new issue, featuring brand new science fiction from Connie Willis (a big new novella), Greg Egan, Jack McDevitt, James Patrick Kelly, Norman Spinrad, Tom Purdom, Rick Wilber, and lots more — including another story in the long-running series by James Gunn set in the world of his Transcendental Trilogy.
Here's editor Sheila Williams's description from the website:
We are pleased to announce that Asimov's November/December 2017 issue will launch a brand new novella by SFWA Grand Master Connie Willis. "I Met a Traveller in an Antique Land" welcomes us into that little shop around the corner and thence into the subterranean mysteries of New York City. With all the twists and turns, you'll soon be as lost as her hapless traveller. This is an intriguing tale that you won't want to miss!

November/December caps our stellar anniversary year with its own stellar line up: Norman Spinrad looks at the consequences of "The Nanny Bubble"; Greg Egan investigates "The Discrete Charm of the Turing Machine"; "And No Torment Shall Touch Them" if James Patrick Kelly can rescue his characters from the machinations of a difficult relative; James Gunn's saga continues with "Love and Death and the Star that Shall Not Be Named: Kom's Story"; Jason Sanford reveals the harsh secrets infusing "Nine Lattices of Sargasso"; and new author Emily Taylor quietly shows us what's been "Skipped." We'll go "Timewalking" with Michael Cassutt; find ourselves "Afloat Above a Floor of Stars" alongside Tom Purdom; hear the moving "Confessions of a Con Girl" in Nick Wolven's bittersweet short story; meet Joel Richards' desperate "Operators"; join Jack McDevitt for the "Last Dance"; and, with Rick Wilber, we may find ourselves on the wrong side of town "In Dublin, Fair City."

Robert Silverberg's Reflections column discusses walls in Westeros and "Gog and Magog"; James Patrick Kelly's On the Net goes to the "Time Party"; Peter Heck reviews Norman Spinrad, Peter S. Beagle, China Miéville, James P. Blaylock, Jack Womack, and others; plus we'll have an array of poetry and additional features you're sure to enjoy.
Over at SF REVU Sam Tomaino praises the whole thing, calling it "a great issue with a Hugo-worthy novella and a Hugo-worthy short story. It's a great way to wind-up their Fortieth Anniversary."
Here's Sam:
"In Dublin, Fair City" by Rick Wilber -+- This is the third story in an alternate history written by Wilber about a real-life baseball player, who became a spy. It is March 1940 and things are not going well for those opposing Germany and Japan. The Japanese are occupying San Diego and threatening San Francisco. The United States has a shaky armistice with Germany which has overrun Europe, including England. Churchill and the English government are in exile in Dublin, something the Irish resent especially since the Nazis are bombing the city. Moe and his woman friend have been sent to Dublin on a secret mission to meet with Michael Collins and someone else, who I will not spoil. We are promised two more stories and this one certainly leads to more interesting alternate history. There's also some great baseball background in the beginning of the story, Wilber's specialty. Loved the story and can't wait for the sequels.

"Skipped" by Emily Taylor -+- Our narrator is traveling in a high-speed transport compartment when suddenly she is not alone. There is a man with her and apparently, he knows her and calls her, "babe". She has "skipped" winding up in an alternate timeline and this man is her husband. Apparently, the quantum measurements made when building the high-speed system were off and people sometimes "hit a space-time pocket and get twisted to a different tail in the braid of the multiverse". But that's okay, the government and the corporation that built the transport can get her back. But a glimpse of one of her alternate lives leaves her unsettled. Another good story.

"I Met a Traveller in an Antique Land" by Connie Willis. -+- Our narrator is a male writer in New York City to meet with his editors. He is wandering about Manhattan and trying to get out of the rain when he winds up in a bookstore called Ozymandias Books (hence the title) which is unusual even for that kind of place. The guy in charge seems straight out of central casting and tells him the books in the store are "rarer than rare". As he looks around the books seem to be in random order and truly obscure. When another employee appears and tells the owner that they are "swamped," our narrator finds his way to a back room and quite a bit more. The idea behind all this is so fascinating that I don't want to spoil it further. This is just the kind of story you get from Willis and it will be on my Hugo Short List for Novella.
Read Sam's complete comments here.
Here's the complete Table of Contents for the November/December issue.
NOVELLA
"I Met a Traveller in an Antique Land" by Connie Willis
NOVELETTES
"The Discrete Charm of the Turing Machine" by Greg Egan
"In Dublin, Fair City" by Rick Wilber
"Nine Lattices of Sargasso" by Jason Sanford
SHORT STORIES
"Confessions of a Con Girl" by Nick Wolven
"The Last Dance" by Jack McDevitt
"And No Torment Shall Touch Them" by James Patrick Kelly
"Timewalking" by Michael Cassutt
"Skipped" by Emily Taylor
"Afloat Above a Floor of Stars" by Tom Purdom
"Love and Death and the Star that Shall Not Be Named: Kom's Story" by James Gunn
"Operators" by Joel Richards
"The Nanny Bubble" by Norman Spinrad
POETRY
Apocatastasis by Jennifer Crow
Your Clone Authors a Sticky Note by Robert Frazier
Change State by Ken Poyner
Probabilities by G. O. Clark
Nettle Coat by Jane Yolen
How To Die on a Faraway Planet by H. Mellas
A Myth as Big as a Mile by Jane Yolen
DEPARTMENTS
Editorial: Excelsior! by Sheila Williams
Reflections: Gog & Magog by Robert Silverberg
On the Net: Time Party by James Patrick Kelly
Next Issue
On Books by Peter Heck
The SF Conventional Calendar by Erwin S. Strauss
The terrific cover is by Eldar Zakirov.
See the current issue, with story excerpts and links to free online content, here.
The issue went on sale October 24. It will be on sale until December 19.
Asimov's Science Fiction is edited by Sheila Williams and published by Dell Magazines. The cover price is $7.99 for 208 pages; a one-year subscription is $34.97 (US) or $49.97 (International). It is also available in a variety of digital formats.
We last covered Asimov's SF with the September/October 2017 issue.
Our Late October Fantasy Magazine Rack is here. See all of our recent fantasy magazine coverage here.