Future Treasures: Valiant Dust by Richard Baker
Future Treasures: Valiant Dust by Richard Baker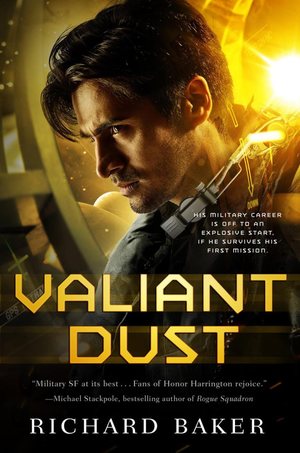 Richard Baker began his career at TSR where, with Colin McComb, he designed the Birthright campaign setting in 1994, the first D&D campaign setting to support PCs as rulers, creating a hybrid game based on "diplomacy, politics, trade, construction and (of course) war" (Pyramid magazine). His next major release was the fondly remembered Alternity SF RPG in 1998, with Bill Slavicsek.
His first novel was Forgotten Realms: The Adventures: The Shadow Stone (1997); it was followed quickly by nearly a dozen others for TSR, including two novels in the Star*Drive setting (1999), the New York Times bestselling War of the Spider Queen: Condemnation (2003), and the Blades of the Moonsea trilogy (2008-2010).
Valiant Dust marks his first non-licensed project, and I'm glad to see it. It's the opening volume of the military science fiction series Breaker of Empires, set in an era of great interstellar colonial powers. It arrives in hardcover from Tor in two weeks.
Sikander Singh North has always had it easy ― until he joined the crew of the Aquilan Commonwealth starship CSS Hector. As the ship's new gunnery officer and only Kashmiri, he must constantly prove himself better than his Aquilan crewmates, even if he has to use his fists. When the Hector is called to help with a planetary uprising, he'll have to earn his unit's respect, find who's arming the rebels, and deal with the headstrong daughter of the colonial ruler―all while dodging bullets.

Sikander's military career is off to an explosive start ― but only if he and CSS Hector can survive his first mission.
Our previous coverage of Richard Baker's game books includes:
Lost Empires of Faerûn
Cormyr: The Tearing of the Weave
Shadowdale: The Scouring of the Land
Valiant Dust will be published by Tor Books on November 7, 2017. It is 349 pages, priced at $25.99 in hardcover and $12.99 for the digital edition. The cover is by Larry Rostant. Read the complete first chapter here. Read all of our recent coverage of the best upcoming SF and fantasy here.