Superheroes, a Wise-Cracking Demon, and Warrior Dinosaurs: To Hell and Back by Matthew Hughes
Superheroes, a Wise-Cracking Demon, and Warrior Dinosaurs: To Hell and Back by Matthew Hughes
I consider Canadian author Matthew Hughes to be one of the most gifted short stories writers at work today. Much of his output — including his two book Gullible's Travels series, his 2004 novel Black Brillion, and his Tales of Henghis Hapthorn (Majestrum, The Spiral Labyrinth, and Hespira) — is set in his Archonate Universe, which is profoundly influenced by Jack Vance. John DeNardo says "His Archonate universe is a wonderfully compelling far future that mixes fantasy and science fiction."
But Hughes is also responsible for a quirky superhero trilogy published as paperback originals by Angry Robot between 2011 and 2013, back before the publisher had the reach and acclaim it enjoys today. As a result, the series didn't get the exposure I think it deserved… a shame, since I think the topic is quite timely, and Hughes' comic gifts make him almost uniquely suited for the material. If you're a fan of superheroes, To Hell and Back is a series that deserves your attention.
[Click the images for bigger versions.]
The series grew out of "Hell of a Fix," a short story that originally appeared in the December 2009 issue of The Magazine of Fantasy & Science Fiction.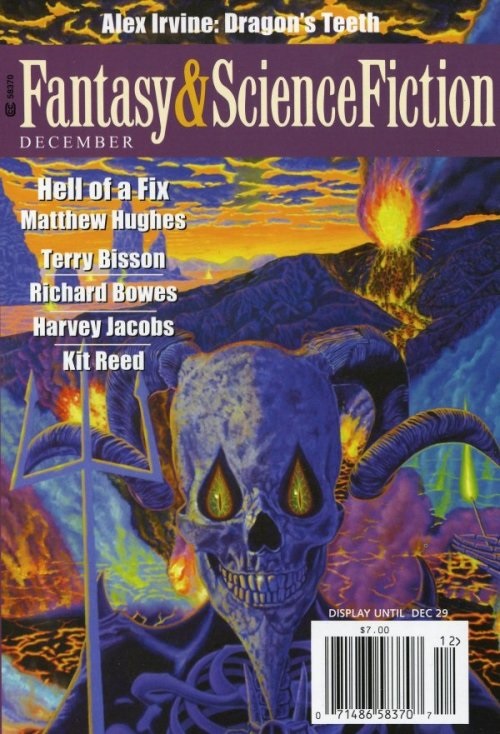 Cover by Kent Bash
Karen L. Newman reviewed the story for Tangent Online:
An actuary's dull life is interrupted when he accidently summons a demon in "Hell of a Fix" by Matthew Hughes. This story starts out as a tongue-in-cheek humorous parody of the relationship between humans and demons until a sharp twist turns religion upside down. The magazine is to be commended for publishing this story. The premise is bold, thought-provoking, and original. Although Hughes drags out the plot a bit too much at times, he utilizes strong imagery, detailed descriptions, and a relatable protagonist to show human nature in the hottest spotlight. This tale stands out in today's literature where complacency is all too common.
To Hell and Back is composed of three novels, all published by Angry Robot.
The Damned Busters (413 pages, May 3, 2011) — containing "Hell of a Fix"
Costume Not Included (378 pages, February 23, 2012)
Hell to Pay (332 pages, February 26, 2013)
All three books have covers by Tom Gauld. All three are priced at $7.99 in paperback/$6.99 digital, and are still in print.
Here's the back covers.
SF Signal called The Damned Busters "A witty superhero story that's just plain fun," and Publishers Weekly labeled it "A winner." And Eric Gordon at Celebrity Cafe gave it five stars, saying:
[It's] a supernatural adventure that blends a rich and unpredictable story, with a tone and wit that provides plenty of laughs along the way. A great balance of action and comedic situations with some romance thrown in for good measure, albeit an awkward romance… this is a great read.
Read the first 50 pages of The Damned Busters here.
Our previous coverage of Matthew Hughes includes:
A Hard-boiled Private Eye Who Becomes a Wizard's Henchman: A Wizard's Henchman by Matthew Hughes
New Treasures: Devil or Angel and Other Stories
Pulp Literature 13 Now Available
May/June Magazine of Fantasy & Science Fiction Now on Sale
See all our coverage of the best in Series Fantasy here.