Brian Aldiss, August 18, 1925 — August 19, 2017
Brian Aldiss, August 18, 1925 — August 19, 2017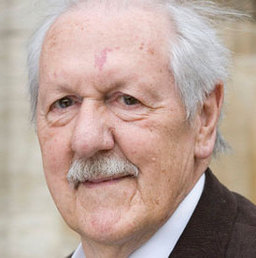 Brian Aldiss, one of the most brilliant and acclaimed science fiction authors of the 20th Century, produced more than 80 books and some 40 anthologies in a career spanning more than six decades. His first publication, the short story "Criminal Record," appeared in the July 1954 issue of John Carnell's British SF magazine Science Fantasy, and his recent anthology The Folio Science Fiction Anthology, was published just last year.
Aldiss' groundbreaking SF included the novels Non-stop (1958), Hothouse (1962), The Dark Light Years (1964), Barefoot in the Head (1969), The Malacia Tapestry (1976), and The Helliconia Trilogy (1982-85). His most important anthologies and collections include The Saliva Tree and Other Strange Growths (1966), Penguin Science Fiction (1961), The Penguin Science Fiction Omnibus (1973), Space Opera (1974), Galactic Empires, Volume 1 & 2 (1976), and six volumes of The Year's Best Science Fiction (edited with Harry Harrison, 1968-1973). Aldiss received two Hugo Awards, for Hothouse and Trillion Year Spree: The History of Science Fiction (1986) [in his acceptance speech, Aldiss famously held the Hugo high and said "It's been a long time since you've given me one of these, you bastards!"], and a Nebula Award for the novella "The Saliva Tree." His short story "Super-Toys Last All Summer Long" (1969) was basis for the Steven Spielberg film A.I. Artificial Intelligence.
Our previous coverage of Brian Aldiss includes:
Starship/Non-Stop
Bow Down to Nul
Hell's Cartographers, edited by Brian W. Aldiss and Harry Harrison
The Digest Enthusiast #6: Hothouse: Brian Aldiss' Dystopian Odyssey, by Joe Wehrle, Jr.
Brian Aldiss died on Saturday at his home in Oxford. He was 92 years old.