A Satisfying Conclusion to Feyre Archeron's Story: A Court of Wings and Ruin by Sarah J. Maas
A Satisfying Conclusion to Feyre Archeron's Story: A Court of Wings and Ruin by Sarah J. Maas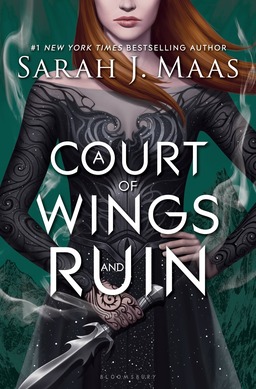 A Court of Wings and Ruin
A Court of Thorns and Roses, Book 3
Sarah J. Maas
Bloomsbury USA Childrens (720 pages, $18.99 hardcover/$12.99 digital, May 2, 2017)
According to GoodReads voters, Sarah J. Maas's A Court of Wings and Ruin (known as ACOWAR to YA readers) was the most hotly anticipated 2017 YA release of any genre. The third volume in a series that was launched by New York Times bestseller A Court of Thorns and Roses and propelled to the #1 slot by its sequel, A Court of Mist and Fury, ACOWAR seemed poised to dominate the YA hardcover market after its publication on May 2nd. But even after promising sales in its first few weeks, the book has not cleared the same high bars as its predecessors.
ACOWAR delivers a satisfying conclusion to Feyre Archeron's story. A classic high fantasy, it's got vicious faeries, spiteful queens, hot lords, and – ahem – plenty of graphic sex. So what went wrong?
The book gets off to a promising start. Feyre has gone undercover in the Spring Court, ruled by her abusive ex Tamlin, who allied with the evil King of Hybern to wrench her away from her true love, Rhysand. She must hide her true emotions, her magical powers, and her standing as High Lady of the Night Court in order to lull Tamlin into underestimating her. The pace is quick during these early chapters, as readers enjoy Feyre's stratagems to undermine Tamlin's court from within. Likewise, we spin through the pages as she makes her escape, longing to reunite her with her mate.
But when that happens much sooner and more easily than expected, the plot shifts focus to defeating Hybern, who wants to enslave humanity. Since the relationships (called "ships" in the YA world) among Feyre, Rhys and Tamlin served as the engine that drove the previous two tomes, ACOWAR's momentum slows when these issues seem resolved. If you do keep reading, however, the last third of the book will reward you with lots of action and a twist that brings tears to the eyes.
The Ann Radcliffe of YA fantasy, Maas's huge success is due in part to her legions of fans on FictionPress.com, where she first started crowdsourcing chapters at the age of 16. The books in the resulting Throne of Glass series became staples on the New York Times bestseller list for YA hardcover.
Bloomsbury USA Childrens has released ACOWAR as a 720-page hardcover with a current list price of $18.99, as well as a $12.99 ebook. Read an excerpt by pointing your browser here. The book's back matter advertises a continuation of the series in 2018. On her official author's website, Maas promises to release three spin-off novels and two novellas set in the same world.
---
Elizabeth Galewski is the author of The Wish-Granting Jewel, a fantasy novel, and Butterfly Valley, a tale of travel and transformation based on true events. To learn more, please visit her official author's website at elizabethgalewski.com.