A Tale of Two Covers: Neal Asher's Infinity Engine
A Tale of Two Covers: Neal Asher's Infinity Engine
Last year we talked about War Factory, the second novel in Neal Asher's Transformation series. So I kept my eye out for the third volume, Infinity Engine, which arrived in hardcover in March.
Infinity Engine was simultaneously published in the US by Night Shade (above left; cover by Adam Burn) and in the UK by Tor (above right, cover by Steve Stone). Over at Worlds in Ink, KJ Mulder expresses his enthusiasm for the US version.
I'm a huge fan of Neal Asher's work and the covers for his novels are always something special. The covers for Infinity Engine, the conclusion to the Transformation trilogy, [are] no exception. This time round the folks at Night Shade Books have pulled out all the stops for the US edition that simply blows their UK counterpart out of the water. The artwork by Adam Burn is absolutely stunning. I think he might have just dethroned Jon Sullivan as my favourite cover artist.
With all due respect to my South African colleague Mulder, I think he's way off base here. The Adam Burn's cover, with its cataclysmic energy and vibrant yellows, is certainly eye-catching. But if these two books were side by side in Barnes & Noble, it would be Steve Stone's cover, depicting a starship plunging at full speed into the churning, cold blue maelstrom of deep space, that I would reach for.
[Click the images for bigger versions.]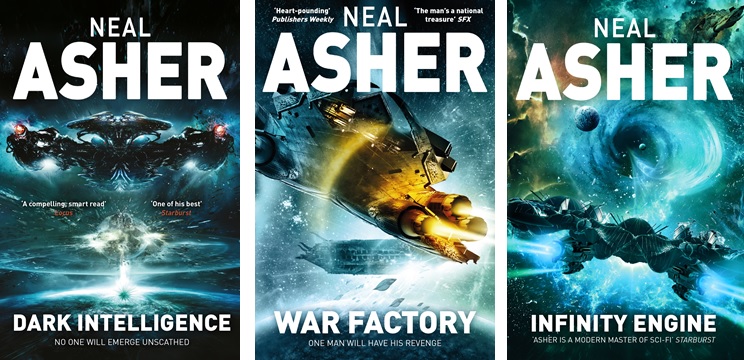 All three Tor UK covers stick with the cold blue color scheme, in fact, and each was created by a different artist.
Dark Intelligence — Jon Sullivan
War Factory — Larry Rostant
Infinity Engine — Steve Stone
Here's a closer look at the wraparound cover for the UK version of the opening volume, Dark Intelligence.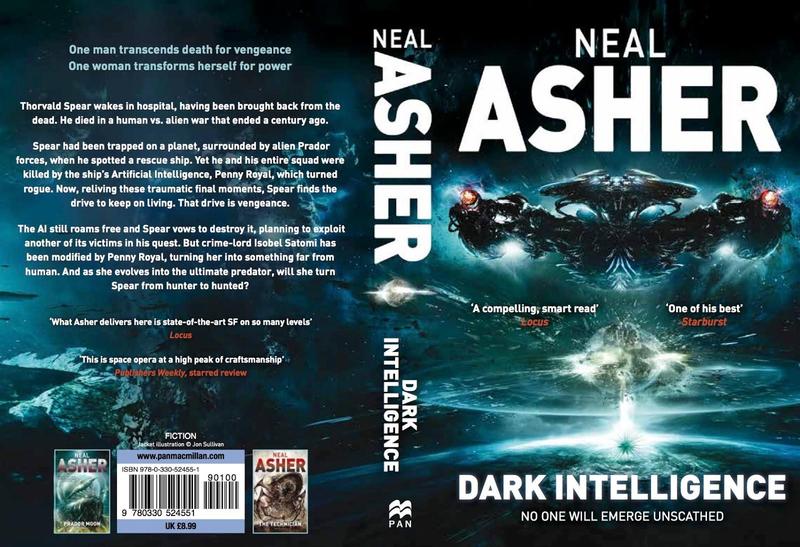 And here's the description for Infinity Engine.
A man battles for his life, two AIs vie for supremacy and a civilization hangs in the balance . . .

Several forces now pursue rogue artificial intelligence Penny Royal, hungry for revenge or redemption. And the Brockle is the most dangerous of all. This criminal swarm-robot AI has escaped its confinement and is upgrading itself, becoming ever more powerful in anticipation of a deadly showdown.

Events also escalate aboard the damaged war factory station where Penny Royal was constructed. Here Thorvald Spear, alien prador, and an assassin drone struggle to stay alive, battling insane AIs and technology gone wild. Then the Weaver arrives – last of the Atheter, resurrected from a race that suicided two million years ago. But what could it contribute to Penny Royal's tortuous plans?

And beyond the war factory a black hole conceals a tantalizing secret which could destroy the Polity. As AIs, humans and prador clash at its boundary, will anything survive their explosive final confrontation?
Our previous articles in the Tale of Two Covers series include:
The Last Page by Anthony Huso
Stand on Zanzibar by John Brunner
Ellen Kushner on Basilisk
Shadows and Tall Trees 7 edited by Michael Kelly
Alan Baxter's Crow Shine and Sarah Remy's The Bone Cave
Swords Against Darkness
Richard Adams' Watership Down
The Collapsing Empire by John Scalzi, and The Corroding Empire by Johan Kalsi
A Tale of Three Covers: Allen Steele Resurrects Captain Future
Skullsworn by Brian Staveley
The Loney by Andrew Michael Hurley