Future Treasures: War Factory by Neal Asher
Future Treasures: War Factory by Neal Asher
I've been in the mood for fast-paced space opera recently. Something with big guns, bigger ships, and nasty aliens. I'm thinking Neal Asher.
The first book in his Transformation trilogy, Dark Intelligence, was published in February 2015. It introduced us to Thorvald Spear, dead for a hundred years after being betrayed by Penny Royal, the rogue AI sent to rescue his team on a hostile world. When Spear wakes up in a hospital, returned to life by strange technology, he finds the war versus the alien Prador has been over for a century. But Penny Royal is still on the loose, and Spear vows revenge at any cost.
Publishers Weekly called Dark Intelligence "Beautifully paced… space opera at a high peak of craftsmanship." War Factory is the second volume in the trilogy, and the newest title set in Asher's Polity universe (Prador Moon, The Line of Polity, Brass Man, The Skinner, and many others).
[Click on any of the images for bigger versions.]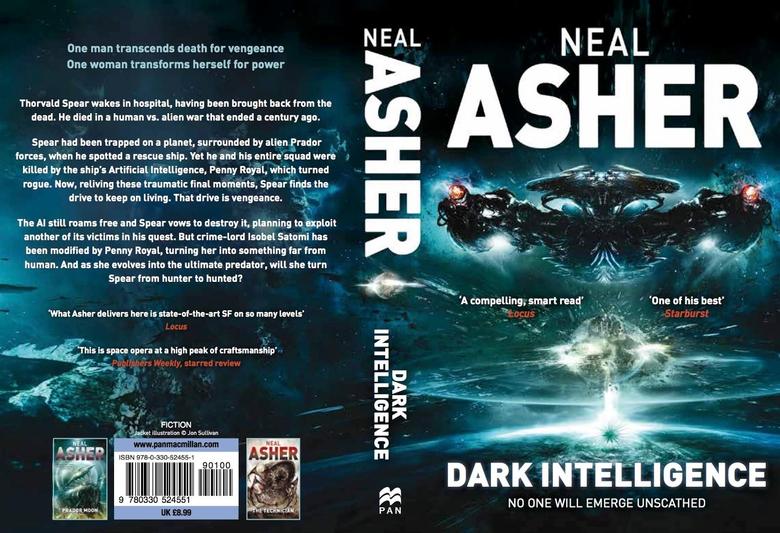 Here's the description for War Factory.
Thorvald Spear, resurrected from his death over a hundred years earlier, continues to hunt Penny Royal, the rogue AI and dangerous war criminal on the run from Polity forces. Beyond the Graveyard, a lawless and deadly area in deep space, Spear follows the trail of several enemy Prador, the crab-like alien species with a violent history of conflict with humanity.

Sverl, a Prador genetically modified by Penny Royal and slowly becoming human, pursues Cvorn, a Prador harboring deep hatred for the Polity looking to use him and other hybrids to reignite the dormant war with mankind.

Blite, captain of a bounty hunting ship, hands over two prisoners and valuable memplants from Penny Royal to the Brockle, a dangerous forensics entity under strict confinement on a Polity spaceship that quickly takes a keen interest in the corrupted AI and its unclear motives.

Penny Royal meanwhile continues to pull all the strings in the background, keeping the Polity at bay and seizing control of an attack ship. It seeks Factory Station Room 101, a wartime manufacturing space station believed to be destroyed. What does it want with the factory? And will Spear find the rogue AI before it gets there?
War Factory will be published in the US by Night Shade Books on May 3, 2016 (cover above left), and in the UK by Tor Books on May 5th (above right). It is 544 pages, priced at $26.99/£18.99 in hardcover. The UK cover is by Larry Rostant.
See all of our recent coverage of the best in upcoming fantasy here.