Black Gate Declines Hugo Nomination
Black Gate Declines Hugo Nomination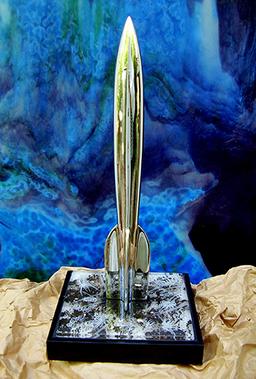 Early last week, Black Gate was nominated for a Hugo Award in the category of Best Fanzine. On Friday, we contacted the Awards Committee at MidAmeriCon II, the World Science Fiction Convention, to inform them that we have declined the nomination.
Why did we decline? While we won't know the exact number of nominating ballots until the stats are released (after the Hugos are awarded), it's clear that Black Gate largely benefited from Vox Day's Rabid Puppy Hugo slate. As we reported Wednesday, roughly 80% of this year's Hugo ballot was dictated by that slate — it swept six categories, including Short Story, Graphic Story, and Fanzine. Our choice to withdraw was informed by many of the same factors that led us to make the same decision last year.
It also seems fairly obvious that we cannot win. Of the 61 nominees the Puppy ballots placed on the Hugo ballot last year, only one, Guardians of the Galaxy, received an award. The Rabid Puppy brand, which BG is now unwillingly associated with, is so toxic that it's virtually impossible to overcome that association without the equivalent of a $100 million advertising campaign. Those nominees who stubbornly argued otherwise last year, and attended the Hugo ceremony with high hopes, learned that the hard way, unceremoniously losing out to No Award in a painful rout across virtually every category. (Incidentally, I also voted No Award for most of the ballot.)
Several folks I admire, including George R.R. Martin and John Scalzi, are urging nominees not to withdraw, and for excellent reasons. However, the reason that's paramount to me, my desire to step aside in favor of a worthy publication not on the slate, outweighs those considerations. A great many publications I deeply respect were completely swept aside by the Rabid Puppy ballot, including John DeNardo's SF Signal, Rich Horton's Strange at Ecbatan, Coming Attractions, and even last year's winner — Journey Planet. By giving up our very slim chance at winning, we can give another deserving publication a shot. That seems like a fair exchange to me.
Good luck to all the nominees — I mean that. As usual, we'll be covering the Awards, and the events leading up to them, here on the blog.