Nightmare, Issue 51 (December 2016)
Nightmare, Issue 51 (December 2016)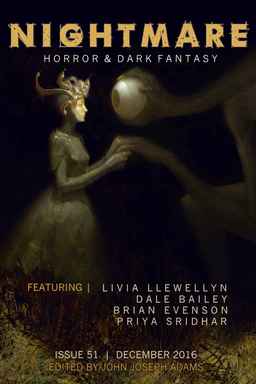 One of the biggest advantages that digital magazines have over print magazines is that it's very easy to keep digital editions available indefinitely. So if you discover a magazine starting with, say, issue 52, it's easy to go back and purchase every back issue at "cover price." Which is why, during my month-long wait between new issues of Nightmare, I can wile away the hours by reading from their extensive backlist.
My favorite story of the issue just happens to be the first, "I was a Teenage Werewolf" by Dale Bailey. This is part of a series of stories Bailey has written that take the titles of cheesy 1950s sci-fi/horror movies and uses them as springboards for brand new pieces (check out "Invasion of the Saucer Men," "I Married a Monster from Outer Space," and "Teenagers from Outer Space"). It's bit of slow going at first, but we eventually get something that's not only a story about a werewolf, but about how adults will use any excuse to restrict the freedoms of the young "for their own good," all while doing almost nothing to actually protect them. If nothing else, read it for a prom scene that beats the prom in Carrie, hands-down.
Next up is "Blood Drip" by Brian Evenson (originally published in Granta), a story that plays nicely with the unreliable narrator trope. Coupled with a vague setting, the story feels timeless in both its themes and its surreal imagery.
"The Dark Edge of Life" by Livia Llewellyn, on the other hand, goes out of its way to define time and place as a "found document" style of story. We know that something terrible has happened and the story fills in enough blanks to scare, but not so much to bore us with detail. The added effect of presenting the story in fragments (suggesting that pieces of an original manuscript were either consumed in a disaster or purposefully destroyed) adds to the mystery.
Finally, "The Opera Singer" by Priya Sridhar (originally published in She Walks in Shadows) is a compelling take on the "deal with the devil" and possession tropes, told from the point of view of an aging woman asserting her will against … well, it's not exactly a demon.
As always, you can go to www.nightmare-magazine.com and read all of these stories (as well as accompanying author spotlights) for free. But Nightmare is only able to continue showcasing this work with financial support, so why not drop $2.99 and buy an issue? If you like it, they'll have plenty more back issues to sell you.
---
Michael Penkas has been writing horror, mystery, science fiction, and fantasy stories for years. His first mystery novel, Mistress Bunny and the Cancelled Client, is available in print and electronic editions. Learn more about his work at http://www.michaelpenkas.com/.