Galaxy Science Fiction, September 1953: A Retro-Review
Galaxy Science Fiction, September 1953: A Retro-Review
The September, 1953 issue of Galaxy Science Fiction opens with Editor H. L. Gold weighing in on vocabulary guessing for future science fiction. He writes that
Objects and methods must be named so the reader will recognize them. All the author can do is apply logic, which sometimes works, as in the case of several commonly used terms invented by science fiction, but more often does not, as in terms that are born naturally, not synthesized.
He describes how some words, like nylon and Kleenex, are trade names. The word jeep came from how soldiers abbreviated "General Purpose Car" (listed as "G.P." in stock lists). He concludes his remarks by writing:
If we were trying to predict instead of entertain, you'd be right in objecting to our inevitable bloopers (origin unknown). But would you rather wait for the correct lingo (lingua, tongue) or enjoy our guessing right now?
My answer: bring on the bloopers!
[Click for bigger images.]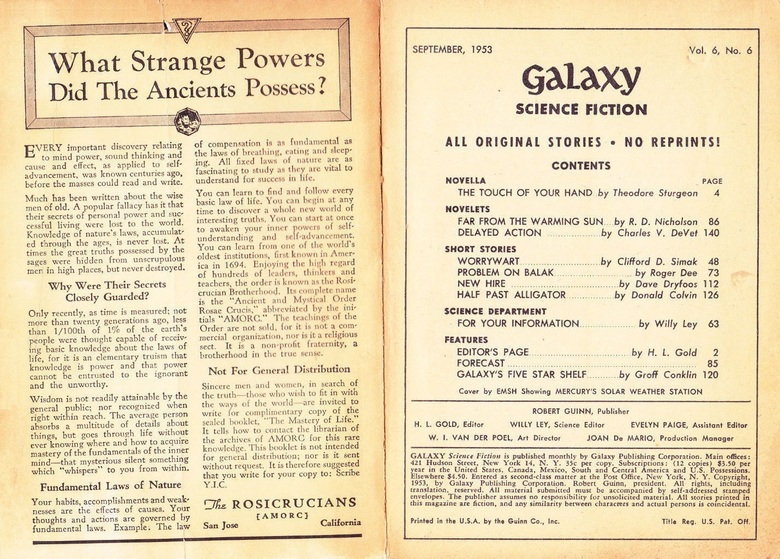 "The Touch of Your Hand" by Theodore Sturgeon — Osser forces people from the village to build a tower. He's the largest person around, and he wants to use his strength to drag everyone into an age of growth. Jubilith doesn't understand his motives, but she loves him. Eventually, he shows her why he's determined to change — taking her to the ruins of a former civilization. He believes they can rebuild, if there's a strong leader to guide them.
The plot of the story is interesting, but as with many Sturgeon stories I've read, the characters carry the weight. Even when a character seems flat on the surface, there are layers that emerge over time. I think readers who also write would have an additional appreciation for Sturgeon, though I'm afraid I don't know of a definite way of capturing his talent.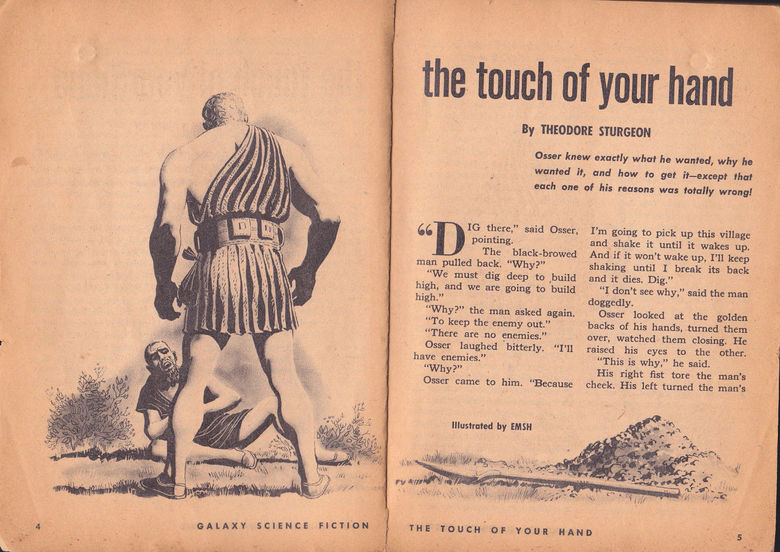 "Worrywart" by Clifford D. Simak — Charley Porter is a newspaper copyreader who begins to see a pattern of impossible stories. An airplane crashed into a mountain, but everyone survives. A horse with 64-1 odds wins the derby. A little girl who was deathly ill unexpectedly recovers. He pores over old stories until he comes across one about an invalid named Cooper Johnson who claims to have an ability to create a reality simply by thinking of it the evening before. Charley isn't a reporter, but he wants to find out if the article about Cooper is real and if he could be involved with the impossible stories.
I loved the immediate description of Charley's profession (and character): "He is a comma watcher and a word butcher and a mighty tide of judgment set against the news." The story progresses well and ends with uncertainty, though it's a menacing uncertainty.
"Problem on Balak" by Roger Dee — A small crew arrives on the planet of Balak to collect samples of life — the first people to ever reach the planet, as far as they know. A Balakian greets them with two humans who appear to be twins. Each man claims to be Ira Haslop, marooned on the planet for the past 22 years. The Balakian says that one of the men is authentic while the other is a Balakian whom they surgically altered to look like the man. The Balakians are trying to decide whether to join the Terran Realm or not. They offer the crew a test: if they can identify the true Ira Haslop, they will join the Realm, but if they cannot, the crew must remain on Balak in order to keep their existence a secret.
Logic puzzles are intriguing, but this is a game I've never played. It was fun to see the various attempts by the crew to unravel the truth. This story was reprinted the next year in The Second Galaxy Reader of Science Fiction (1954), a 508-page Galaxy anthology published in hardcover by Crown Publishers, with a cover by Mel Hunter.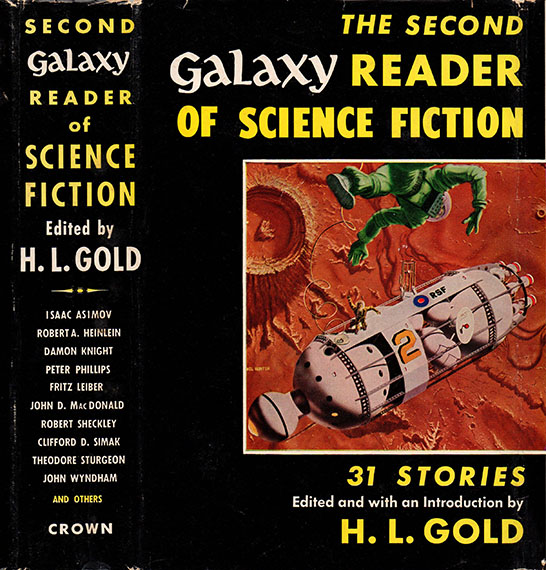 "Far From the Warming Sun" by R. D. Nicholson — Wolseley Clemmenceton, President of the Triplanetary Republic flees for his life with his mistress, Dagmar Educe, and Major Grenville. They travel to the distant moon of Titan to join a small colony who have no ties to the inner planets. Asylum isn't easy; their wealth and status are greatly diminished. But Wolseley's experience doesn't go unnoticed.
Nicholson's story feels realistic, even down to the type of relationship between Wolseley and Dagmar. Even at points when she seems to melt into stereotypes, Wolseley tells another character (and readers) that she's not as she appears. "If you attempt to evaluate her on the evidence of temper, temperament, and flirtation during a short twenty-four hours, you will only mislead yourself. The wilfulness (sic) you've seen; her strength of character and intelligence, you have not."
Nicholson was also the editor of a two-issue fanzine in Australia named Forerunner.
"New Hire" by Dave Dryfoos — Rather than working until a retirement age later in life, retirement begins immediately and lasts until age 40. Bozzy dreads entering the work force, but he spent two years as an understudy for Mr. Kojak, who is 75.
It's a short story, and I don't want to describe more for fear of ruining the plot. If you've got 10 minutes to spare, you might track down an online version and amuse yourself rather than clicking through all those pictures of abandoned amusement parks. Or maybe take the time to do both because pictures of abandoned amusement parks are amazing.
"Half Past Alligator" by Donald Colvin — Bill Bradley and other explorers assess a distant planet and its most intelligent life form – smaller humanoids named Quxas who have an appearance similar to 20th century American clowns. The Quxas lack cooperation, so predators hunting in packs easily overwhelm them, which will eventually lead to the end of all Quxas. So Bill and his team work with them – by teaching them to play baseball.
Colvin's story is lighthearted and fun. Other than "The Celestial Hammerlock" from Galaxy's October, 1951 issue, I'm not sure Colvin had anything else published.
"Delayed Action" by Charles DeVet — Donald Johnson pursues a man through the Mobius Strip on Marlock. The journey wipes most of Johnson's memory and sends him about twenty years into the future. Forgetting his mission and purpose, he takes up work with one of the few humans on the planet and eventually becomes a manager. The man he once pursued returns one day, along with enough logical clues for him to reconstruct the pieces of his past, if he can do so before the other man kills him.
If this story had more grittiness, I think it would be amazing. As it stands, I find it interesting but lacking.
---
Matthew Wuertz's last retro review for us was the August 1953 issue of Galaxy.