Future Treasures: Warren the 13th and the Whispering Woods by Tania del Rio and Will Staehle
Future Treasures: Warren the 13th and the Whispering Woods by Tania del Rio and Will Staehle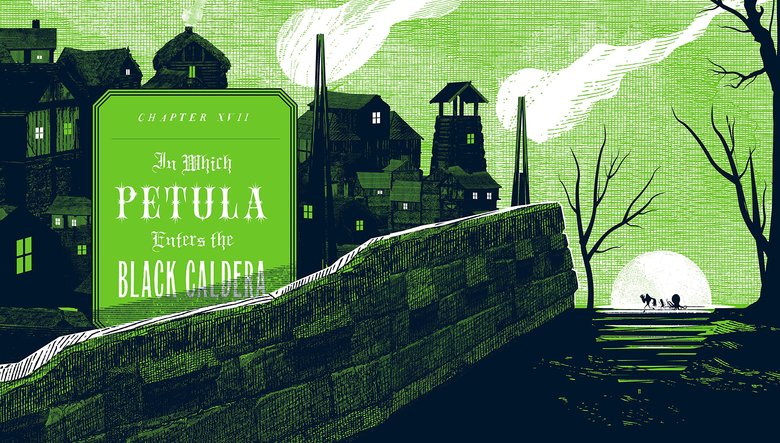 Back in September I wrote a brief piece on Warren the 13th and The All-Seeing Eye, the opening book in a new middle grade series written by Tania Del Rio and illustrated by Will Staehle. I'd been seeing glowing coverage of the book and had decided to order it, and as I said in the piece, "I can make up my mind on Staehle's artwork right now — and I think it's fantastic."
So I was very pleased to see a new entry in the series, Warren the 13th and the Whispering Woods, on the schedule for March 21, 2017. The books follow the adventures of twelve-year-old Warren, a kid who looks like he escaped from an Edward Gorey cartoon. Warren is the sole surviving heir to a grand (but rapidly decaying) old hotel, and his exploits see him mixed up with a terrific cast of supporting characters who live on or near the grounds of the rambling hotel, including monsters, witches, a ghostly girl who creeps around the hedge maze, and his twisted Aunt Annaconda and her evil sisters.
The books are published in hardcover by Quirk Books, with covers by Staehle.
Did I mention they're lavishly illustrated, with delightly creepy art on virtually every page?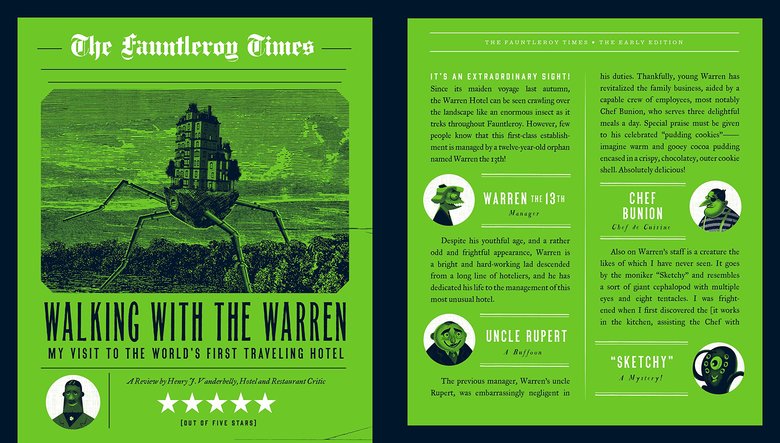 In the newest installment, the hotel picks itself up and starts striding across the countryside, a thrill for tourists and Warren alike… until it drops into the sinister and mysterious Malwoods. Here's the description for Warren the 13th and the Whispering Woods.
Warren the 13th is back in another lushly illustrated middle grade adventure.

In the spirit of Edward Gorey and Tim Burton, this fast-paced and beautifully-designed sequel to Warren the 13th and the All-Seeing Eye is packed with nonstop action, adventure, and mystery for middle-grade readers. Twelve-year-old Warren has learned that his beloved hotel can walk, and now it's ferrying guests around the countryside, transporting tourists to strange and foreign destinations. But when an unexpected detour brings everyone into the dark and sinister Malwoods, Warren finds himself separated from his hotel and his friends — and racing after them on foot through a forest teeming with witches, snakes, talking trees, and mind-boggling riddles, all accompanied by stunning illustrations and gorgeous design from Will Staehle on every page.
And here's a few more samples of Staehle's artwork (click for bigger versions.)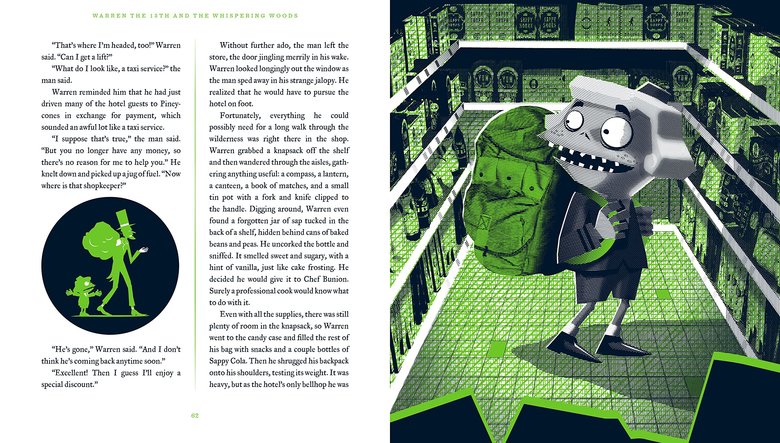 The two-tone colors really work with Staehle's artwork, and the design is absolutely top notch.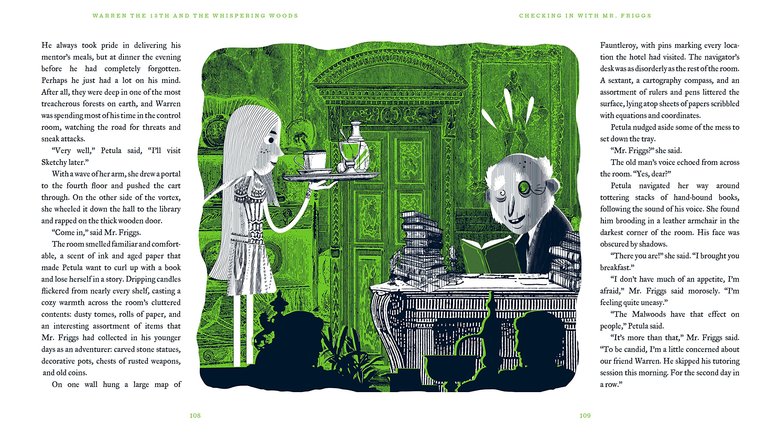 Warren the 13th and the Whispering Woods will be published by Quirk Books on March 21, 2017. It is 240 pages, priced at $16.95 in hardcover and $12.99 for the digital version. The cover is by Will Staehle.
See all our recent coverage of the best upcoming fantasy here.