Modular: Dungeon Delving Tips – Part I
Modular: Dungeon Delving Tips – Part I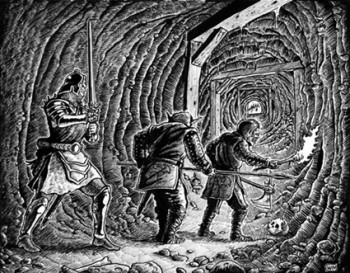 I'm a big fan of Creighton Broadhurst and his Raging Swan Press. Along with Frog God Games, they make my favorite Pathfinder stuff. And Creighton's blog is full of great ponderings for players, GMs and even game designers.
He often comes up with some neat lists on wide-ranging topics. One that I liked was his '25 Dungeon Delving Tips.' We're going to look at the first dozen this week, with the remainder coming in a follow-up post.
Each tip, along with some of Creighton's commentary, is italicized (as is his brief intro below). My own comments follow underneath in plain text. So, have at it!
25 Dungeon Delving Tips (Part One)
Dungeon delving is a jolly dangerous business. Some adventurers are lucky. Others are stupid while many are unprepared. Thus, the bones of countless adventurers lie mouldering far from the warmth of the sun. 
With that in mind, and in no particular order, here are… tips to make your dungeon delving just a little bit safer.
1) Noise attracts attention, and can kill you. Making a lot of noise in the depths of a dungeon is a bad idea.
Makes sense to me. Certainly caused some problems in the Mines of Moria, eh? Silly hobbittses. I know that often when I'm running a game, the party doesn't worry about noise until after they've made it and are approaching some area where they want to be quiet. For example, while they managed to cross the pit trap without any harm done, they made enough noise to wake the dead. Or to warn the undead in the room at the end of the hall. Which they tiptoe up to, lights out (see the next Tip), not making noise. Bit late at that point.
2) Light attracts attention. Many dungeon denizens don't need light to see which puts them at a great advantage — and makes it a virtual certainty they'll spot an approaching party of adventurers long before the adventurers spot them.
Huh. That's true. Recently, in a game I was running, the party had to decide whether to put the human Rogue in front (to look for traps) or the dwarf Fighter (with his dark vision). That torch can be quite a warning. As with Tip One, you often find that the party douses the lights well after someone, or something, would have seen them. Bit of closing the door after the horses are out of the barn.
3) Iron spikes are jolly useful. You can hold shut (or open) doors, pits and more. They can also be used to secure a climbing rope. However, hammering them into stone makes a tremendous amount of noise (see #1).
This goes to the issue of encumbrance and adventuring gear, which we'll tackle in another post. I don't think I've ever been in a party that had iron spikes. A crowbar is about as far as they've gone.
4) Learn all you can about the dungeon before you go. Your foresight could ensure you have just the right piece of equipment or weapon — which could save your life.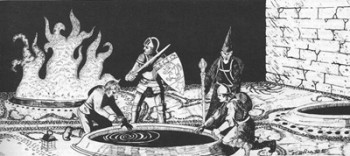 This tip opens up the world of roleplaying before your adventure heads out of town. Modules used to (and some still do) come with big ol' rumor tables. Characters can talk to NPCs and learn about where they're headed. Or, to go the easy route, just roll some Knowledge checks to pick up some info. But just hearing that there are bugbears in the caves to the west of town and running off is probably a bad idea. Even before the misinformation culture of social media, you couldn't believe everything you heard. Not all that 'intel' your party gathers is accurate. And some of it may be intentionally false – others are pursuing their own ends as well. Have fun with this "pre-adventuring" phase and let your players shine.
5) Always carry a coil of rope. It has literally thousands of uses.
In old school dungeoneering, this is right up there with the ten foot pole. "The Tower of the Elephant" goes a whole lot different for Conan without a good rope. Climbing is a whole lot tougher without rope. So is tying someone up. I write Sherlock Holmes stories and I can always toss in some curtain ropes or some such when needed. If the party need a rope and doesn't have it, things could get very serious very quickly.
6) Only adventure with people you trust. You are entering a lethal environment — you need to be able to rely on your companions.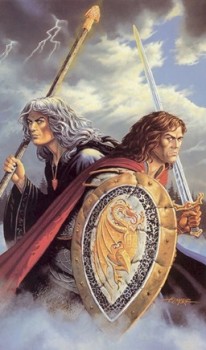 I'm not sure what to make of that. I suppose this is relevant to picking up NPCs or hirelings. From a player perspective, you're in whatever party you're in. Especially in this play by post (online) environment, you don't get to pick your party.
Of course, in-game, characters do have some say on who joins the group. Raistlin Majere probably isn't your first choice when you're looking for a wizard. Fantasy novels are full of the traitorous party member trope. Usually doesn't go well. Trying to find out other characters motivations is a good starting point in figuring out what those around you are about.
7) Always carry a dagger — even if you are not skilled in its use. Daggers are easily concealable, light and great for using while in a tight space, being grappled or under water. You can also use them as a missile weapon and they cut rope (see #5).
Yeah – the dagger is the Swiss Army Knife of RPGs. It's better to have a small blade than no blade at all. And you never know when you need to cut something, or pry something (though somebody ought to have a crowbar!). A short sword usually does 1d6 damage. A dagger does 1d4. That's still a useful weapon for fighting. Especially as a secondary option.
8) Never wander off on your own.
Keeping the party together to maximize available resources and fire power was a key point in our Successful Adventuring post. When the character takes a stroll, mostly bad things can happen. Both to the character who is out there somewhere, and to the party who no longer has access to them and their talents and 'stuff.' It may be that the player is bored (or mad) and wants to go do something else. Well, that's just being selfish.  If you're in the party, be with the party.
9) Never steal from your companions.
There are probably players who think that is okay and are just 'being their character.' Every other player thinks you're being a jerk. Part of being on a team is contributing to the team. Not taking away from it for your own benefit. Leave their stuff alone.
10) When resting, always set a watch. It might save your life.
Well, that seems pretty reasonable, and setting a watch certainly seems to happen in fantasy novels. Between wandering monsters, random encounters and whatever the storyline is, the idea of being surprise attacked at night seems pretty likely.
11) If a party member dies, 9 times out of 10 your objective should immediately change to getting out of the dungeon.
Really. I've never thought of it that way. Of course, it sucks for the player whose character got killed. Maybe this maxim is because the party's strength just decreased by a significant percentage. Not all characters are equal, but that's a 20% reduction in a five-player party, and all the things that go with losing that character. I'd be curious to hear more from Creighton on this one.
12) Pay attention to your surroundings.
I think "What did I just say?" is the most common phrase I use with my eight year old. Paying attention saves a lot of trouble. And I don't mean just in looking for traps. A good GM gives clues to the party. And noticing just one little thing could be the difference between life and death – or whether or not you end up with some treasure. Players should listen to what the GM says, and how. Their characters shouldn't just rush from room to room MMO style, ignoring what's around them to get to the next kill.
And with those twelve tips, we'll take a break. Here's the link to the remaining thirteen. Put 'em together and your party will be a leg up on staying alive as they head down into a dungeon.
---
You can read Bob Byrne's 'The Public Life of Sherlock Holmes' column here at Black Gate every Monday morning.
He founded www.SolarPons.com, the only website dedicated to the 'Sherlock Holmes of Praed Street' and blogs about Holmes and other mystery matters at Almost Holmes.
He has contributed stories to The MX Book of New Sherlock Holmes Stories – Parts III, IV and V (and the upcoming VI).