The Omnibus Volumes of Cassandra Rose Clarke: Magic of Blood and Sea and Magic of Wind and Mist
The Omnibus Volumes of Cassandra Rose Clarke: Magic of Blood and Sea and Magic of Wind and Mist
Angry Robot is one of the most innovative (and successful) new genre publishing houses in the last decade. Not every aspect of its journey has been equally successful, however. Its Strange Chemistry imprint, launched in 2011 to publish young adult SF and fantasy, shut down in 2014… but not before publishing highly acclaimed new work by Martha Wells, Jonathan L. Howard, and three early novels by Cassandra Rose Clarke: The Assassin's Curse (2012) and its sequel The Pirate's Wish (2013), and The Wizard's Promise (2014). A fourth novel, The Nobleman's Revenge, the sequel to The Wizard's Promise, was never published.
Clarke was nominated for the Philip K. Dick Award for her first novel for adults, The Mad Scientist's Daughter, in 2013, and late last year Saga Press reprinted the book in a new trade paperback edition. Now they're doing the same with Clarke's Strange Chemistry novels. The Assassin's Curse series will be reprinted in a handsome omnibus edition, Magic of Blood and Sea, arriving in hardcover in early February. And The Wizard's Promise and the previously unpublished The Nobleman's Revenge will appear in Magic of Wind and Mist in 2018.
[Click the images for bigger versions.]
Here's the description for Magic of Blood and Sea from her website.
Collecting The Assassins' Curse and The Pirate's Wish!

A pirate princess and a cursed assassin find their fates intertwined in this gorgeous and thrilling adventure.

Ananna of the Tanarau abandons ship when her parents try to marry her off to an ally pirate clan. She wants to captain her own boat, not serve as second-in-command to a handsome and clueless man. But her escape has dire consequences when she learns that her fiancé's clan has sent an assassin after her.

And when this assassin, Naji, finally finds her, things get even worse. Ananna inadvertently triggers a nasty curse — with a life-altering result. Now, Ananna and Naji are forced to become uneasy allies as they work to complete three impossible tasks that will cure the curse.

Unfortunately, Naji has enemies from the shadowy world known as the Mists, and Ananna must face the repercussions of betraying her engagement that set her off on her adventures. Together, the two must break the curse, escape their enemies, and come to terms with their growing romantic attraction.
Here's a look at the original Strange Chemistry editions.
And here's the description for Magic of Wind and Mist.
Collecting The Wizard's Promise and (previously unpublished) The Nobleman's Revenge.

All Hanna Euli wants is to become a proper witch – but unfortunately, she's stuck as an apprentice to a grumpy fisherman.When their boat gets caught up in a mysterious storm and blown wildly off course, Hanna finds herself further away from home than she's ever been before. As she tries to get back, she learns there may be more to her apprentice master than she realized, especially when a mysterious, beautiful, and very non-human boy named Isolfr begins following her through the ocean, claiming that he needs Hanna's help.

But when Hannah's fishing boat is attacked by the evil Lord Foxfollow, a failed protection spell sends Hanna and Isolfr across the boundaries into a mysterious realm known as the Mists. Now they're trapped together in a strange new world where they have no way of telling friend from foe. Unfortunately, Lord Foxfollow hopes to gain control of Hanna and Isolfr's world, and he's getting closer and closer to gaining permanent access. The only way to stop him is to make their way through this dangerous, mysterious realm together.
While we're on the topic, have a look at the next gorgeous book from Cassandra Rose Clarke in the pipeline at Saga Press, a brand new space opera, Star's End (coming in hardcover March 21st).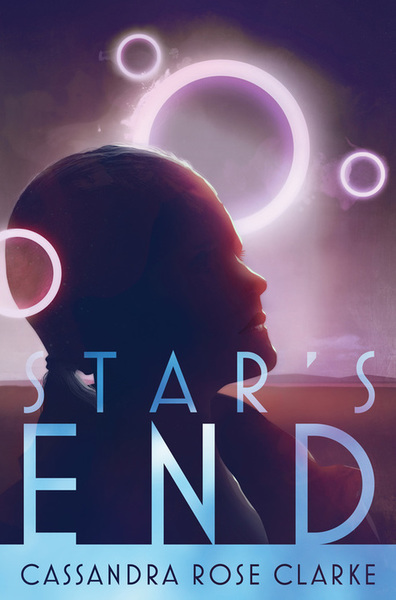 Click on the image for additional details on Star's End.
Our previous coverage of Cassandra Rose Clarke includes:
Fathers, Don't Let Your Daughters Date Androids: The Mad Scientist's Daughter
Our Lady of the Ice
Check Out the Serial Box Omnibus Collections from Saga Press
Magic of Blood and Sea will be published by Saga Press on February 7, 2017. It is 508 pages, priced at $29.99 in hardcover, and $7.99 for the digital edition. The cover is by Dane Cozens.
See all our recent Future Treasures here.