Fathers, Don't Let Your Daughters Date Androids: The Mad Scientist's Daughter by Cassandra Rose Clarke
Fathers, Don't Let Your Daughters Date Androids: The Mad Scientist's Daughter by Cassandra Rose Clarke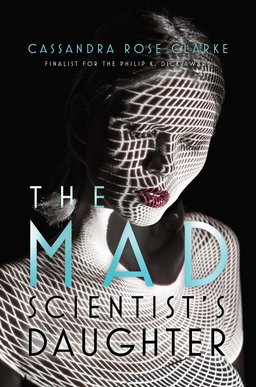 Cassandra Rose Clarke is the author of The Assassin's Curse series and the very intriguing Our Lady of the Ice, which features a female PI, ruthless gangsters, and robots agitating for independence in an Argentinian colony in Antarctica.
But her biggest claim to fame was her first novel for adults, The Mad Scientist's Daughter, which was originally published in the UK and the US by Angry Robot in 2013. It was nominated for the Philip K. Dick Award for distinguished science fiction novel published in paperback in the United States (although it lost out to Ben H. Winters's Countdown City).
Now Saga Press has returned the book to print in an attractive new edition, in both hardcover and trade paperback. An SF fairy tale set in a collapsing future America, about a girl and the android she falls in love with,, The Mad Scientist's Daughter was called "One of the most realistic science fiction stories ever told" by io9.
When Cat Novak was a young girl, her father brought Finn, an experimental android, to their isolated home. A billion-dollar construct, Finn looks and acts human, but he has no desire to be one. He was programmed to assist his owners, and performs his duties to perfection.

His primary task now is to tutor Cat. Finn stays with her, becoming her constant companion and friend as she grows into adulthood. But when the government grants rights to the ever-increasing robot population, Finn struggles to find his place in the world. As their relationship goes further than anyone intended, they have to face the threat of being separated forever.
The Mad Scientist's Daughter was published by Saga Press on November 8, 2016. It is 327 pages, priced at $26.99 in hardcover, $14.99 in trade paperback, and $7.99 for the digital edition.
See all of our recent New Treasures here.