The Very Opposite of a First Contact Novel: On Whetsday by Mark Sumner
The Very Opposite of a First Contact Novel: On Whetsday by Mark Sumner
Mark Sumner produced some of the most acclaimed fiction ever published in Black Gate. The Internet Review of Science Fiction called his story "Leather Doll" (from BG 7) "Absolutely riveting…. A masterpiece of contemporary science fiction," and Tangent Online called his serialized novel The Naturalist (in BG 10, 11, and 13) "Absorbing and thoroughly enjoyable… it recalls the "lost world" tales of H. Rider Haggard and Sir Arthur Conan Doyle… Fraught with danger and excitement, and full of the mystery and color of a grand adventure."
His newest book is On Whetsday, a far-future tale of a planet where the last remaining humans live in peaceful co-existence with an enigmatic alien race. Sharon Shinn calls it "The very opposite of a first contact novel… but just as exciting." It was originally serialized at Daily Kos, where Mark has been a writer for several years. Here's the enticing first paragraph.
On Whetsday, Denny danced at the spaceport. It was a good place to dance, if you didn't mind the heat that boiled off the acres of asphalt or the noise of the rising shuttles. You could meet a dozen races in single morning: lithe little skynx, scarlet klickiks, and sluggish chugs with their curtains of eyes brushing the ground. Most of the passing visitors had never seen a human, and fewer still understood what Denny was doing. Dancing was a rare thing among the races of the galaxy. But they understood enough to toss shiny credit chips or small bits of scrip into the box by his feet. They understood begging. Begging was universal.
You can read the complete first chapter at Daily Kos here.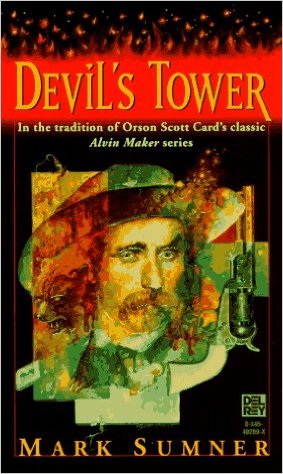 Mark is also the author of the Devil's Tower novels, the first of which was nominated for the World Fantasy Award, as well as multiple series, including three News From the Edge novels and eight Extreme Zone novels. His most recent novel was The Naturalist (2014), originally serialized in Black Gate.
Mark was a contributor to the print edition of Black Gate for many years, and we published multiple excerpts of his fiction here, including:
"Leather Doll"
The Naturalist, Part I: "Going to Applewash"
The Naturalist, Part II: "An Incident at Gray's Works"
The Naturalist, Part III: "St. George and the Antriders"
Our most recent coverage of Mark includes:
Mark Sumner Serializes His First New Novel in Seven Years at Daily Kos
Discover an Historical Action-Adventure Travel Story with Predatory Ant-Riders: Mark Sumner's The Naturalist
Mark Sumner reviews Black Gate
On Whetsday was published by Word Posse on April 1, 2016. It is 267 pages, priced at $11.99 in trade paperback and $2.99 for the digital edition. The cover is by Brian Zick, and the copious interior art is by Amy Jones. Click the images above for bigger versions.
See all of our recent coverage of recent books by BG contributors here.