The Top 50 Black Gate Posts in November
The Top 50 Black Gate Posts in November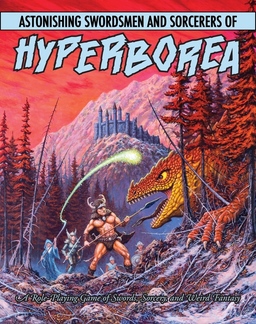 If there was a popular topic at Black Gate last month, it was Jeffrey Talanian's role playing game Astonishing Swordsmen and Sorcerers of Hyperborea. Gabe Dybing interviewed Jeffrey for us on November 11, and Bob Byrne wrote a brief feature on the runaway success of the Kickstarter campaign to fund a second edition of the rules — and both articles leaped into the Top Ten for the month.
The number one post at Black Gate in November was our report on the contents of Rich Horton's The Year's Best Science Fiction and Fantasy: 2017, followed by Mark Rigney's open letter to George R. R. Martin and the producers of Game Of Thrones. Coming in at number three was Howard Andrew Jones' heartfelt response to the election, Seeking Solace.
Rounding out the Top Five for the month was our report on Asimov's SF and Analog magazines switching to bimonthly publication, followed by C.S.E. Cooney's rave review of the new Saga anthology The Starlit Wood, edited by Dominik Parisien and Navah Wolfe.
Anthologies were a hot topic in November. Our third anthology feature, on Hank Davis' Things From Outer Space, came in at number seven, and Sean McLachlan's fascinating article on the Iraqui science fiction anthology Iraq + 100 was the ninth's most popular for the month. Wrapping up the Top Ten was Derek Kunsken's review of Doctor Strange.
The complete list of Top Articles for November follows. Below that, I've also broken out the most popular overall articles, online fiction, and blog categories for the month.
The Top 50 Black Gate posts in November were:
There were plenty of older articles popular last month as well. The 25 most popular blog posts written before November were:
The Top Black Gate Online Fiction features were:
The top categories last month were:
The Top 50 Black Gate blog posts in October are here, and you can see all 88 posts we made in the month of November here.