New Treasures: The Rise of Io by Wesley Chu
New Treasures: The Rise of Io by Wesley Chu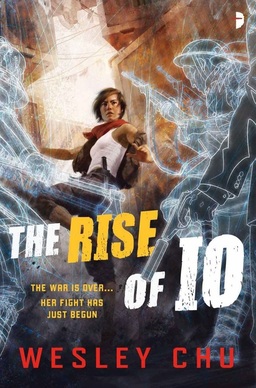 Wesley Chu burst onto the scene with The Lives of Tao, the opening novel in the Lives of Tao trilogy. His Tor hardcover, Time Salvager, was optioned by Michael Bay. His new novel from Angry Robot, The Rise of Io, is the first in a new trilogy. Earth is in the aftermath of a civil war between two alien factions, when Ella Patel stumbles upon a couple being chased by a heavily armed gang. Soon she's caught up in an alien investigation, and listening to a strange new voice in her head.
Ella Patel – thief, con-artist and smuggler – is in the wrong place at the wrong time. One night, on the border of a demilitarized zone run by the body-swapping alien invaders, she happens upon a man and woman being chased by a group of assailants. The man freezes, leaving the woman to fight off five attackers at once, before succumbing. As she dies, to both Ella and the man's surprise, the sparkling light that rises from the woman enters Ella, instead of the man. She soon realizes she's been inhabited by Io, a low-ranking Quasing who was involved in some of the worst decisions in history. Now Ella must now help the alien presence to complete her mission and investigate a rash of murders in the border states that maintain the frail peace.

With the Prophus assigned to help her seemingly wanting to stab her in the back, and the enemy Genjix hunting her, Ella must also deal with Io's annoying inferiority complex. To top it all off, Ella thinks the damn alien voice in her head is trying to get her killed. And if you can't trust the voices in your head, who can you trust?
Our previous coverage of Wesley Chu includes:
An Origin Story Mashed With a First-Contact Story: A Review of The Lives of Tao by Kelly Swails
New Treasures: The Lives of Tao
Time Salvager
Time Siege
The Rise of Io was published by Angry Robot on October 4, 2016. It is 352 pages, priced at $14.99 in trade paperback and $6.99 for the digital edition. The cover is by Tommy Arnold.