The Shadow over Innsmouth as a Generational Family Saga in Rural Alabama: Michael McDowell's Blackwater
The Shadow over Innsmouth as a Generational Family Saga in Rural Alabama: Michael McDowell's Blackwater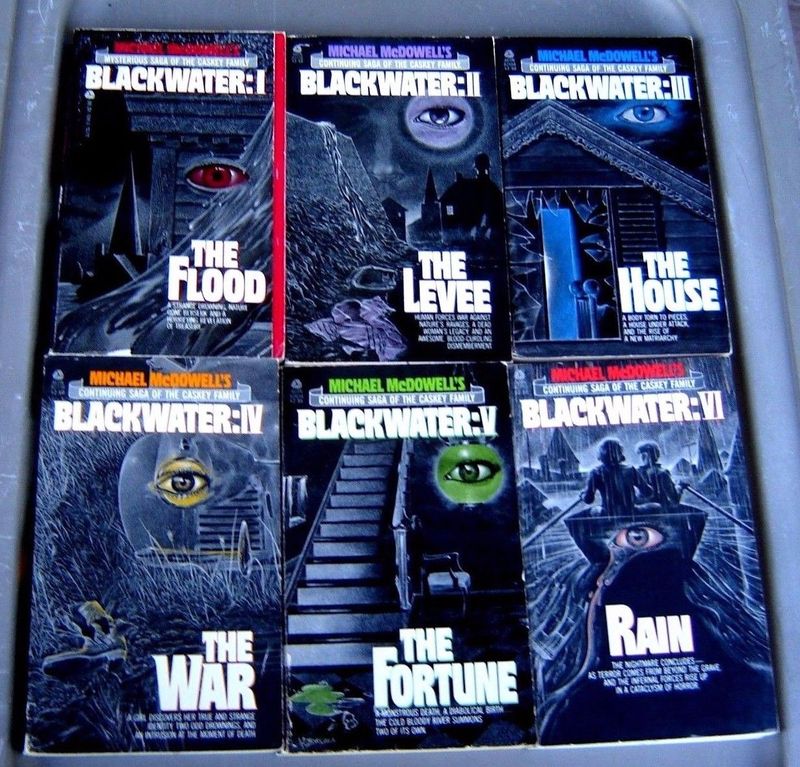 Michael McDowell's Blackwater was a paperback horror series originally published in six volumes by Avon in 1983. It's a tough set to track down these days, but not impossible. For those wiling to settle for a modern edition, Amazon offers a complete omnibus Kindle volume for just $9.99 and, at the other end of the spectrum, Centipede Press produced a hardcover slipcased set of all six books in 2014 for $350.
I don't own any of the original Avon paperbacks (although it's certainly possible that one or two are buried somewhere in my basement). But my interest was piqued this week by a September 22 Facebook post by author Nathan Ballingrud:
I'm in the midst of reading Blackwater, by Michael McDowell. It is, you might say, as if The Shadow over Innsmouth was written as a generational family saga set in rural Alabama. It is strange, funny, warm, and frightening, and a true pleasure to read.
You gotta admit, as blurbs go, that one certainly gets your attention.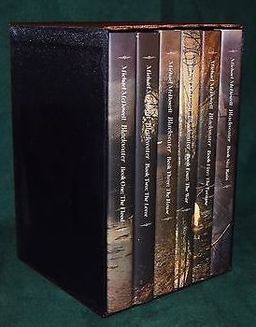 [Click the images for bigger versions.]
I've spent the last few days weighing my options for acquiring the entire series. The six volumes are:
The Flood (152 pages, $2.50, January 1983)
The Levee (192 pages, $2.50, February 1983)
The House (176 pages, $2.50, March 1983)
The War (192 pages, $2.50, March 1983)
The Fortune ((176 pages, $2.50, May 1983)
Rain (190 pages, $2.50, June 1983)
The most recent edition, the Centipede Press slipcased hardcover set (at right), was outside my price range at publication. It's now sold out from the publisher, and sets go on eBay for $250 – $500.
My preference, of course, is to obtain the original Avon paperbacks, with their glorious covers by Wayne Barlowe. Complete sets sell on eBay for  $11 – $25, but if you want copies in good condition, be prepared to spend well above $50.
You can assemble a set on your own, of course (and let's face it — for collectors, that's usually the most enjoyable course). Based on an informal survey of copies for sale online, it looks like you can get copies of virtually all the books in great condition for under $12 each. The exception is the first volume, The Flood, which seems to be the rarest of the set, and which is a pretty hard find.
Here's a look at the back covers for the Avon editions (click on the image to see a set in much rougher shape, but which is a little more legible.)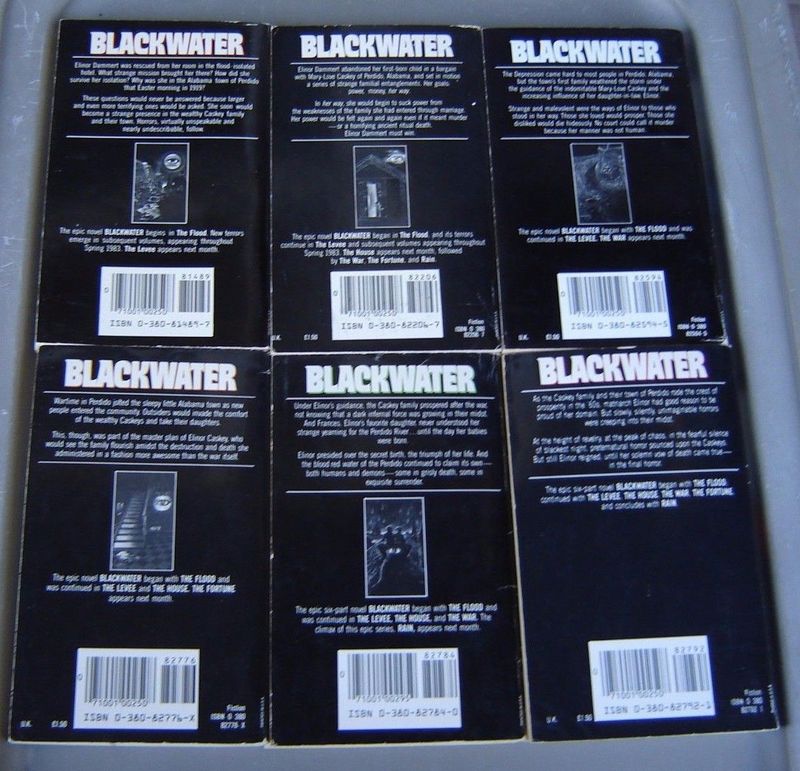 In 1985/86, the series was reprinted in the UK by Corgi, with terrific covers by Terry Oakes. This is another option, although I don't see a lot of these for sale from US sellers.
No, my best bet looks like the two-volume set published by the Science Fiction Book Club in July and November, 1983. These appear to be relatively common — or at least, reasonably priced, at under $20 each from multiple sellers.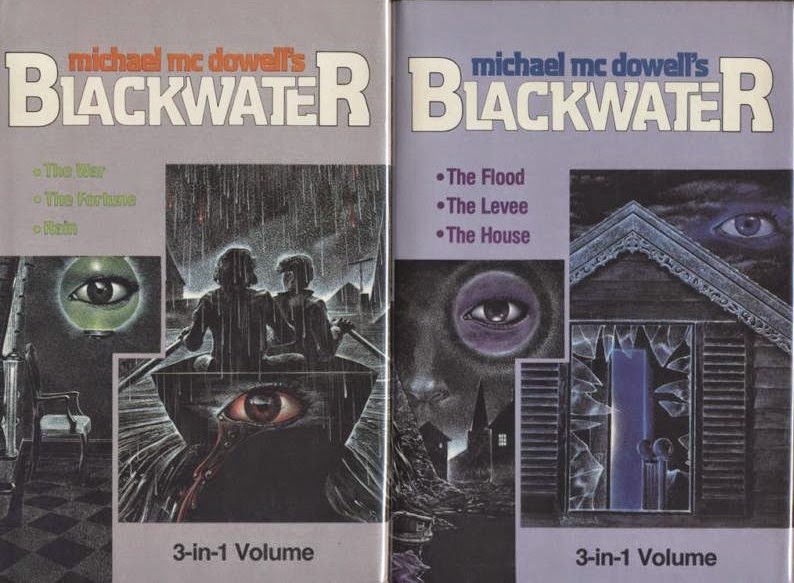 If you're willing to settle for the digital version, Tough Times Publishing released an omnibus collection two years ago, with a new introduction by John Langan (below left). On the right is a sample of the cover art for the Centipede editions, this one from the first volume, The Flood.
There's a curious appeal to the serialized horror story — at least for me, anyway. It's sort of the literary equivalent of a long, satisfying TV horror series, like Penny Dreadful or American Horror Story. Here's Nathan again with some closing thoughts (also cribbed from his Facebook page).
Reading Blackwater, and thinking back to The Green Mile, I wonder about the viability of that kind of serialized release in the modern publishing world. It's no secret that I've been harboring plans for exploring the town of Hob's Landing, from my story "Skullpocket," in a larger narrative for a while now. But I've been struggling to find the right way to do it. Something along the lines of what Michael McDowell did seems to offer some appealing possibilities.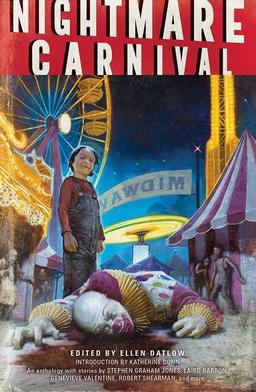 If you want to read "Skullpocket" — and you should — you can find it Ellen Datlow's anthology Nightmare Carnival, and also in The Best American Science Fiction and Fantasy 2015. In his review of Nightmare Carnival, James McGlothlin raved at length about "Skullpocket":
Nathan Ballingrud is quickly rising toward the top of my list of favorite weird authors. I was more than wowed by his first collection, North American Lake Monsters, But his story here, "Skullpocket," was completely unlike anything of his I've read thus far. If you've seen The Nightmare Before Christmas or Beetlejuice, those movies will give you something of the Tim Burton-like feel of "Skullpocket." The story's protagonist is one Jonathan Wormcake, the Gentleman Corpse of Hob's Landing, and the story tells how Wormcake came to be, the history of his town and their long-running festival, and Wormcake's long lost love. This is an absolutely amazing story. It offers humor, sadness, and sheer creepiness throughout, and at just the right beats — in my opinion, a very hard combination to pull off. And Ballingrud succeeds in doing with a horror ending something I've never seen before: "Skullpocket" ends on both a dismal nihilistic note and a positive hopeful note as well. That description sounds incredibly contradictory — but Ballingrud pulls it off superbly. I highly recommend this anthology for "Skullpocket" alone.
Here's hoping Nathan decides to tackle a longer narrative featuring Hob's Landing!
Our previous coverage of Michael McDowell includes:
A Southern Tale of Spectral Revenge: Cold Moon Over Babylon
The Elementals
And we previously discussed Nathan Ballingrud here:
Nathan Ballingrud on Robert Marasco's Burnt Offerings
Werewolves, Vampires, Zombies, Serial Killers, and the Horror of Mundane Lives: Nathan Ballingrud's North American Lake Monsters
See all our recent coverage of Series Fantasy here.