Shock Totem #10 Now Available
Shock Totem #10 Now Available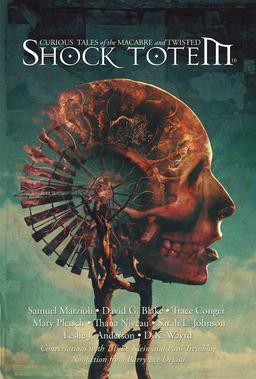 Way back in March of last year, when I announced we were expanding our magazine coverage at Black Gate — and was bold enough to list the 16 magazines we'd be covering regularly — there was an immediate outcry that we were being too limited. And the very first magazine that readers requested we add to our list was the American small press horror 'zine Shock Totem (thanks, Wild Ape!).
After a year of sustained effort, we've built up our coverage to the point where we report on 41 magazines regularly, or at least semi-regularly (41! I had no idea there were 41 fantasy magazines on the market when I started this crazy project). But Shock Totem still isn't one of them. Time to correct that! Today, I'm here to tell you about the tenth issue of the magazine of "Curious Tales of the Macabre and Twisted," which shipped in March.
But first, I should share this unfortunate announcement from K. Allen Wood, posted on January 1 of last year:
The next issue of Shock Totem, number ten, will be our last issue for a while. The reasons for this are many, but the biggest reason is simple: kids… As of right now, the goal is to take a complete break from publishing the magazine in 2015 and reopen for submissions on January 1, 2016, with a new issue scheduled for July 2016…

In the next few weeks we will begin accepting novel and novella submissions… we're not going away, not completely; we're just scaling back for a time so I can be a father.
As the father of three, I can certainly understand that. It took over a year for issue 10 to materialize, but with regard to the novellas Allen was as good as his word. In August of last year Shock Totem Publications announced they were open for novel and novella submissions, and on January 31 they rolled out this very impressive publishing schedule for the year.
FEBRUARY: Shock Totem #10
FEBRUARY: Shine Your Light on Me, by Lee Thompson (novella)
APRIL: Greener Pastures, by Michael Wehunt (collection)
JULY: Chorus of Dust, by Justin Paul Walters (reprint novella with bonus stories)
OCTOBER: Aetherchrist, by Kirk Jones (novella)
We covered Michael Wehunt's Greener Pastures here. But I love the cover, so here it is again.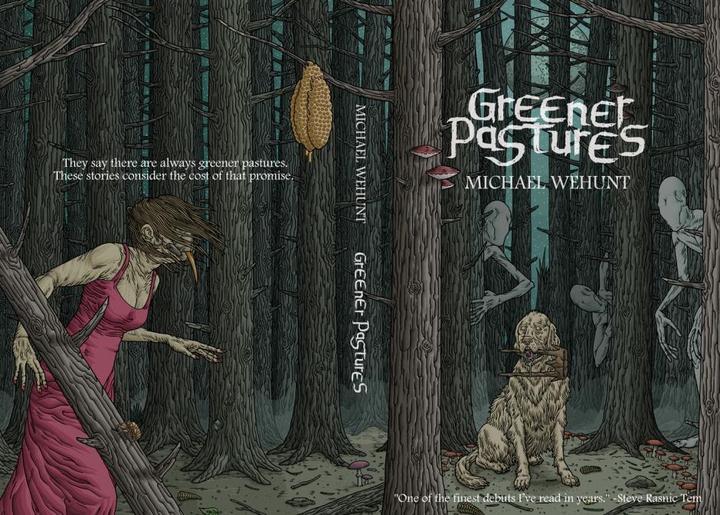 Shock Totem #10 has now arrived, and it looks terrific. Here's the description:
In this tenth issue of Shock Totem, you will find fiction from Trace Conger, David G. Blake, Thana Niveau, Margaret Killjoy, and eight other fantastic authors. T.E.D. Klein breaks his long silence in an exclusive interview with Barry Lee Dejasu. Paul Tremblay is also interviewed. Plus reviews, nonfiction, and more…

Come see why Shock Totem is billed as "…one of the strongest horror fiction magazines on the market today" (Hellnotes).
And here's the Table of Contents:
Notes from The Editor's Desk
Rumor and Shadow: The Haunting of the Everett Mansion, by Barry Lee Dejasu (Article)
"The Henson Curse," by Paul A. Hamilton
"Blue John," by D.K. Wayrd
Post-Modern Pea Soup: A Conversation with Paul Tremblay, by Catherine Grant
"Three Years Ago This May," by Trace Conger
"Malediction," by Margaret Killjoy
"Sweet William," by Mary Pletsch
Deerborn, by Leslie J. Anderson (Poetry)
Strange Goods and Other Oddities (Reviews)
"There's a Tongue in the Drain," by Roger Lovelace
"Wasps," by Thana Niveau
Standing Behind the Curtains: A Conversation with T.E.D. Klein, by Barry Lee Dejasu
"The Tall Man," by Eric J. Guignard
"Winter Fever," by Samuel Marzioli
Bloodstains & Blue Suede Shoes, Part 8, by John Boden and Barry Lee Dejasu (Article)
"The Eavesdropper," by Sarah L. Johnson
"The Last Treehouse," by David G. Blake
"Howling Through the Keyhole" (Author Notes)
Shock Totem is edited by K. Allen Wood, and published twice a year. Issues are 145 pages, 6″ x 9," priced at $7.99 in trade paperback. It has been published since 2009. This issue's cover is by Mikio Murakami.
Back issues are still available; see their complete catalog (and gawk at their marvelous covers) at their website.
Our Late April Magazine Rack is here. See all of our recent fantasy magazine coverage here.