New Treasures: Greener Pastures by Michael Wehunt
New Treasures: Greener Pastures by Michael Wehunt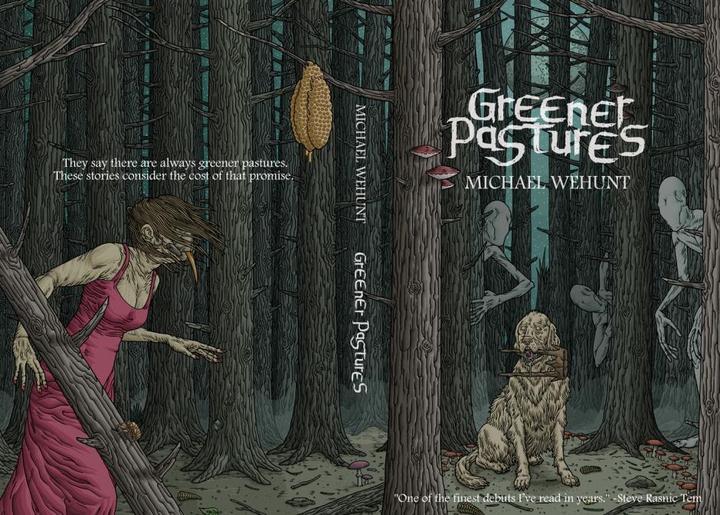 Michael Wehunt's short fiction has appeared in Innsmouth Magazine, Shadows & Tall Trees, Cemetery Dance, The Dark, Shock Totem, and Strange Aeons. His first collection, Greener Pastures, was published last month from Shock Totem Publications, and has already received a lot of positive attention. He's a fast rising star in horror and weird fiction, and well worth checking out. This may sound strange to everyone else, but I was playing with the digital preview on Amazon, and was delighted to find full-page ads for half a dozen back issues of Shock Totem, a magazine I've never read but clearly should, in the back. Things like that make me happy.
From the round-robin, found-footage nightmare of "October Film Haunt: Under the House" to the jazz-soaked "The Devil Under the Maison Blue," selected for both The Year's Best Dark Fantasy & Horror and Year's Best Weird Fiction, these beautifully crafted, emotionally resonant stories speak of the unknown encroaching upon the familiar, the inscrutable power of grief and desire, and the thinness between all our layers. Where nature rubs against small towns, in mountains and woods and bedrooms, here is strangeness seen through a poet's eye.

They say there are always greener pastures. These stories consider the cost of that promise.
Greener Pastures was published by Shock Totem Publications on March 29, 2016. It is 238 pages, priced at $13.99 in trade paperback and $3.99 for the digital edition. The cover is by Michael Bukowski.