Future Treasures: Harmony House by Nic Sheff
Future Treasures: Harmony House by Nic Sheff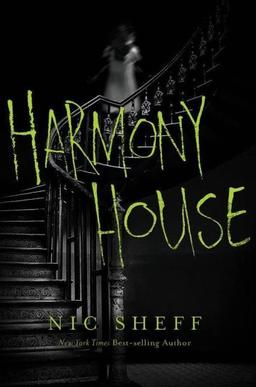 The YA dystopian trend doesn't seem like it will run out of energy too soon. My eyes glaze over these days when I see them at the bookstore.
There's plenty of original and interesting YA work being produced that don't involve nightmare dsytopian scenarios, however. Nic Sheff, author of the bestselling memoir Tweak, an account of his teen years as a crystal meth addict, and its follow up We All Fall Down: Living with Addiction, brings us Harmony House, a YA horror novel. It arrives in hardcover from HarperTeen later this month.
Something's not right in Beach Haven.

Jen Noonan's father thinks a move to Harmony House is the key to salvation, but to everyone who has lived there before, it is a portal to pure horror.

After her alcoholic mother's death, Jen's father cracked. He dragged Jen to a dilapidated old manor on the shore of New Jersey to start their new lives—but Jen can tell that the place has an unhappy history. She can feel it the same way she can feel her anger flowing out of her, affecting the world in strange ways she can't explain.

But Harmony House is more than just a creepy old estate. It's got a chilling past — and the more Jen discovers its secrets, the more the house awakens. Visions of a strange boy who lived in the house long ago follow Jen wherever she goes, and her father's already-fragile sanity disintegrates before her eyes. As the forces in the house join together to terrorize Jen, she must find a way to escape the past she didn't know was haunting her — and the mysterious and terrible power she didn't realize she had.
Harmony House will be published by HarperTeen on March 22, 2016. It is 304 pages, priced at $17.99 in hardcover and $10.99 for the digital edition.