The Galaxy Science Fiction $6,500 Novel-Writing Sham
The Galaxy Science Fiction $6,500 Novel-Writing Sham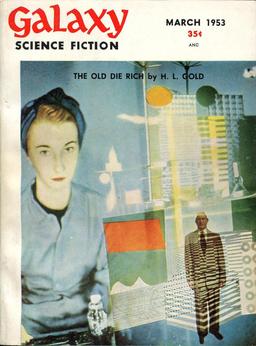 In the March, 1953 issue of Galaxy Science Fiction, H. L. Gold announed a novel contest. Simon and Schuster and Galaxy partnered together to offer a $6,500 prize, "guaranteed to the author of the best original science fiction novel submitted."
The $6,500 was only a minimum for the first world serial and TV rights. It was the largest cash prize offered to date for a science fiction novel. Other details were that the contest closed October 15, 1953, and the novel had to be between 60,000 and 75,000 words. Anyone could enter, with the following caveats:
…except employees of the Galaxy Publishing Corp. and of Simon and Shuster, Inc., and their families; AND authors who are ineligible because of contractual obligations to their present publishers… which means, in effect, that contestants will NOT be competing with most of the established 'big names' of science fiction.
When you consider that cars could be purchased for about $2,000 in 1953, this was an enormous prize. And let's face it: how many of us would still be happy to sell a novel in today's market for $6,500?
Given that the contest ended long ago, I had to find out who won. The winner was Edson McCann, whose novel Preferred Risk was serialized in Galaxy in 1955 and later published by Simon and Schuster that same year. Congratulations, Edson!
Oh… except there never was an Edson McCann.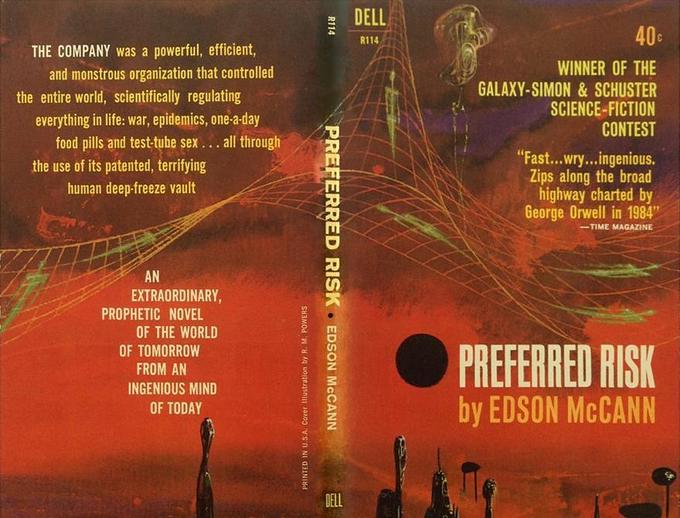 And this is the part of the story that makes me lose respect for Gold. Out of all of the submissions Galaxy received, Gold didn't like any of them. So he approached Frederik Pohl and Cyril M. Kornbluth to find out if they would enter the contest with their latest novel (albeit under a pseudonym). But they declined.
Galaxy's deadline passed, and Gold had nothing to show for it. At least, nothing he wanted to show for it.
Pohl, meanwhile, had been working on another novel — this time with Lester del Rey. Gold liked the story and wanted it as the contest winner.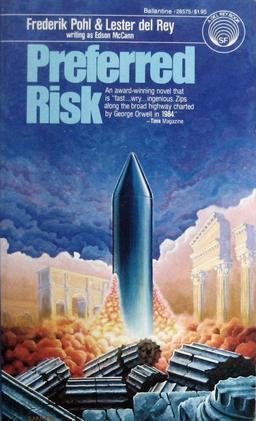 Never mind that the contest had already closed. Never mind the clause about the prize "guaranteed to the author of the best original science fiction novel submitted." In my mind, "best of submitted" doesn't necessarily mean it's a great novel; it means it was the best of those submitted. Never mind that "contestants will not be competing with most of the established 'big names' of science fiction." Oh, wait; it was only two of the names, so perhaps that aspect held up.
Pohl and del Rey agreed to go through with it, inventing a pseudonym of Edson McCann. The story behind McCann was that he was a nuclear physicist who was working on top secret projects; therefore, he couldn't risk public appearances or book signings. Such a dedicated, honorable man!
The secret leaked out, obviously, but I don't know of any serious repercussions to Gold, Galaxy, or Simon and Schuster. I do know that they never had any other novel contests within Galaxy. But what this illustrates to me is that Gold wasn't really that open to new authors. In fact, if you look at some of the past issues I've reviewed, you'll see cases where established authors have two stories in a single issue, using a pseudonym for one of them. Or Gold himself injects his own story using a pseudonym. In fact, the March 1953 issue begins with one of his stories, though he actually uses his own byline.
But worse than being closed to new voices is the fact that Gold didn't uphold the rules of the contest. It became a sham. I don't think that's what he intended from the start. Perhaps all of the submissions were poorly written, and he felt desperate. But he should have worked with what he had.
I've entered contests in the past; in fact, I'm in one right now. If I found out the winner wasn't one of the entries, I would feel cheated. And I hope those unpublished authors of 1953, if they ever found out the truth, also felt a strong sense of injustice.
Decades have passed, and whatever the fallout was, it may be well forgotten by now. After all, later copies of the novel listed del Rey and Pohl as the authors rather than McCann.
But what editors can learn from an incident like this is the notion that new voices deserve respect. We aren't all writing like Pohl, Kornbluth, or del Rey, but that's not necessarily a bad thing. If you hold a contest or ask for submissions to an anthology, use the submissions that you receive; don't e-mail your buddies Pohl and del Rey for something "better." And if you have a magazine where Pohl and del Rey are submitting regularly, bring in a story by an authentic nuclear physicist from time to time. The results of innovation shouldn't be new pseudonyms; rather, the results of innovation should be unique stories from new authors.
---
Matthew Wuertz's last review for us was the February 1953 issue of Galaxy Science Fiction.