Support the Return of NorthGuard, Canada's Greatest Superhero!
Support the Return of NorthGuard, Canada's Greatest Superhero!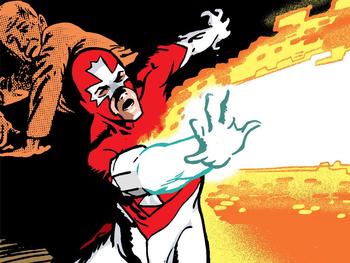 When I was a young comic collector living in Ottawa, one of my favorite titles was NorthGuard, the Canadian superhero created in 1984 by Mark Shainblum and Gabriel Morrissette and published by Matrix Comics in Montreal. When I started Black Gate 15 years later, I hired two of my heroes, Matrix artists Morrissette and the brilliant Bernie Mireault, creator of The Jam and Mackenzie Queen, as interior illustrators. So I was thrilled to hear from Bernie earlier this month that there's an effort to return Northguard to print in a deluxe format for the first time:
I'm currently engaged in coloring the original Northguard series. Mark, Gabriel and I hope to run a Kickstarter campaign in late spring and if successful, get some 200-page color collections made… As the colorist I'm going over every nut and bolt of the material and appreciating it fully for the first time. This is a great story about a Canadian superhero that I'm proud of. Phillip might not be much at the physical combat stuff but he has lots and lots of heart. Which is the way I think about Canada.

And so in an effort to reintroduce Northguard to the public at large and create awareness of our pending attempt to solicit funding for the collection through Kickstarter or Indie gogo, etc. I've created a dedicated Northguard Facebook page that is designed to bring people who are unfamiliar with the work up to speed on the story and historical/political context. www.facebook.com/bem61
Matthew David Surridge profiled Bernie's The Jam in Part II of his series My City's Heroes, and columnist Timothy Callahan called him an artist who combined "the high Romanticism of the fantastic with the mundane life on the street" in Comic Book Resources.
If you're at all interested in Canadian comics, or just want to keep tabs on the ongoing effort to return one of the best Canadian superheroes to print, check out Bernie's Facebook page here. Vive Le Protecteur!