If Neil Clarke Didn't Have a Day Job, He'd Win All the Awards
If Neil Clarke Didn't Have a Day Job, He'd Win All the Awards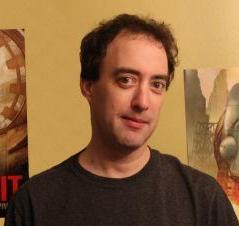 Neil Clarke, the hardest working man in science fiction, has now also accepted the position of editor of the flagship magazine of The Science Fiction and Fantasy Writers of America, The Bulletin. SFWA President Cat Rambo made the announcement yesterday. Here's part of the press release.
Neil has been acting as the interim editor for the SFWA Bulletin since John Klima's departure this past summer. SFWA would also like to take this opportunity, to thank John for his work in the organization. SFWA President, Cat Rambo adds, "I was overwhelmed by the talented applicants that applied for the position, and I'm happy that Neil was one of them. His editorial talents are rock-solid, he's a congenial perfectionist, and I'm looking forward to having him as a more permanent part of the internal team. I expect great things for The Bulletin in 2016 and 2017." Members and non-members interested in writing for the Bulletin should send a short pitch on their proposed topic, along with a bio of relevant experience, to bulletin@sfwa.org. Our guidelines can be found here.
Neil continues with his other projects, including editing Clarkesworld and Forever magazines and The Best Science Fiction of the Year anthology series for Night Shade Books. But not sleep, apparently. His issued this statement on Facebook (though God knows where he found the time):
Just to clarify, my new job at the SFWA Bulletin doesn't mean I get to quit the day job or that I'll be doing less with Clarkesworld, Forever, or my anthologies. These side projects are all pieces of the puzzle that will eventually let me quit the day job. That day is one step closer.
Neil has been nominated for the Hugo Award for Best Editor three times, and Clarkesworld has won three Hugos and one World Fantasy Award. It's probably a good thing Neil still has a day job… if he didn't, he win all the awards.