Star Trek Movie Rewatch: Star Trek (2009)
Star Trek Movie Rewatch: Star Trek (2009)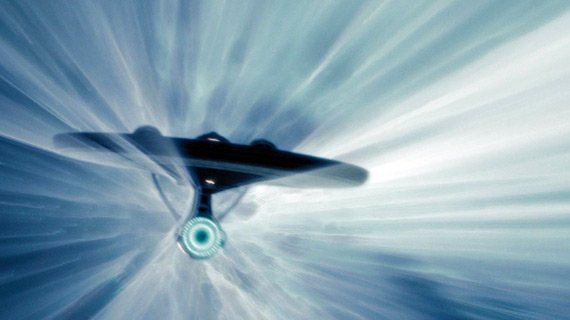 Fans of Eighties new wave music might remember a song by Timbuk 3 called "The Future's So Bright, I Gotta Wear Shades." Which should have been the theme song for the J.J. Abrams "reboot" of Star Trek. I'd heard about the much maligned lens flares favored by Abrams but until I actually watched the movie I truly had no idea. It's such an extreme exercise in cinematic brightness that I found myself fighting off a headache at a few points.
But enough of that. Let's have a few words about reboots. I don't care much for them. Nor do I care much for the concept, in general. Which can only come about when lawyers and accountants make decisions that should be made by "creative" types. Yes, I understand that the making of TV shows and movies is not a charitable endeavor but when a pretense of creativity isn't present then what's the point?
Which is the whiner's way of saying that even though I was a fairly avid fan of the original Star Trek series I had no interest in watching the reboots. I might have never watched them if it hadn't been for this movie rewatch project. But after tackling the first two "real" Star Trek movies I found myself getting curious about how the reboots had played out. So I skipped ahead in the chronology.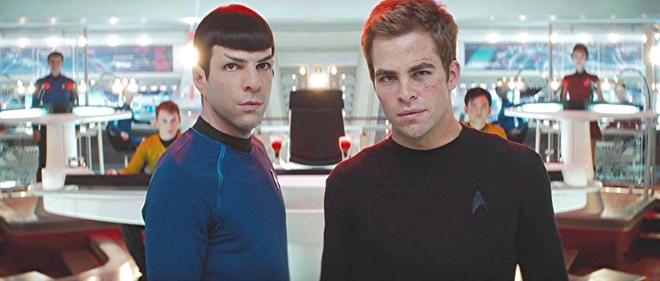 The premise here, if you're not in the loop, is that we get to see the principals of the TOS crew when they was just fresh faced young'uns. Which, especially in the early stages of the game, plays out about like you'd expect. McCoy is a crabby young version of his crabby old self. Spock's already wrapped up in that struggle between his human and Vulcan halves. And least but certainly not least, there's rebel without a cause Jim Kirk, who's a badass ne'er do well with a quick temper, loose fists, an eye for the ladies and no real objectives in life. Who'd have guessed?
There's a plot here — more or less. But I won't go into it. It doesn't matter much. This is Star Trek filtered through the (constantly flaring) lens of the big budget summer blockbuster movie with lots and lots (and lots) of action, three to four cuts per second (only a slight exaggeration) and not that much too think about. It's strictly white hats vs. black hats. At one point we actually see Sulu engaging in a swordfight while Kirk hangs by his fingertips over a precipice. Take that, Flash Gordon.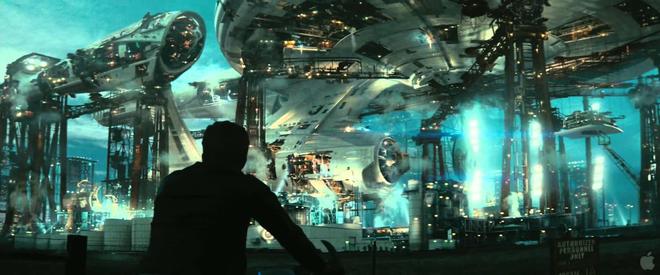 Random Observations
I find myself liking Kirk less and less over the years (and McCoy more). So seeing the young arrogant James Tiberius Kirk whack his head on a beam was one of the high point of the movie for me.
Just once, wouldn't you like to see a menacing, scary, super-not-so-nice villain speak in a really high squeaky voice instead of those low menacing tones that make you lean forward in your seat?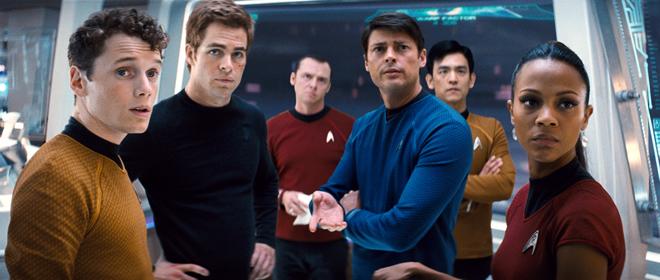 Those nasty Vulcan kids who taunt Spock on the playground — is this really proper behavior for people who are logical and in control of their emotions?
The Enterprise is the only ship in the fleet in position to take action. Am I sensing a pattern running through all of the movies?
Favorite characters — Captain Pike, old guy Spock, McCoy and Scotty.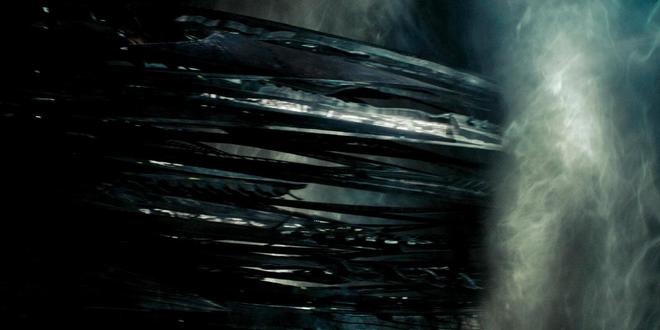 Would young Kirk really drive a muscle car from three hundred-some years ago? And listen to the Beastie Boys?
Of course the Enterprise was going to get a reboot along with everything else. But did the interiors have to be so cluttered and busy?
The previous articles in this series are:
Star Trek Movie Rewatch: Star Trek: The Motion Picture (1979)
Star Trek Movie Rewatch: Star Trek II: The Wrath of Khan (1982)
---
William I. Lengeman III's last article for us was Poetic Witchery and the Strangeness in Ordinary Things: Algernon Blackwood's The Empty House and Other Ghost Stories. He holds forth at www.wileng3.com.