Black Static #49 Now on Sale
Black Static #49 Now on Sale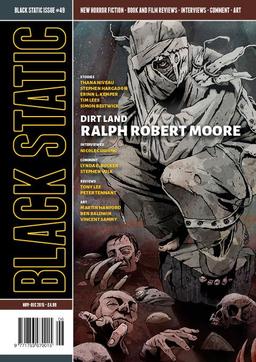 I'm hearing reliable reports that Black Static #49, published in Britain and shipped across the pond to eager readers here in America, is now available around the country.
Issue #49 is cover-dated November/December, and contains six stories:
"Dirt Land" by Ralph Robert Moore
"Going To The Sun Mountain" by Thana Niveau
"The Toilet" by Stephen Hargadon
"Gramma Tells A Story" by Erinn L. Kemper
"The Ice Plague" by Tim Lees
"The Climb" by Simon Bestwick
The magazine's regular columns include Coffinmaker's Blues by Stephen Volk and Notes From the Borderland by Lynda E. Rucker, plus two review columns: Blood Spectrum by Tony Lee (DVD/Blu-ray reviews); and Case Notes by Peter Tennant (book reviews). Their review columns are a model for anyone who wants to see how to do attractive magazine layout, with plenty of book covers, movie stills, and behind-the-scenes pics.
Issue 49 is nearly 100 pages and comes packed with new dark fantasy and horror, and top-notch art. Black Static is the sister magazine of Interzone (see the latest issue here); both are published by TTA Press in the UK. The distinguished Andy Cox is the editor of both.
The cover art, "Do Not Feed The Animal," is by 2015 cover artist Martin Hanford.
As usual, the magazine is filled with eye-catching b&w art. Black Static is consistently one of the sharpest looking magazines on the racks. Here's the opening spread for Ralph Robert Moore's "Dirt Land," illustrated by Ben Baldwin.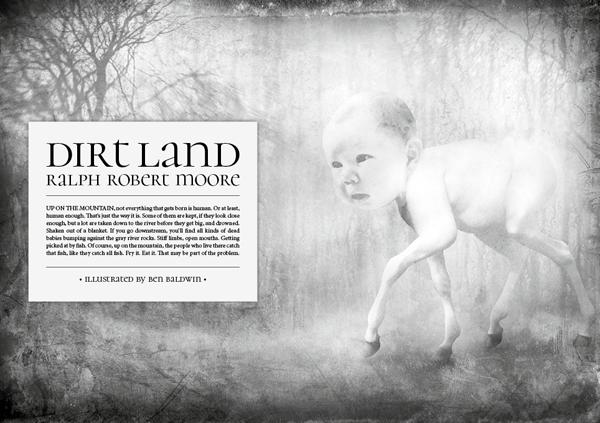 And "Going To The Sun Mountain" by Thana Niveau, illustrated by Vincent Sammy.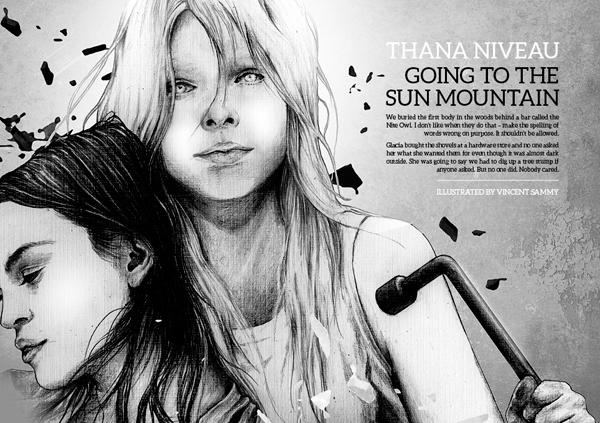 And "The Ice Plague" by Tim Lees.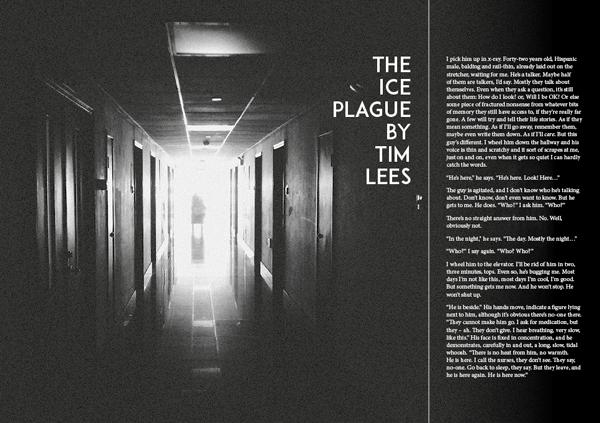 Finally, here's a glimpse at Tony Lee's Blood Spectrum DVD/Blu-ray review column.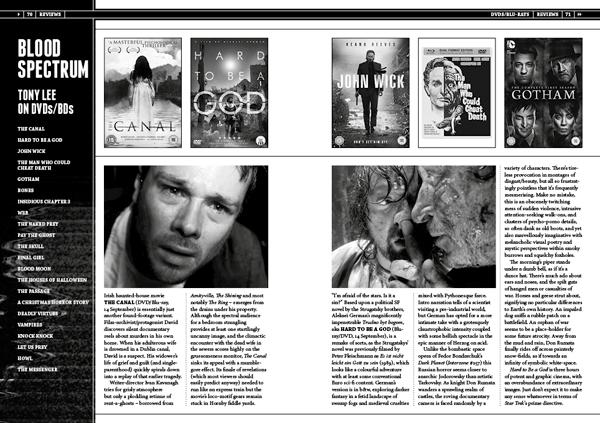 See more details and excerpts from issue 49 at the TTA website.
Black Static is edited by Andy Cox, and published by TTA Press. Issue #49 is cover-dated November/December 2015. It is 96 pages, priced at £4.99. Copies are usually around $9.99 here in the US. A six-issue subscription is £27 (UK) and £33 in the US. Order right from the TTA Press website.
We last covered Black Static with issue #48
See our Late December Fantasy Magazine Rack here, and all of our recent magazine coverage here.