Beneath Ceaseless Skies 189 Now Available
Beneath Ceaseless Skies 189 Now Available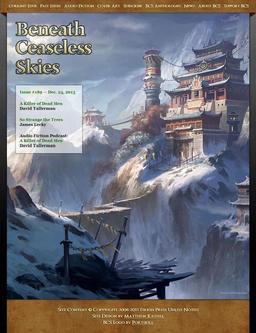 The December 24th issue of Beneath Ceaseless Skies, issue #189, has original short fiction from David Tallerman and James Lecky, a podcast, and a reprint (from issue #79) by Kat Howard.
"A Killer of Dead Men" by David Tallerman
Otranto didn't hesitate. On some level, he realized, he had been anticipating this moment, or one like it, for a very long time. "The punishment for failure should be death by my own hand."

"So Strange the Trees" by James Lecky
Alquen waited there, sitting in the lee of a tall elm, for three hours, barely aware of time passing. He wore his finest clothes: a blue silk shirt with only two threadbare places, black tunic and breeches covered with a burgundy cloak. He felt ridiculous and handsome at the same time.

Audio Fiction Podcast:
"A Killer of Dead Men by David Tallerman
Otranto knew better than to ask why any man must die.

From the Archives:
"The Calendar of Saints" by Kat Howard (from BCS #79, October 6, 2011)
I accept mortal commissions; I've killed before.
David Tallerman is the author of the comic fantasy Tales of Easie Damasco novels (Giant Thief, Crown Thief, and Prince Thief). James Lecky's short fiction has appeared in places such as Mirror Dance, The Absent Willow Review, Sorcerous Signals, Emerald Eye, and previously in Beneath Ceaseless Skies.
Read issue 189 online completely free here.
Beneath Ceaseless Skies is edited by Scott H. Andrews and published twice a month by Firkin Press. Issues are available completely free online; you can also get a free e-mail or RSS subscription.
Firkin Press also sells a Kindle/e-Reader subscription, which includes automatic delivery to your Kindle or other device. A 12-month subscription comes with 26 issues and costs only $13.99. Single issues are available on Kindle and at Weightless Books for 99 cents. Subscribe here.
The magazine supports itself though subscriptions, and also by selling anthologies, including the annual Best of BCS volumes and occasional themed books such as the steampunk anthology Ceaseless West. The anthologies each contain 15-18 stories and cost only $2.99-$3.99.
We last covered Beneath Ceaseless Skies with issue #188.
See our Late December Fantasy Magazine Rack here, and all of our recent Magazine coverage here.