Interzone #260 Now on Sale
Interzone #260 Now on Sale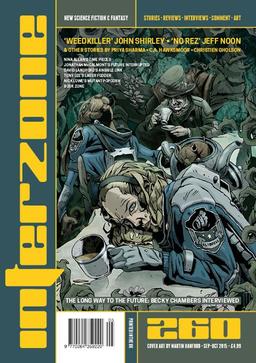 The September-October issue of Britain's longest running science fiction and fantasy magazine is now on sale. The cover, by Martin Hanford, is titled "All Change." (Click the image at right for a bigger version.)
This issue has fiction from John Shirley, Priya Sharma, Jeff Noon, C.A. Hawksmoor, and Christien Gholson. Here's Lois Tilton at Locus Online on Jeff Noon's "No Rez":
An experimental piece in terms of typography and page layout, with several sections that resemble lines of verse… I don't see much of this sort of thing these days, but I'm not surprised to find it coming from IZ, a zine that doesn't stand still. This is a cyber future with the motto: "You are what you see." Or, As you see the world, so you think about the world. But the only way everyone can see the world is pixelated, through implants, and in higher or lower resolution, with or without more vision-pops and ads, depending on how they can pay. Because Aiden is limited, when not on work-time, to low-rez, sometimes even when he closes his eyes, the dark starts breaking up. He has to wonder what he really looks like in the unmediated world, the zero-rez world, whether a girl might find him attractive. Then one day he happens on a mysterious black box that he isn't supposed to have.

This sort of virtual world isn't so new, but I've rarely seen it expressed with such insight and verve. There are genuinely poetic moments here, not simply apparent versification. This text would have been just about as effective if laid out on the page in a more conventional manner. – RECOMMENDED
Read Lois' complete comments on the issue here.
Interzone #260 contains five stories:
"Weedkiller" by John Shirley
"Blonde" by Priya Sharma
"No Rez" by Jeff Noon
"Murder on the Laplacian Express" by C.A. Hawksmoor
"The Spin of Stars" by Christien Gholson
Non-fiction this issue includes "Where O Where Has My Hugo Gone?" by Ian Sales, on the 2015 Hugo boondoggle; Jonathan McCalmont's Future Interrupted column, "How To Lose Friends and Objectify People;" Nina Allan's Time Pieces, "The SF of U and Me;" plus David Langford's Ansible Link, and the regular columns: book reviews, Nick Lowe's Mutant Popcorn film reviews, and Tony Lee's DVD column, Laser Fodder. Issue 260 is nearly 100 pages and packed with fiction, columns, and top-notch art.
Interzone is the sister magazine of Black Static, both are published by TTA Press in the UK. The distinguished Andy Cox is the editor of both.
As usual, the design and interior art adds enormously to the professional look of the magazine. Here's the table of contents.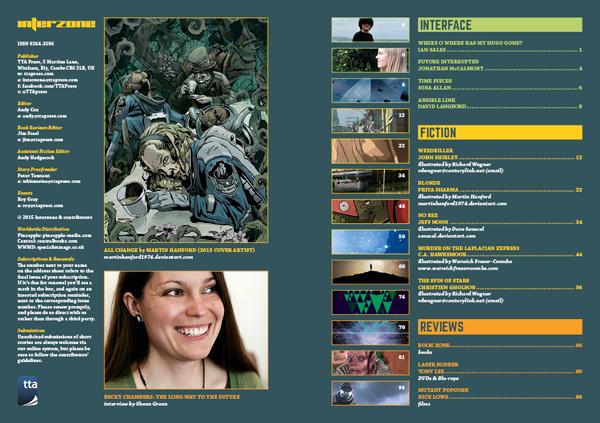 Here's the opening spread for "Weedkiller" by John Shirley (illustrated by Richard Wagner).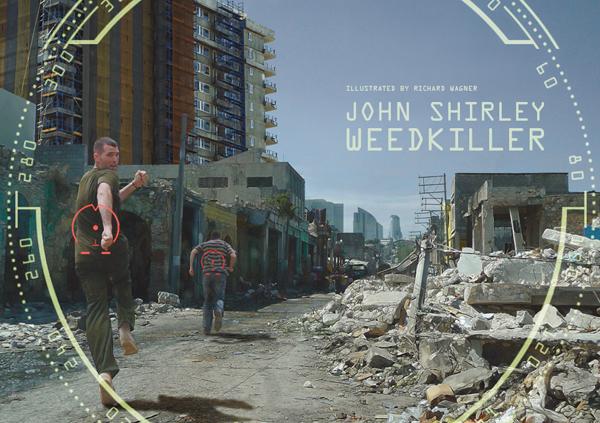 And "No Rez" by Jeff Noon (illustrated by Dave Senecal).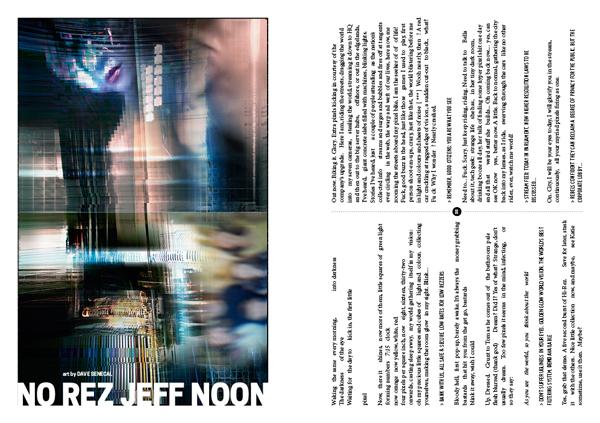 And "Murder on the Laplacian Express" by C.A. Hawksmoor (illustrated by Warwick Fraser-Coombe).
And "The Spin of Stars" by Christien Gholson (illustrated by Richard Wagner).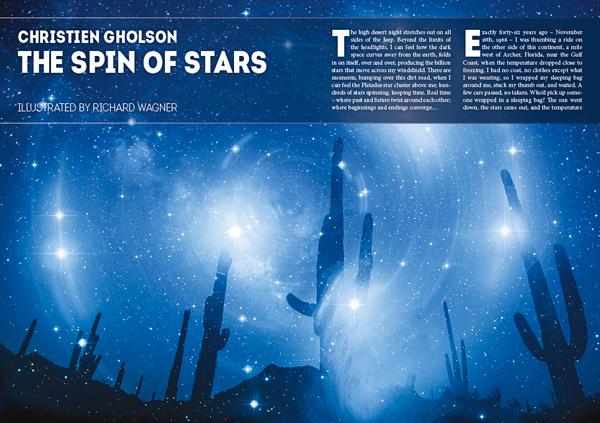 As usual, the reviews look great. Here's part of Tony Lee's Laser Fodder column.
As we've mentioned before, magazines like Interzone are completely dependent on fans and readers to keep them alive. I hope this one survives for a good long time — but it won't without reader support. If it sounds intriguing, I hope you'll consider buying an issue next time you find yourself browsing the magazine rack.
See more details and excerpts from issue 260 at the TTA website.
Interzone is edited by Andy Cox, and published by TTA Press. Issue #260 is cover-dated September-October. It is 96 pages, priced at £4.99. The cover is by Martin Hanford. Copies are usually around $9.99 here in the US. A six-issue subscription is £27 (UK) and £33 in the US. Order right from the TTA Press website.
We last covered Interzone with Issue 259.
See our October Fantasy Magazine Rack here, and all of our recent magazine coverage here.