Future Treasures: Word Puppets by Mary Robinette Kowal
Future Treasures: Word Puppets by Mary Robinette Kowal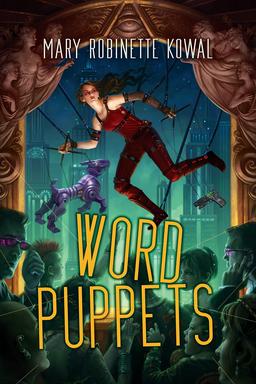 In the last few years Mary Robinette Kowal has built a name for herself as a master of historical fantasy with her Glamourist series, which began with the Nebula nominee Shades of Milk and Honey in 2010. But she's also known for her acclaimed short fiction, and in fact in 2008 she won the Campbell Award for Best New Writer based solely on the strength of her superb short stories — no easy feat in a field where most of the acclaim (and the awards) go to emerging novelists. She's been nominated for the Hugo Award three times (for "Evil Robot Monkey," "For Want of a Nail," and "The Lady Astronaut of Mars"), and won twice.
In addition to writing, Mary is also an accomplished pupeteer who has performed for Jim Henson Pictures, the Center for Puppetry Arts, and other fine institutions. She brings her two careers together with her second short story collection, Word Puppets, which goes on sale from Prime Books on November 5.
Celebrated as the author of five acclaimed historical fantasy novels in the Glamourist series, Mary Robinette Kowal is also well known as an award-winning author of short science fiction and fantasy. Her stories encompass a wide range of themes, a covey of indelible characters, and settings that span from Earth's past to its near and far futures as well as even farther futures beyond. Alternative history, fairy tales, adventure, fables, science fiction (both hard and soft), fantasy (both epic and cozy) — nothing is beyond the reach of her unique talent. Word Puppets — the first comprehensive collection of Kowal's extraordinary fiction — includes her two Hugo-winning stories, a Hugo nominee, an original story set in the world of "The Lady Astronaut of Mars," and fourteen other show-stopping tales.
Word Puppets features an introduction by Patrick Rothfuss
Here the Table of Contents:
"The Bound Man"
"Chrysalis"
"Rampion"
"At the Edge of Dying"
"Clockwork Chickadee"
"Body Language"
"Waiting for Rain"
"First Flight"
"Evil Robot Monkey"
"The Consciousness Problem"
"For Solo Cello, op. 12"
"For Want of a Nail"
"The Shocking Affair of the Dutch Steamship Friesland"
"Salt of the Earth"
"American Changeling"
"The White Phoenix Feather: A Tale of Cuisine and Ninjas"
"We Interrupt This Broadcast"
"Rockets Red"
"The Lady Astronaut of Mars"
Word Puppets will be published by Prime Books on November 5, 2015. It is 336 pages, priced at $15.95 in trade paperback, and $6.99 for the digital edition.
See all of our recent coverage of the best in upcoming fantasy here.